Nintendo is selling Super Smash Bros. Ultimate GameCube controllers for the Nintendo Switch!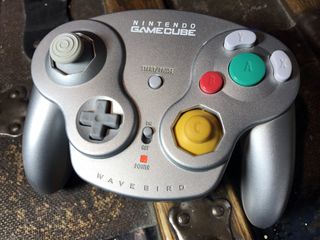 The Wii and Wii U both allowed gamers to use Nintendo's older GameCube controllers, which many players preferred to use for competitive gaming, especially the Super Smash Bros. community.
During Nintendo's E3 presentation, the company also announced that they would be selling a Super Smash Bros. Ultimate version of the classic GameCube controller and re-releasing the adapter to make it work with the Nintendo Switch. You need both the controller and the adapter to use the controller with the Switch!
(opens in new tab)
Super Smash Bros. Ultimate GameCube Controller
The new GameCube controller will feature the iconic Super Smash Bros. logo right on the controller and has everything the original GameCube Controller had.All the buttons are in the same place and the left joystick has that same ribbed design that you all know and love.You can pre-order the controller right now on Amazon, for $29.99. No exact date on when it will be available for sale or shipping has been noted; however, Super Smash Bros. Ultimate releases on December 7th, 2018. Likely, they will ship the controller around the same time.
(opens in new tab)
GameCube Controller Adapter
You'll need a GameCube Controller adapter that allows you to plug the controller into the Nintendo Switch via USB. The officially licensed Nintendo adapters are coming back to consumer later this year.You can pre-order the adapter for $19.99, and while no release date has been issued yet, likely sometime around the December 7th (when Super Smash Bros. Ultimate comes out) is a safe bet.
What if I have the controller and adapter already?
Good news! If you already have an old GameCube controller lying around and the adapter, you don't need the new versions!
In fact, the Nintendo Switch can already use GameCube Controllers if you have the all the right equipment, so you won't need to spend the $50 bucks on the new versions!
Read: How to use your GameCube controller with Nintendo Switch
Can't get enough Super Smash Bros. Ultimate?
Don't worry, we have you covered! we have everything you need to know about Smash Bros. here!
Do you play Smash with a GameCube Controller?
I'm debating whether or not I should pre-order these items. I like the GameCube controller, but I spent so much money on the Nintendo Switch Pro Controller and love it to pieces! Will you be ordering a Super Smash Bros. Ultimate GameCube Controller?
Let me know in the comments down below!
Get the best of iMore in in your inbox, every day!
Thank you for signing up to iMore. You will receive a verification email shortly.
There was a problem. Please refresh the page and try again.