Super Smash Bros. Ultimate: The ultimate guide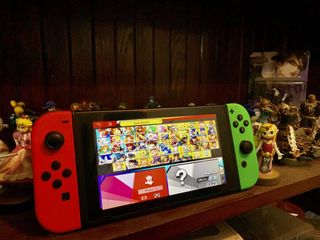 (Image credit: Christine Romero-Chan / iMore)
On March 8, 2018 I felt the ground shake as the internet collectively lost its mind. The reason for this was a flaming logo. For those unfamiliar with the franchise, it may not seem like a big deal, but for fans of Super Smash Bros., it was. It was a massive, screaming big deal. At the very end of the March installment of Nintendo Direct, it was made public that Super Smash Bros. would be coming to the Nintendo Switch.
If you're excited for all news about Super Smash Bros. Ultimate, including upcoming DLC, then you've come to the right place.
What's new in Super Smash Bros. Ultimate?
March 26, 2020 — An ARMS character is joining Smash as the first DLC character in Fighters Pass Vol. 2
Nintendo held a mini Direct and announced that the first character appearing in the Fighters Pass Vol. 2 is a fighter from ARMS. It is unknown which character from ARMS it is, and we don't have an exact date. But it is estimated that this new DLC character will drop sometime in June 2020.
January 28, 2020 — Byleth is now available as the final fighter for Fighters Pass Vol. 1, and Nintendo announces Fighters Pass Vol. 2
The last fighter for the Fighters Pass Vol. 1 has arrived, and it's Byleth from Fire Emblem: Three Houses, which released last summer. Byleth can be either male or female, just like in the Fire Emblem game. With Byleth, mobility is slow, but the character is best at fighting at range thanks to the hero's relic, which changes depending on the direction that you're attacking in.
Additionally, Nintendo has confirmed that Fighters Pass Vol. 2 will be available later this year, which brings in another six fighters from various game series. The Fighters Pass Vol. 2 will cost $29.99, like the first volume.
November 6, 2019 — Terry Bogard joins the fight
Terry Bogard, a character that debuted in the Fatal Fury series, is the latest fighter that is available as DLC. Terry also comes with the "The King of Fighters Stadium" stage. With this, Terry is the latest character that comes from a fighting game, alongside with Ken and Ryu from the Street Fighter series.
June 11, 2019 — Nintendo announces Dragon Quest XI's "The Hero" and Banjo-Kazooie as upcoming DLC fighters
Nintendo opened up their E3 press conference with some big Super Smash Bros. Ultimate news. They've announced that The Hero from Dragon Quest XI is the next DLC fighter and is coming in Summer 2019.
The Hero is another sword fighter that joins the roster. He will be the second DLC fighter for Super Smash Bros. Ultimate, following Joker from Persona 5 a few months ago.
They also announced Banjo-Kazooie is also coming as a DLC fighter in Fall 2019.
April 16, 2019 — Super Smash Bros. Ultimate 3.0 dropping April 17 with Joker and Persona 5 stages, new stage builder, and video editor
Nintendo has announced that the 3.0 update for Super Smash Bros. Ultimate will be available on April 17, 2019.
If you purchase the new DLC, or get the Fighter's Pass, you will get Joker, the main protagonist from Persona 5, along with some fresh new stages based off of Mementos. There will also be music from Persona 3, 4, and 5, which depend on the Mementos stage color. The DLC will also include new Mii Fighter costumes.
The moveset for Joker, along with the Mementos stage variations were shown off in a new 15-minute video all about the 3.0 update.
The 3.0 update will also include a brand new stage builder and video editor. The Stage Builder allows players to freely draw and transform platforms, add decorative layer elements, throw in some spinning platforms, and a ton of other stage elements that were never before seen in the game. Custom stages will appear in a separate "Custom" tab on the stage select screen. The new video editor allows you to import videos saved on your Nintendo Switch system into a timeline, allowing you to splice them together. Editing video is also more streamlined and easier.
There is also a new feature that allows you to view video content uploaded by other players from around the world. And with the new stage builder, you'll be able to download other player creations, including stages and Mii Fighters, for yourself to try out as well.
Smash World is a new service available in the Nintendo Switch Online mobile app. With Smash World, you'll be able to check out recommended gameplay videos and stages without having to go launch the game itself. It allows searching for videos by specific fighter as well. All video content is streamed through YouTube Gaming. If you find stages you want to try out, just tap on the "Queue Download" button on that stage, and it will queue it up to download in your game later. Smash World also has the ability to view in-game notifications and you can create new Spirit teams from your collection, right in the app.
Players are able to download the Super Smash Bros. Ultimate 3.0 update on their Nintendo Switch consoles on April 17, 2019.
February 14, 2019 — Nintendo announces update 3.0, Joker availability
Nintendo has announced version 3.0 of Super Smash Bros. Ultimate. We don't yet know what the update will bring as Nintendo opted not to share any actual details.
But with that announcement came the revelation that Joker — the beloved protagonist from Persona 5 — will be released at some point before the end of April. Joker was previously revealed as the first of five extra DLC fighters to be released for Super Smash Bros. Ultimate. Those who bought the game by February also received Piranha Plant earlier this month.
We also learned that two new amiibo are on the way. Snake, Simon, Pokemon Trainer, Squirtle, and Ivysar will all be available at some point in the near future.
December 6, 2018 — Persona 5's Joker announced as an upcoming DLC fighter
At the 2018 Game Awards, Nintendo announced the first of 5 DLC characters which will be added to Super Smash Bros. Ultimate. Shockingly enough, Persona 5's The Joker was revealed as the latest newcomer. Persona 5 is a popular RPG that is currently only available for PlayStation 3 and PlayStation 4. It features Joker as the main protagonist, who was wrongfully charged with assault after he attempted to stop one unlucky woman's would-be abuser.
We're not sure what sort of fighting style to expect from Joker yet, but Nintendo wanted to take the opportunity to stress that the DLC fighters in Super Smash Bros. Ultimate would all be newcomers to the series whom we never thought we'd see and that they may be from franchises and companies you never thought possible.
The Joker is a true testament to that promise, so it'll be interesting to see what else is in store for Super Smash Bros. Ultimate as the remainder of its DLC packs launch throughout 2019 and beyond. As with all DLC characters, you'll get a new stage and new music themes to enjoy alongside the fighters themselves. Check out the trailer above.
November 30, 2018 — Everything about Spirits revealed
As we head toward release of Super Smash Bros. Ultimate, more and more info is coming out about the game and all its features. Spirits are perhaps the biggest addition to the series ever.
We had an idea of what Spirits were like from Nintendo's first Direct presentation about it, but now we know exactly how it works and who we can expect to see. For starters, we know there are close to 1,300 Spirits in Super Smash Bros., ranging from franchises controlled by Nintendo, Capcom, Konami, and more.
Every Spirit you can find in Super Smash Bros. Ultimate
And we also know more about how you'll earn these Spirits, what they're used for, and how you'll train them. Quick crash course for the unaware: Spirits are characters you can use with your Smash Bros. fighters to improve their strength and defense, as well as add new abilities to your fighters.
Obtained in a new mode called World of Light, Spirits can be leveled up to make them more powerful by training them at the dojo or feeding them snacks. The higher level they are, the stronger your fighters become. A central focus of Spirit-supported modes will be to find and collect Spirits which fit your playstyle to give you an edge in battle.
Hit the link ahead for a more detailed explanation of what Spirits and World of Light have to offer, and be ready for the game's launch on December 7!
How Spirits work in Super Smash Bros. Ultimate
November 8, 2018: Catch up on the Nintendo Super Smash Bros. Ultimate Direct!
We are right around the corner from Nintendo's release of Super Smash Bros. As the days draws nearer there has been a flurry of new information. As always, we will keep you apprised of all the awesome new tid-bits as they are revealed.
There was a lot to unpack in the most recent Nintendo direct. We parsed it all out for you below but if you want to dive into the video yourself and revel in the glorious visuals, we can help you with that too. Have fun!
November 1, 2018: Ken, Incineroar, and Piranha Plant added to the roster, Spirits revealed, and a ton of new amiibo
While this may be the last Nintendo Direct before Super Smash Bros. comes out next month, it was full of some great new stuff.
The final fighters have been revealed! Ken joins the fray as an Echo Fighter for Ryu, and this version takes inspiration from Street Fighter II Turbo. Ken's moves include a slightly differently shaped fireball for Haduken, the classic Shoryuken uppercut that also burns opponents, and his tatsumaki senpuukyaku hurricane kick. His kicks also vary, depending on the command inputs from the player.
Incineroar is a buff new Fire-type Pokémon that resembles a wrestler. After each move, Incineroar will pose like a wrestler does, but you can cancel these animations to keep the flow of combat going. Some of his moves include Cross Chop, Dark Lariat cyclone attack, and a lot of powerful throws.
Piranha Plant is also a new fighter that will be available for free for those who pre-order the game. The move set is a nice mix of close and long-reaching attacks, and its Final Smash includes Petey Piranha. Piranha Plant will be completed "several months" after the game is released.
Nintendo also announced that five new sets of characters, stages, and music tracks will be available as post-launch DLC at $5.99 per set. Or you can get the Fighters Pass for $24.99 that includes everything. Plans for future DLC were not announced today, but they will reveal what each set will include before they're released. This process may take about a year after Super Smash Bros. Ultimate is released.
There are also no more Trophies like in previous games. Instead, Trophies have been replaced with Spirits, which are basically power-ups based on other characters from many of the games represented in Super Smash Bros. Ultimate.
Spirits work like this: there are Primary Spirits and Support Spirits. Players may only equip one Primary spirit to their fighter at one time. However, Primary spirits can have multiple Support spirits equipped if they have available slots. The support spirits provide additional boosts to the primary spirit, which in turn translate back to your fighter.
With Spirits equipped, you'll create unique conditions at the beginning of the match. Spirits also have three types: Attack, Grab, and Shield, which work in a traditional advantage type triangle.
Finally, all of the new fighters in Super Smash Bros. Ultimate will be getting their own amiibo releases. On Dec. 7, when the game launches, you'll be able to get Ridley, Inkling, and Wolf. On Feb. 15, you'll be able to get amiibo for King K. Rool and Ice Climbers. Other 2019 amiibo include Isabelle, Ken, Young Link, Pichu, Princess Daisy, and Piranha Plant.
August 27, 2018: Nintendo announces special edition Smash Bros. Ultimate controller and bundle
The pre-order page on the official Smash Bros. website gave us an exciting little bit of news today. When Super Smash Bros. Ultimate releases in December for the Switch, we will be able to get our hands on some awesome special edition gear. First of all, we will be able to play Super Smash Bros. Ultimate on a sweet black and white special edition controller.
And as if that wasn't exciting enough we will also be able to pick up a special edition bundle. It seems as if it will include the previously mentioned controller and the game in a sleek looking steel book.
I took a quick look and it seems as if there are no pre-orders available on Amazon. However, there is a posting at BestBuy which, despite having no image, seems as if it is the bundle we are talking about.
August 8, 2018: All the Smash Bros. news from Nintendo Direct!
There was plenty of new stuff revealed during today's Nintendo Direct. Here's everything you need to know!
First off we were his with some new characters announced. It's time for Castlevania fans to get excited because Simon Belmont has been added! His main weapon will be his notorious whip and his special moves will revolve around recognizable elements from the series. His stage will be none other than Dracula's castle. The stage will be populated with bosses that Castlevania lovers will recognize from the games. To top it all off it seems as if Dracula himself will occasionally appear. The circumstances under which he will make his presence know was not revealed but that just makes it all the more exciting. Allucard will also appear as an assist trophy And as if that wasn't enough, Richter was announced as an echo character to Simon.
Some other echo characters were also announced. Chron will be making his appearance in Super Smash Bros. and players will also have the opportunity to play as Dark Samus.
New stages announced include Pokemon Stadium, Garden of Hope, Brinstar Depths, Summit, Unova Pokemon League, Magicant, Gamer, Final Destination, New Donk City Hall. All in all, there will be a total of 103 playable stages not counting any forthcoming DLC. To add a little spice to players lives there is also a setting called Stage Morph, wherein stages can change from one to another during combat.
They also said a bit about the music that we will be hearing while we play SSB. It seems as if there will be 800 tracks available. That's a whole heck of a lot of music. I am not sure how often I will be using this feature, but it seems as if you can listen to SSB music even when the Switch is off, Turning you Switch into a sort of giant unwieldy iPod.
There were some mode additions announced as well. One such addition is Squad Strike. This is a five on five or three on three elimination battle. You can also play in Tourney mode which seems like an obvious and much-needed addition. Finally, they spoke of a mode called Smashdown, wherein every time a character loses players will no longer be able to play as that character.
Finally, at the very end of today's Nintendo Direct, they showed us what the main menu will look like. In doing so, they teased us with some sort of mode that they will be announcing subsequently. What do you think it's going to be?
You can watch the whole video here!
August 6, 2018: New Nintendo Direct to be all about Super Smash Bros. Ultimate
The Nintendo Versus Twitter account recently announced that the forthcoming Nintendo Direct will be all about Super Smash Bros. Ultimate. You had better pick out what kind of popcorn you are going to eat on August 8 because at 7PM PST we're going to get more Smash news than you can shake a stick at!
April 26, 2018: Nintendo outlines Super Smash Brother plans for E3 2018!
Nintendo has dropped some tantalizing news for those who salivate for Smash news. There are more than a few events planned for E3 2018 which will feature the new Super Smash Brother for Switch. Those events are as follows
Super Smash Brothers Invitational tournament featuring the new Switch game Tuesday, June 12.
Video presentation featuring Super Smash Brothers for Nintendo Switch Tuesday, June 12, 9 a.m. PST.
Play Super Smash Brothers at the Nintendo booth - June 12-14
The who's who of who's new
Super Smash Bros. Ultimate Edition basically includes every playable character from every previous Super Smash Bros. game, plus a handful of new additions. For more information on the characters and their moves, check out our full list.
Every confirmed character in Super Smash Bros. Ultimate Edition
But is it all new?
Yes! Unlike some other Switch releases that are merely ports of Wii U games, Super Smash Bros. Ultimate is an entirely new release. It has the biggest roster to date, and there's a brand new Adventure Mode that's unlike anything we've seen in previous Smash games. There are new Spirits that bring a brand new game mechanic to the mix, some changes to multiplayer ranked battles, and more. This is going to be the best release of Smash yet.
What's the deal with Spirits?
Spirits provide an all new way to play. You can collect Spirits and use them with your fighters to give them new strength and abilities. Spirits are obtained by way of a new mode called World of Light, wherein you battle fighters who have been enhanced by these ghost-like entities.
Any given Spirit takes on the form of a character from the history of Nintendo, SEGA, Capcom, Konami, and more. There are around 1,300 in all, and we've listed every last one of them for you at the link ahead.
Every Spirit you can find in Super Smash Bros. Ultimate
And if you're after a more detailed breakdown of what Spirits are, how they work, and how you'll be able to use them, we have that for you, too.
How Spirits work in Super Smash Bros. Ultimate
When can we play and how much does it cost?
Super Smash Bros. Ultimate was released on Dec. 7, 2018. It's available for $60. The Fighters Pass Vol. 1 is available right now for $29.99 and contains six characters: Joker, Hero, Banjo & Kazooie, Terry Bogard, and Byleth. The second Fighters Pass is available to pre-purchase right now for $29.99 and an ARMS fighter is confirmed to be the first character, coming June 2020. Five more characters will appear after, but it is unknown who they are or when they'll arrive.
It's time to Smash!
Super Smash Bros. Ultimate
The biggest roster ever

Pick your favorite character from a huge roster of over 70 characters, and duke it out on dozens of battlefields. You can even play through World of Light and collect Spirits to enhance your fighter's abilities in battle!
What do you see in the fire?
Are you ready to Smash?
Updated April 2020: Added info on the first character coming in the Fighters Pass Vol. 2.
Master your iPhone in minutes
iMore offers spot-on advice and guidance from our team of experts, with decades of Apple device experience to lean on. Learn more with iMore!