NSFW: Big upgrades and small iPhones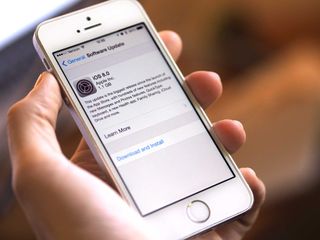 NSFW is a weekly op-ed column in which I talk about whatever's on my mind. Sometimes it'll have something to do with the technology we cover here on iMore; sometimes it'll be whatever pops into my head. Your questions, comments and observations are welcome.
iOS 8 has been out for a few weeks now, and I've been hearing a similar complaint come from quite a few users: They can't install it because it's too big. Is that their fault, or is it Apple's?
It's a problem that's trivial to work around if you have a Mac or PC with iTunes on it: Simply plug in your phone to the computer, launch iTunes, and tell iTunes to update the phone. The computer does the heavy lifting for you instead.
But that's not an intuitive way to do it, especially for the many (millions) of iPhone users who have never once connected their device to a computer. That includes many users who are actually afraid to connect their iPhone to a computer, thinking it will instead cause problems. (Will a virus or malware infect my phone? Will I lose my pictures?)
It would have at least helped if iOS told you somewhere along the way that you could do this, but to the best of my recollection, it doesn't. iOS 8 has rather more hefty installation requirements than iOS 7 did, which seems counterintuitive: After all, iOS 7 was the big physical makeover — shouldn't it have been the bigger download?
Nope. Apple rewrote a lot of underlying code in iOS 8. Because iOS 8 is such a major change in the way that iOS actually works,, its initial installation is rather more sizable than its predecessor.
When you do an over the air update, the iPhone needs to download it all, decompress it, and stage the installation so you're not left with a brick afterwards. And this takes up precious storage space on the phone.
For many of us, that's more storage space than we have available. We've filled our iPhones to the hilt with photos, videos we've shot, music, apps, and movies. The idea of keeping 5 GB free on a 16 GB phone (or in some cases, an 8 GB phone) seems absurd.
I'm sympathetic to the complaints, I really am. We have a natural tendency to fill up our spaces, virtual and real, with stuff. I don't blame Apple for its ambition, however, and sometimes that progress costs a bit of momentary discomfort for the rest of us. If Apple bears any responsibility at all, it's that they should do a better job of informing iOS device users of what their upgrade options are, instead of making it a binary situation: Either free up the space or GTFO.
Do you get mad at Toyota because your Corolla can't carry as much lumber and sheetrock as a pickup truck? It's equally unreasonable to expect that your 8 GB or 16 GB iPhone is going to download and install a huge operating system upgrade the same way that a 32 GB, 64 GB or (now) 128 GB iPhone can manage. People who buy iPhones with low storage capacity need to understand that their devices are inherently more limited in some operations than devices with more storage capacity.
Apple, for its part, should do a better job of letting people know what their options are, but in the end, this is squarely a case of caveat emptor: Let the buyer beware. Buy an iPhone with more storage capacity than you need, and be prepared to either offload the stuff you've put on the phone temporarily or find another alternative like iTunes when big updates happen.
Did you get caught without enough free space to install iOS 8? Did you dump stuff or go the iTunes route to get it installed? Sound off in the comments — I want to hear from you.
Get the best of iMore in in your inbox, every day!
I have the biggest iphone 5s you could buy and I still had to use itunes. Why? I have "Turtle Net" I just synced to itunes and did the update and install later and after about the 4th time I was successful. I'm envious of people with real internet!!

Turtle Net. I laughed but I also feel your pain.

I'm in the same boat....live in the country and suffer from turtle net also! i have to let the download go over night on the mac and hope its done by morning.... I have the 32gb 5s but i still had to remove some video.

I had to delete a lot to update my iPad (16GB) to iOS 8 via OTA. I thought about using iTunes to do it, but my Mac is old and needs to be plugged in all the time so it's stored in a closet. I agree that the buyer should be aware of the requirements of installing, but there should also be a warning from Apple in the software update info that says if you don't have enough space, connect to iTunes and you'll be fine.

I do my major updates on mac, incremental updates on the device. Some of my friends can't update, they got 8 or 16 gig phones, I told them to connect to their pc's. I am very happy with 128 gig iphone, 64 gigs is not enough for me anymore.

How much music and videos do you have on there???

You will one day need more space on that 128gig.

I know what you mean I had to buy a android to expand past the limits of 128gb!!! No joke but for my iPad air I have 128 GB model and updated to iOS 8 over the air I only have 12 gbs left I have over 3 thousand songs on it and 14 thousand pictures most in a lower resolution and 368 games oh and 64 movies all on my iPad everyone is always like why do you need that many games!?! hmmm I guess they will never understand ;-) Posted via the iMore App for Android

I had to delete some large apps of my 32gb 5s but then I was fine. Then a few days later I got my 6 :-)

I have a 16GB iPhone 5s and I updated on my 1st try, I alwahave huge apps like asphalt 8, infinity blade, etc. But when i removed my jailbreak that freed up a bunch of space (I use a lot of tweaks) and after that I just had to delete infinity blade!

On my 64gb 5S I deleted Infinity Blade 1 & 2 (I have never started playing either anyway) and that gave me the 5gb+ I needed to OTA upgrade to iOS 8. A coworker has a 8gb 4S and I helped her plug that into her computer and sync to iTunes and complete the upgrade that way. Now with my 6 I will OTA upgrade incremental iOS releases until iOS 9 comes out next year.

*drops jaw* if you have an iPad please go play the Infinity Blade Series Posted via iMore App

I hear you and I bought all three, but I played the 1st one but didn't really like the "die, keep all your gains and do it over and over again until you are strong enough to win" gameplay mechanic. I will revisit at somepoint though...

I see two items that can be improved: 1. As mentioned, give the user a clear message that OTA can't work before even downloading the update.
2. A better way to actually manage content on the device. Without a central file management solution you need to go to dozens of places (music app, video app, messages app, photos app, every single Newsstand app, iBooks etc ad inf) while always going back to Settings to check the actual free space, as you can't see it elsewhere. Some apps do also make content deletion rather unintuitive, as it seems that every app does it differently. I personally never had the problem, as I always leave plenty of free space (and normally go for the biggest model), but I can see that it is painful. Since iOS can work independently since a few generations, there should also be a way of managing it somehow without a tapping and guessing orgy.

Let the stupid beware.
Welcome to the cloud, defuses!

so if i understand this article correctly, you don't have to delete anything if you do the download & update via plugging in to your itunes?? if that's the case, good to know going forward. i'm a 16gb iphone/ipad owner & i needed to free up space. once my itunes recognized my devices via wifi, i just un-sync my music, do my download ota then re-sync to add my music back...i guess i just assumed it would be the same steps even if i plugged in to my mac.... Sent from the iMore App

That is correct - iTunes doesn't require any space more than what the actual installation requires. Doing it over the air requires space to download, decompress and stage. iTunes handles all that for you - just swaps out what's changed.

I just deleted like all the apps than reinstalled after the update lol Sent from the iMore App

I always buy iOS devices with lots of storage, but I have friends and family who don't, and they all asked me how to install iOS onto their 16gb devices. I told them to use iTunes, and the response varied from "I don't have a PC", to "why should I have to do that?". Apple should do a better job of streamlining these updates, and informing users about cloud storage. (giving more than 5gb away for free wouldn't hurt too)

My wife and I have the 16gb iPhone 5 and did the update OTA. Didn't even think about doing it via iTunes from the Mac since I rarely plug the phone into the Mac anymore. The good thing about this update was that it forced me to delete things I wasn't using anyway. However, we both agreed that when we upgrade it will be to a 64gb model. Sent from the iMore App

Had no issues updating, I waited a few days until the servers weren't so bogged down, did my update OTA without any problems. My 5S with 64gb and My iPad mini with 128gb sailed right thru. Have a very fast internet and I think it took less than 10 minutes for each device. Couldn't be happier. I am getting a pop up on my iPad whenever I shut it off and restart it, I get a pop up saying (unable to download this item, please try again later) Very frustrating, don't get it on my iPhone, just the iPad.

I always to the major releases and the x.1, x.2 etc. through iTunes. The smaller x.x.1, x.x.2 updates I will do over the air. I'm just super cautious about my data and like having a complete backup on my computer right before starting the update. When updating my wife's iPhone 5, I did see it required 600 MB of space. She always has her phone filled with pics and videos of the kids, so I'm regularly emptying pics off her phone.

I agree that Apple needed to communicate better. They could have also told users well ahead of time about the size of the update so that we could all prepare well in advance for deleting our Games of Thrones episodes. Sent from the iMore App

I have a 64GB iPhone 5s, and 64GB iPad 3, and for reasons like this, will ALWAYS get the largest storage capacity I can. I also believe in local storage, as I can't count on being connected 100% of the time.

Initially I had to offload a few things on my 32gb iPhone 5c (which basically was only a few apps that I downloaded and had never used). And I'm glad I did as I never imagined how large the download of iOS 8 was. But now I have my 128gb iPhone 6. So hopefully this won't be an issue anytime soon. Sent from the iMore App

I find it interesting that over the years we've all railed against Microsoft (and justifiably so) for the bloatware that was Windows. Now we see the same thing happening with iOS. I suppose part of that is the continual adding of extra things the OS can do for us. But really, how much do we need the OS to do for us? What's next, an app that will wipe our butts? Well, at least MS reduced the footprint of Windows with Windows 7, though they stuck their foot in it with Windows 8.

8 is lighter than 7 you know, changing the GUI isn't as huge of a deal if you decide to find out where things are. Posted via iMore App

I appreciate that, BUT many people complain about Win8 as the challenges go beyond the GUI. For example in my organization, Win8 is not approved for our corporate laptops as it does not play nice with many of the software programs we use. The same was for Vista. We never used Vista, always downgraded to XP. Currently the same with Win8 to Win7. It seems that MS has a pattern of a great OS followed by a lousy OS. Win95 good, Win98 not so good. Win98SE great. WinMillennium, not so good. WinXP great. WinVista lousy. Win7 great. Win8 not so good. Next version?? Probably great.

I always update using iTunes. Before I switched to iPhone, OTA with my other phones was painful (as was searching for the update instead of waiting for the carrier). I was very happy that the switch to iPhone gave me the iTunes update options and I no longer had to wait for the carrier to release the update

This is one of the reasons I went with the 32gb iPhone 5s. Sent from the iMore App

I guess I'm old fashioned, but I do all my updates through iTunes. I sync my iPhone with my PC most days anyway so it's not a big deal. I also prefer to have my backup on my PC in case there are any problems. I've never tried it, but it just seems risky to me to do a major iOS upgrade OTA.

I hate plugging my iPad in, but it is better than OTA updates.

This is another reason why Apple's decision to keep the base iPhone 6/Plus at 16 GB rather than 32 is a rather stupid one from a customer satisfaction point of view. Sent from the iMore App

Why is a 32gb iPhone 6 not even offered? This year, of all years, it seems like the most appealing option. This seems like another "because we said so" Apple moment that is so unnecessary and simply trying to "Jedi mind trick" us (the consumer) into thinking $299 for 64 gb is such a good deal.

I had to dump my music on my iPhone 5. all 5.2 gigs of it since deleting Toy Story 3 (movie) wasn't enough. Getting an iPhone 6 Plus if my plans go right.

I did an iCloud back up of my phone then began deleting apps, pics, etc. until I had enough space. Once I was done installing ios8. I simply restored my phone from the back up and everything I had deleted was restored. It really wasn't that much of a hassle. Sent from the iMore App

Honestly, the most surprising thing about storage is how much space some apps take, particularly games. I'm not a big game player myself, but we have kids, so read-along apps like "There's a Monster at the End of This Book" are somewhere between nice to have and essential... but there goes hundreds of megabytes for each app. I just didn't see that coming when we bought a 16gb ipad retina.

Then why make devices with low storage at all? These are very expensive devices! Make software that works optimally on all the devices you offer,end of story.
"This is the best iPhone ever,just don't buy the one with 16GB!" Maybe that should be in the presentation. Sent from the iMore App

Call me a lowlife and say I never use my smartphone But I have 16 gigabytes and I deleted nothing to update In fact, I had 8 gigs open before the update Sent from the iMore App

Isn't this a bit ridiculous? Why ban one company? If they are going to ban something because of brand name they should ban all of them. This is simply dumb corporate lobbying. Okay, off my soapbox.

Somebody may have already said this but your analogy was simply horrible. Not even remotely equivalent. Do better next time.

I upgraded my iPhone 4s (8GB), to the iOS 8 without deleting a single item. No apps, filles, pictures, music, or anything else had to be removed. I don't use iTunes, nor iCloud. I stream all of my stuff in the clouds (sorry iCloud, you're the exception), and online. Since I'm always online, on average I use between 30-60 GB of data a month, with two personal phones. I have the 64GB IPhone 6 and 32GB 5s too, so I'm expanding my horizons. Sent from the iMore App

Terrible analogy. I hope next time you take your car in for repairs the mechanic asks you to empty the car out so they can fill it with parts and tools needed during the repair. Sent from the iMore App

I guess being older than most, I always thought tethering to the PC was the normal mode of updating any handheld from my old palms to my early iphones - OTA updates were simply not available. So it has been a bit revealing to me that both my daughter and my wife were unaware of the size difference - I've since enlightened them. But since none of us see too many features in ios 8 ummm I mean 8.0.2, we are holding off at least until we hear how the bugs are behaving and so far it is looking 70-30 for more bugs than worth the time and effort to upgrade and suffer one of the many issues still being reported. As for those of us on limited phone budgets - I learned a long time ago, I make 16gb work. I do not need every photo ever taken to reside on my phone at all times, I sync what I want to keep with one folder on my PC and the rest I archive on my PC. Nor do I need the 10s of thousands of songs I've ripped from my CD collection or downloaded from iTunes to all reside on my phone at all times - after 7 years of iphone use, I've finally learned the value of playlists! I normally keep a handful of playlists of reasonable size on my phone and I sync certain playlists depending on my mood. Same for app's - I got so many I tried out due to some review rave, but then found myself never using it, so off it goes and if I ever want it back, I sync it with iTunes. SOme of my most used apps are not very big so apps have never impinged on my storage capacity too much. I pretty much always have 1 to 1.5gb free to give me the space to try out new apps or load it up with photos if I'm out at an event or whatever. If you want live within the bounds of only affording a 16gb device, then there are easy ways to deal with it and iTunes can actually be your friend (never, ever thought I say that!).
Thank you for signing up to iMore. You will receive a verification email shortly.
There was a problem. Please refresh the page and try again.