NSFW: Big upgrades and small iPhones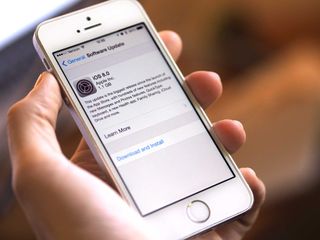 NSFW is a weekly op-ed column in which I talk about whatever's on my mind. Sometimes it'll have something to do with the technology we cover here on iMore; sometimes it'll be whatever pops into my head. Your questions, comments and observations are welcome.
iOS 8 has been out for a few weeks now, and I've been hearing a similar complaint come from quite a few users: They can't install it because it's too big. Is that their fault, or is it Apple's?
It's a problem that's trivial to work around if you have a Mac or PC with iTunes on it: Simply plug in your phone to the computer, launch iTunes, and tell iTunes to update the phone. The computer does the heavy lifting for you instead.
But that's not an intuitive way to do it, especially for the many (millions) of iPhone users who have never once connected their device to a computer. That includes many users who are actually afraid to connect their iPhone to a computer, thinking it will instead cause problems. (Will a virus or malware infect my phone? Will I lose my pictures?)
It would have at least helped if iOS told you somewhere along the way that you could do this, but to the best of my recollection, it doesn't. iOS 8 has rather more hefty installation requirements than iOS 7 did, which seems counterintuitive: After all, iOS 7 was the big physical makeover — shouldn't it have been the bigger download?
Nope. Apple rewrote a lot of underlying code in iOS 8. Because iOS 8 is such a major change in the way that iOS actually works,, its initial installation is rather more sizable than its predecessor.
When you do an over the air update, the iPhone needs to download it all, decompress it, and stage the installation so you're not left with a brick afterwards. And this takes up precious storage space on the phone.
For many of us, that's more storage space than we have available. We've filled our iPhones to the hilt with photos, videos we've shot, music, apps, and movies. The idea of keeping 5 GB free on a 16 GB phone (or in some cases, an 8 GB phone) seems absurd.
I'm sympathetic to the complaints, I really am. We have a natural tendency to fill up our spaces, virtual and real, with stuff. I don't blame Apple for its ambition, however, and sometimes that progress costs a bit of momentary discomfort for the rest of us. If Apple bears any responsibility at all, it's that they should do a better job of informing iOS device users of what their upgrade options are, instead of making it a binary situation: Either free up the space or GTFO.
Do you get mad at Toyota because your Corolla can't carry as much lumber and sheetrock as a pickup truck? It's equally unreasonable to expect that your 8 GB or 16 GB iPhone is going to download and install a huge operating system upgrade the same way that a 32 GB, 64 GB or (now) 128 GB iPhone can manage. People who buy iPhones with low storage capacity need to understand that their devices are inherently more limited in some operations than devices with more storage capacity.
Apple, for its part, should do a better job of letting people know what their options are, but in the end, this is squarely a case of caveat emptor: Let the buyer beware. Buy an iPhone with more storage capacity than you need, and be prepared to either offload the stuff you've put on the phone temporarily or find another alternative like iTunes when big updates happen.
Did you get caught without enough free space to install iOS 8? Did you dump stuff or go the iTunes route to get it installed? Sound off in the comments — I want to hear from you.
Master your iPhone in minutes
iMore offers spot-on advice and guidance from our team of experts, with decades of Apple device experience to lean on. Learn more with iMore!