NSFW: I'm not overcompensating, I swear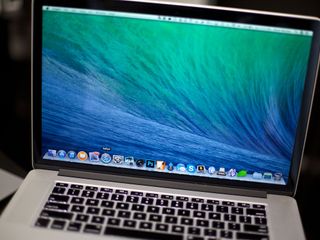 Some people love to turn regular full-sized pickups into monster trucks. They jack up the suspensions, put on huge tires, modify the exhaust. And what's left is a hulking monstrosity that's twice as tall as any other passenger vehicle on the road, roaring, thoroughly intimidating.
I know it's judgmental of me, but inevitably when one of these pulls up next to me at a stoplight, my first thought is, "Nice truck, buddy. Sorry about your penis."
Lately I've been realizing that that's how some people have been viewing me when I haul out my 15-inch Retina MacBook Pro at Starbucks. I sit down with my venti iced drink and open my backpack, and sometimes when I pull my Mac out, I'll catch someone giving me a sideways, skeptical glance.
Nice laptop, buddy, they seem to be saying. Sorry about your penis.
Just about any Starbucks (or any other coffee shop) I frequent these days is filled with Macs. One or two oddballs may be stuck with a PC — but they stick out like sore thumbs. Because of where I live, they usually look like C-level suits forced to do some work while they're on vacation, and they usually look pretty miserable doing it.
Some — in increasing number — opt for iPads and other tablets. I've noticed a particular move in my area for older Starbucks customers to be using their iPads while they're sipping their drinks.
The rest of us who are actually using laptops are on Macs. MacBook Airs make up a huge percentage of the laptops I see people with, followed by the older-style 13-inch MacBook Pro with an internal SuperDrive. There are a few other Retina MacBook Pros that pop up from time to time, but they're almost always the 13-inch model.
In 2011, the 15-inch MacBook Pro was still Apple's mid-range laptop. The high end was occupied by the gargantuan 17-inch MacBook Pro, which Apple put to rest when it introduced the Retina MacBook Pro line in 2012. With the 15-inch model's high-end scaled resolution the same as the 17-inch model, there seemed little point in having the bigger system still available.
I had one of those behemoths. I loved it, too. I didn't travel extensively, which was why. I had to haul that thing with me out a few times a year; the rest of the time, I was puttering around my home, which doubles as my office. When I did travel, boy did I feel it (I ended up getting welts on my shoulder from the weight of it in my backpack).
The size of the 15 is still substantial, though not nearly as big or weighty as the old 17. But really it's the price, starting at $1999, that makes it less attractive to a lot of Mac customers. They either don't want to spend the money or can't justify the expense.
In fairness, Apple makes very solid smaller systems. The 13-inch segment of Apple's MacBook line is particularly stacked; the 13-inch MacBook Air, 13-inch MacBook Pro and 13-inch Retina MacBook Pro are all options, and all are within $300 of each other.
That's why news about a possible new addition to Apple's MacBook line somewhere in this range doesn't surprise me. With fewer and fewer customers opting for larger machines, Apple's finding new ways to differentiate in the most popular size for most consumers — that 11 to 13-inch bracket.
I've dabbled with smaller machines. After my last 17-inch MacBook Pro passed beyond the veil I replaced it with a white polycarbonate 13-inch MacBook, which did me very well until I got an 11-inch MacBook Air. that one in turn did just fine until I supersized again, jumping up to the 15-inch MacBook Pro last year. All the growing pains I felt with those smaller systems — lack of screen real estate, slow performance, limited storage capacity — are addressed with this one.
For me, I'll stick with the 15-inch for now. It has the right combination of no-compromises horsepower, features and screen real estate that I not only want but legitimately need for what I do.
And I'll accept the skeptical looks of people who see me hauling this big laptop out of my bag.
But I'm not overcompensating for anything, I swear. I just really like the bigger MacBook Pro.
Master your iPhone in minutes
iMore offers spot-on advice and guidance from our team of experts, with decades of Apple device experience to lean on. Learn more with iMore!