NSFW: Naysayers, Yosemite Public Beta and You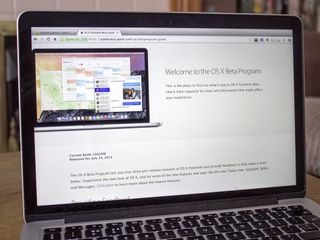 Editor's note: NSFW is a new weekly feature we're trying on iMore starting today. It's an editorial soapbox; I'll be sharing thoughts that may or may not have anything to do with the technology you read about the rest of the week here on iMore. Hope you enjoy!
A busy week in Apple news, what with Yosemite Public Beta's introduction and Apple's quarterly earnings report. I was really happy with the Mac numbers for this past quarter; the Mac is continuing to truck along nicely despite the PC's continued decline.
While I'll cop to at least a bit of schadenfreude in knowing that PC sales suck, I have to admit that my tune's changed over the years. I just find being an advocate for much of anything to be a pointless waste of energy. Trying to get people to change their minds is just more effort than it seems to be worth most days.
I've heard a lot of grousing about Yosemite Public Beta and what a mistake it is for Apple to let the great unwashed masses near Yosemite prior to release. How it's going to cause support problems for Mac IT people and others. Yeah, there's some truth to that. I spend my weekends working at a Mac retailer. I had a guy stroll in a few weeks ago with a MacBook Pro that was hosed — he'd installed a Yosemite developer preview on it and not understood why it was kernel panicking.
I gave him two options — nuke it and pave it back to the original operating system, or do nothing and have him sort it out. He was unhappy with both options (he chose the latter). Because when it comes to beta software, you roll the dice, you take your chances. Beta operating system software, especially.
I don't think he had a backup, either, which was just beyond stupid. There is absolutely no excuse to jeopardize your data simply because you're interested in and anxious to install a public beta.
So I'm cognizant of the psychic pain that people who support Mac users feel about this. And there is some merit in reminding people about the risks they run by installing software like this (and giving them tips to avoid problems). After all, Apple's supposedly opened a million slots for the public beta — that's a lot of potential users to have to worry about.
But it hasn't gone to general release. And the million slots are people who are asking for the software and are, presumably, aware of the risks of installing a pre-release version of OS X. And even if they're not, they're pretty much on their own until it gets released, as far as really proactive support from Apple (and its duly appointed representatives) is concerned.
But here's the thing: In retrospect, Mavericks' rollout was sort of a mess last fall. It's taken until just recently — 10.9.4's release — for Mavericks to stabilize really well. And even so, Mavericks Mail is still brutal for many people who depend on Gmail and some other e-mail services, and things like SMB support for cross-platform file sharing isn't as ironed-out as we'd have hoped. There are other lingering issues that I presume Apple will get to in due course.
Mavericks didn't go through a public beta like Yosemite is. Maybe if it had, some of these issues would have been ironed out sooner. That's all I'm saying.
Get the best of iMore in in your inbox, every day!
I installed Yosemite on my machine at work on a separate partition yesterday. Migrated everything from my Mavericks partition and started using it. So far so good. My core Mac apps work as they do under Mavericks. First casualty was Outlook 2011, which failed to open its main window, duh ;-). I wonder if there will be a fix for that, maybe not. Everything else works OK AFAICS.
Speed is an issue with starting up and logging in for now, but that's no worry, it's a beta. I'll see what the weeks ahead will bring while using it.

I do hope there is an eventual fix for Outlook 2011. I use it as my primary mail client and it's other features to work using my Mac in a PC environment. Worse thing that could be is having to use my secondary laptop with Office 2010 and Outlook. Hopefully Apple or Microsoft sorts things out.

Given that it holds no relationship to previous Microsoft products called "Outlook" and was in fact written from the ground up for Office 2011, Outlook for Mac is itself basically a beta product (or at best a "1.0 product"). I don't know many organisations at all that allow users to use or install it for those and other reasons.

I find it far better than Entourage and having several service releases, it's beyond a "1.0 release" especially when Microsoft is keeping the conventional Outlook design and such in Office 365 / 2014 Having worked in many different IT positions as a independent contractor before, Office 2011 for the Mac was in high demand. If you want to speak of "1.0 products", try going back to using Office V.x which was the first OS X native release. It was PPC code, but actually stable considering it's first native OS X overhaul. Most people I know in enterprise solutions used Microsoft Exchange and the web portal be it on PC or Mac hardware for secure email.

Well, I thought we were talking about Office for Mac. Anyone using Entourage on a Mac or any IT person suggesting or promoting it's use on a Mac should have their head examined. Aside from the known problem of Entourage having a hissy fit and destroying all the users mail, contacts, and calendar information when faced with the tiniest file corruption, it's incompatible with the Macs built in backup system, Time Machine. I would question any IT department that allows users to use Entourage as a mail solution on a Mac, although many users insist upon it. The correct approach would be to try to talk them out of it and let them know that if they insist upon using it, it's at their own peril.

When it comes to keeping a Entourage database safe, nothing works as good as a simple USB drive. The same goes for Outlook on Macs. Just copy the Microsoft database folder in the documents directory under whichever user account is used, anyone wanting to stick with using it I make them responsible for backing up their database files. Not my problem.

I was with a company on contract and using Mail when their IT forced me over to Outlook 2011 for "security" reasons. The UI felt like I went back 10 years in time.

People with hdd in there macs may want to hold off on the update as the newer update require much more bandwidth
I have a ssd in and it boots in 10-20 seconds
So far so great
10gb ram
240gb ssd
2.5 core I 5
Late 2012 MacBook Pro I believe 13 inch

Yosemite looks great! I'm a registered developer so I try to use continuity sending text messages and making calls, with no success. All the messages and calls hangs. Anyone else is having this issue?

I believe you have to have both Yosemite and IOS 8 installed for these features to work.

Did you miss the part where he said he was a registered developer? Sent from the iMore App

Nope, I didn't miss that part. I also didn't miss the part where he didn't specify whether he was a registered OS X dev, a registered iOS dev, or both. They are separate programs that you enroll in separately. Also, absolutely nothing was said about him using iOS 8, which would be another requirement.

I didn't do an clean install, but it's all working good, minus a few bugs (mainly with apple apps, to be expected) all my other programs work just as well, and the new design looks fantastic Sent from the iMore App

I went all crazy and just downloaded without any prep. To be fair I haven't had my MacBook Air that long so I'm not really risking much. So far it works really well. Start-up takes a bit longer and Safari has been a bit glitchy but everything so far has worked well. Sent from the iMore App

Apple needed to do a wider beta. When Mavericks came out, and others before it, there were glaring issues that made it obvious nobody had tested the OS in environments such as corporate. The problem is, 90% of the people that grab beta code shouldn't. You need to understand going in that things WILL break, and you need the patience to live with it or work through it. Never upgrade your main and only machine. If more corporate users were to test the beta against the software they run, such as Microsoft's aging Office 2011, we'd get more pressure on other companies to get quicker patches as well. I've let my Microsoft rep know there are bugs in 2011 and that we will expect quicker patches and he has gotten me in touch with the development team. We are on the edge of switching away from Lync, and I've expressed that if they can't keep clients like Lync 2011 working its just one more reason to make the switch. Companies need to realize that beta is there so they can work to get their apps running by the time of release, not start working on it after only to come out with a fix half way through the next year. I'm hoping this beta way of doing things can help.

I've never seen any major developer have a version "optimized for" or "designed for" a new OS release when it comes out. It seems that whenever the chance for them to get prerelease code and work with it... They don't, they wait until the release date, then go buy it off the shelf before they begin working. Even if that means that their customers have to choose between updating their system or their app breaking.

Yah, it's too bad that people who don't know what they're doing try the Beta version. I never risk a Beta version of an OS--I just don't have time to fool around with problems on my computer, you know?! However, I appreciate the people who do and can handle the glitches, so that the final version has the bugs fixed. For the rest of us: patience people!

You are of course correct advocating caution when installing betas, but Apple's culture and history works against you. Apple has (successfully) contrasted themselves against WinTel, saying for years Macs "just work" and are "the computer for the rest of us," i.e. they built their business around products for which the end user does not need to worry about technical details, and marketed them heavily as such. Beta vs release software is very much a technical detail, so is it any surprise that a large number of Apple customers do not grasp the implications? It is the logical endpoint of what Apple has been working towards since the System 7 days. Sent from the iMore App

No offence, but I don't think your criticism makes sense. You are saying that people are emboldened by their previous successes with Apple software into installing a beta thinking it will "just work," but the mistake is still theirs. They have no reason to expect it to "just work" other than their own stupidity. One could also argue that the beta *does* "just work" even if it hoses their hard drive, because that is a part of what beta software does. As long as you have a backup, that is part of the "fun" and part of the "beta experience" and therefore part of the intended operation of the beta as a product. The end user has to be doubly stupid to both ignore all the warnings, install the product without a backup and then complain that they expected it to "just work." They also have to fundamentally confuse the difference between a beta and a live OS.

Of course it is still the end user's fault - but when the entire culture around a product is that it frees the end user from worrying about technical details, it should come as no surprise when a significant number of those end users do just that when presented with a "public" beta. Sent from the iMore App

I disagree. You've just restated your argument, and not given any counter argument to my criticism of your original statement.

I wasn't aware mister_grey was the only one allowed to offer an opinion, but, let me try and restate again, since you seem to be having a hard time understanding the logic chain. You can tell me where it goes off the rails: I AGREE that ultimately, it is the end user 's fault. That said, a certain number of users would try things they should not is predictable, because: 1) Apple has specifically and successfully designed their products to be accessible even to non technical users without requiring IT support. True/False. If true, proceed to step 2 2) Apple has not only designed their products to be usable for non-techies, they have made it a primary selling point for 30 years. True/false. If true, continue. 3) Apple will therefore have a significant percentage of non-technical users without dedicated IT support among their user base. True/False. If true, proceed 4) As Rene has said in podcasts, Apple has never before issued a public beta. Paid developer betas, yes. Free betas open to anybody, no. Unlike Windows users who slog through this nearly every release, Apple customers have no experience upon which to draw for public betas. True/false. If true, continue to conclusion. (Actually, Apple has done one public beta - Siri - and heavily marketed it as *the* killer app for iOS the entire time it was listed as in beta, so, if anything, a non-technical user will have a *positive* and ultimately risk association with Apple public betas, if they have any understanding at all.) Summary: 1) A large pool of non-technical users.
2) A product centered around ease of use with little technical knowledge required
3) A lack of history or context for these users as to what beta truly means. Conclusion: A non-trivial number of OSX users will make the mistake of installing the beta, when to a more experienced or technically savvy user, they clearly should not. I fail to see why this is even a remotely controversial statement, or why you feel so compelled to exonerate Apple of any and all part in what I agree is ultimately the user's mistake and responsibility. In fact, this is why sites like imore, and people like Rene and Peter here and on Twitter beat the drums so loudly against installing beta unless you know damn well what you are doing - because they fear there are users out there who are insufficiently aware of the consequences. I think they are doing a valuable service, but their service is in part necessary because of the ( successful) culture around Apple products. You seem to think Apple is 100% absolved because they have a scrollable boilerplate warning and an Are You Sure confirm box before installing. As an Apple fan, I'd like to hold them to a higher standard than that. Sent from the iMore App

Yes, I'm sure there will be plenty of people who install the beta and are surprised by bugs, but Apple did supply context. It was a blurb on the site just before you download the beta. They reminded us to back up, and (though I don't remember the exact wording) they warned us that there would be bugs. I think they even cautioned against using it on a production machine.

Yes they did -- but you are ignoring the larger context, of Apple building their entire business around end users not needing to be savvy about technical issues, of Apple taking care of problems from virus protection to objectionable App Store content to, yes, bugs. Non-techincal users may not understand beta, but, for lack of a better word, people *trust* Apple, and for the most part, should. Against that larger context, it was entirely predictable that a non-trivial number of users would skip past that warning and click "OK" as quickly and as carelessly as they do the iTunes EULA. Is it still the end user's fault for installing Yosemite Beta? *OF COURSE IT IS*. But since the results were so predictable, and the consequences so potentially severe, Apple would have benefited from making the warnings even more prominent and/or the hurdles to installation higher, for this beta.

Just because a Mac user has never had any issues (and apple has used that as a feature) does not mean all Apple users are dimwits (I know you didn't use that word, but what else are you saying exactly?) a good many Apple users have been fans for many years and because if that know how a PC/Mac works and also understand the risk of beta software. Again, you under estimate people. Apple has willingly taken the risk as they see huge potential in a massive user base using their software to prevent bugs (or worse). Apple wouldn't risk their name and the last decade plus marketing macs to just throw it all away. Apple does a great job in warning the user. If they don't take heed then that is their own fault. Apple doesn't need to babysit especially when you should be smart enough to decide whether to take a risk with your data just to be on the latest build. The data apple can get is immeasurable with this public beta and they wouldn't have waited thus long to try if they didn't feel the risk was worth the reward.

Oh for Pete's sake....is this really so hard to understand? I have said, three times already, that ultimately it is the end user's fault. I suggested that this is the first public beta Apple has ever run (Siri excepted), and, since it can have some negative consequences if people click through the warnings, that Apple should have emphasize the warnings more, to target directly that non-trivial numbers in their customer base that have grown to trust Apple and who also lack hard experience of beta software. It frankly puzzles me that this rather meek suggestion -- that Apple should make a stronger effort to make the risks crystal clear to those users who may reach beyond their grasp -- is meeting with such outrage. More to the point, I HAVE NEVER -- EVER -- ANYWHERE -- SAID APPLE USERS ARE DIM-WITTED. Though this thread is making me wonder...

Damned if you do, damned if you don't. Mavericks bugs get brought up quite a bit lately. Mail especially. Apple is trying to do something different this time around to not have the same problem and I don't think they should be faulted for that. Just like every other decision though there are some consequences. Idiots just happen to flock to these consequences more. Sent from the iMore App

New Peter weekly! Woohoo!

I had considered trying the beta but as with all software (OS or app) there's always a risk and my MacBook Pro is my primary computer along with my 27" ACD so I was so tempted to try it out but I held out instead. I have far too much to lose if my Mac gets hosed. I can wait.

Back in the 90's it used to drive me crazy when I would find that the programmer we had (sole not very good programmer) would decide that he wouldn't test changes and make live active changes to the software. 9/10 it ended with crashed System 36 and AS/400 systems and having him drive in and fix the mess or having to go in and fix the mess ourselves but that then and this is now. Apple, on the other hand, before they launched a public beta have already had numerous beta's of the OS with developers allowing them to make sure their software works on the new OS structure and reporting bugs. Unfortunately, this restricts bug finding to bugs related purely to the OS as it is used by developers and anyone that develops will tell you that their use is purely a narrow field of use! Public tend to use their PC's more widely doing 'normal' things. When Apple released the public beta it was because it has gotten to a level where it is much less likely that something critical occurs. For me, I don't store my data locally, have multiple backups of that data and I am smart enough that what little data is still kept on my Mac is data that if it were lost would not be a crisis. I believe that Apple were smart, especially when they chose to no longer charge for an upgrade, to allow a public beta that would allow them to launch the new iteration of their OS with less major bugs and flaws. It worked with Maverick and will with Yosemite lead to a better OS. It is though insulting for anyone to call the public the "Unwashed Masses" and shows a marked snobbery. I am sure that many of these are the ones that develop software full of bugs and flaws and refuse to accept the complaints of bugs. I have many other choice words to describe this type of person but they really are NSFW!

I totally agree except the slagging of Mail because it doesn't work well with GMail. I know Peter phrased it better and more politely than most and used caveats as well, so this isn't really aimed at him, but I'm sick and tired of reading tech articles about how Apple's Mail app has "problems" or "bugs" etc. when in fact it works absolutely fine with everything but GMail. GMail is a highly proprietary, "goofed up" mail system that violates a lot of the basic rules of email delivery and reading systems. This approach has advantages of course and a lot of folks like it, but by no means is it fair to call out a program that works perfectly fine with any standards based mail provider, just because it fails to work with a provider that flaunts all the standards themselves. Mail "failing" to work with GMail is a completely unfair criticism no matter how you look at it.

Nah, it's totally fair. You overlook two simple facts: 1) Gmail worked fine in previous Cat releases of OSX. 2) Mail.app in Mavericks still presents Gmail as a first-class *supported* option Apple never told customers "this works with *sniff* standards based email systems. They said this works with Google Mail accounts. It used to, and then it did not, but Apple still presents it as a fully supported option. Apple deserves every bit of flack they get from customers upset with this regression that Apple introduced.

I don't think you are correct about that. I don't remember Apple specifically saying that the Mail app was intended to work with non-standard email systems like GMail. They merely provide it as a email program and they try to make it work with all and sundry. Google not only uses a non-standard implementation, they move the ball constantly by changing that implementation. This is great if you like those features and so forth, but if Apple lags behind in their support for a non-standard system, I don't see how it's fair to criticise them for it. Google should either provide their own local Mac client or point their users to systems that support it. I'm sure that like most web-based mail providers, Google would rather you use the web interface anyway, and web interfaces for mail are basically primary now in any case. Local clients support what they can, when they can, focussing on standards as they should. It's an unfair criticism that only has traction because of the huge GMail user base which intersects with the huge user base among geeks, of Mac hardware. If it wasn't for sites like this (and many other leading tech sites) populated by Mac users who also habitually use GMail, you wouldn't even hear of the criticism. No one who doesn't habituate theses sites has heard of this criticism I assure you. It's not like Mail doesn't support GMail as well. They just don't correctly support some of the newer or more arcane features of GMail, which are again, the same features used and talked about by the small section of tech people who write for sites like this.

1) Open up Mail 2) Add an account 3) Look at the account types 4) See that gmail is listed as an option If you can point out where it says that support for gmail is different or less than any of the other options, you've got a point. If you can point out where that level of support changed between when Mavericks was released, you might even have the point you think you are making. Sent from the iMore App

Peter, always practical, and cranky in all the right places. I enjoy your take on things brother. ;-)

amen to this article peter love the new section. I am part of the 'unwashed masses' of which you speak i backed up on mavericks using time machine on an external hard drive which i had, yosemite installed painlessly and easily and now under my casual use the only problems i have found are minor UI flaws. All in all i have loved this i love the new design and revamp and the consistency also love the redesign of all the standard mac apps

Cudos on this article Peter and I can't wait for reading more moving forward. I used to work in retail paint sales and I have to say, 95% of product failure was because of cause by consumer failure. They say buyer beware, but many times it should be seller prepare... for headaches.

My comment is on the title of your new feature, and not the content above. I realize you are posting "unofficial" reports and opinion/editorials, but I would discourage labeling it "NSFW" unless your content is really intended to include offensive images or content. And by "offensive" I would mean in a moral sense ("p*rn is awesome"), not an Apple sense ("android is awesome").
Thank you for signing up to iMore. You will receive a verification email shortly.
There was a problem. Please refresh the page and try again.