NSFW: Naysayers, Yosemite Public Beta and You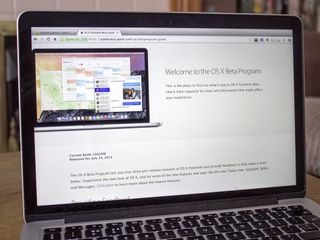 Editor's note: NSFW is a new weekly feature we're trying on iMore starting today. It's an editorial soapbox; I'll be sharing thoughts that may or may not have anything to do with the technology you read about the rest of the week here on iMore. Hope you enjoy!
A busy week in Apple news, what with Yosemite Public Beta's introduction and Apple's quarterly earnings report. I was really happy with the Mac numbers for this past quarter; the Mac is continuing to truck along nicely despite the PC's continued decline.
While I'll cop to at least a bit of schadenfreude in knowing that PC sales suck, I have to admit that my tune's changed over the years. I just find being an advocate for much of anything to be a pointless waste of energy. Trying to get people to change their minds is just more effort than it seems to be worth most days.
I've heard a lot of grousing about Yosemite Public Beta and what a mistake it is for Apple to let the great unwashed masses near Yosemite prior to release. How it's going to cause support problems for Mac IT people and others. Yeah, there's some truth to that. I spend my weekends working at a Mac retailer. I had a guy stroll in a few weeks ago with a MacBook Pro that was hosed — he'd installed a Yosemite developer preview on it and not understood why it was kernel panicking.
I gave him two options — nuke it and pave it back to the original operating system, or do nothing and have him sort it out. He was unhappy with both options (he chose the latter). Because when it comes to beta software, you roll the dice, you take your chances. Beta operating system software, especially.
I don't think he had a backup, either, which was just beyond stupid. There is absolutely no excuse to jeopardize your data simply because you're interested in and anxious to install a public beta.
So I'm cognizant of the psychic pain that people who support Mac users feel about this. And there is some merit in reminding people about the risks they run by installing software like this (and giving them tips to avoid problems). After all, Apple's supposedly opened a million slots for the public beta — that's a lot of potential users to have to worry about.
But it hasn't gone to general release. And the million slots are people who are asking for the software and are, presumably, aware of the risks of installing a pre-release version of OS X. And even if they're not, they're pretty much on their own until it gets released, as far as really proactive support from Apple (and its duly appointed representatives) is concerned.
But here's the thing: In retrospect, Mavericks' rollout was sort of a mess last fall. It's taken until just recently — 10.9.4's release — for Mavericks to stabilize really well. And even so, Mavericks Mail is still brutal for many people who depend on Gmail and some other e-mail services, and things like SMB support for cross-platform file sharing isn't as ironed-out as we'd have hoped. There are other lingering issues that I presume Apple will get to in due course.
Mavericks didn't go through a public beta like Yosemite is. Maybe if it had, some of these issues would have been ironed out sooner. That's all I'm saying.
Master your iPhone in minutes
iMore offers spot-on advice and guidance from our team of experts, with decades of Apple device experience to lean on. Learn more with iMore!