NSFW: Special Magenta Snowflake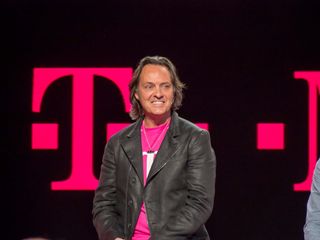 NSFW is a weekly op-ed column in which I talk about whatever's on my mind. Sometimes it'll have something to do with the technology we cover here on iMore; sometimes it'll be whatever pops into my head. Your questions, comments and observations are welcome.
Every few weeks, T-Mobile USA tries to shake the cage for attention with its "Uncarrier" announcements. It did so this week, reminding everyone that T-Mobile is a very special magenta-covered snowflake. It's rubbing a bit thin on me. Read on for more on T-Mobile, Continuity complaints, and Sony musings in this week's NSFW.
In the interest of full disclosure, I'm a T-Mobile USA customer. I switched to T-Mobile in 2013 and have seen their service since improve in leaps and bounds. I've also taken advantage of previous "Uncarrier" announcements, like free streaming offers for music services like iTunes Radio.
The big announcement from T-Mobile this week involved "Data Stash," a long-overdue idea that I'm happy to see implemented. In short, T-Mobile is doing for data what carriers have done with talk time: Data Stash, available for most T-Mobile customers enrolled in their Simple Choice program, rolls over your unused data from month to month.
I have absolutely no complaint about the concept. It's a great idea, and T-Mobile deserves major kudos for creating it. As I said at the outset, however, sometimes T-Mobile's marketing rubs me the wrong way. This is one of those times.
I'm not quite sure why T-Mobile thinks that every time it offers its customers a new feature, it has to announce it with another "Uncarrier" iteration. It's up to 8.0, and begins to lose meaning after a while.
We get it, T-Mobile, you're a very special magenta snowflake. Now get back to work improving your actual network, because I'm getting really sick and tired of dropping to one bar of EDGE coverage if I'm not in a city or on a major interstate highway.
T-Mobile may be first to the punch with "Data Stash," but they certainly won't be the last: AT&T has already filed a trademark on "Rollover Data," a more plain-spoken marketing euphemism that I think is a lot clearer than "Data Stash."
Plus ça change
President Obama wants to normalize relations with Cuba. Among other things, the White House said, "We cannot keep doing the same thing and expect a different result."
That's how I've begun to feel with Continuity, especially on OS X Yosemite. I can't help but feel that "just good enough" is starting to become a thing in Cupertino, which isn't the way it used to be. I won't channel the tired, old "this never would have happened with Steve Jobs" trope, though, because it's simply not true: Even when Steve was around, Apple shipped some real turd bombs.
Here's the thing: Continuity is a great concept, but I don't feel like it's fully baked yet. I have way too many problems getting it to work right. Some features work between specific devices, others don't. Getting AirDrop to work between my iPhone 6 and Mac, for example, is damn near impossible to keep working consistently.
Having said that, I think Continuity is a total game-changer for those of us who use both Macs and iOS devices, and it's a net positive for both platforms. I just hope Apple can iron out the kinks in this current software iteration.
The lunatics are running the asylum
Sony decided to kill distribution of The Interview, a new comedy featuring Seth Rogan and James Franco that centers on a CIA-led attempt to assassinate Kim Jong Un. A hacker outfit with alleged ties to the North Korea government called "Guardians of Peace" is partially responsible for this mess: They hacked Sony's computers, stole documents and leaked them to the press, then intimated there'd be violence at movie theaters that showed the film. As a result, several major American movie theater chains decided not to show the movie, forcing Sony to shelve it.
I think it's a bad move by both Sony and the theater owners, because it chills freedom of expression. Not just that, but it does so for all the wrong reasons: They're not concerned for their moviegoers; they're scared of getting sued if something does happen — like the wrongful death suits that are still pending against theater chain Cinemark in the wake of the 2012 Aurora, Colorado shooting.
I couldn't possibly have cared about The Interview prior to this controversy. But I'll be damned if I'm going to let some anonymous hacker on the Internet dictate what I can and can't watch. So I'm bound and determined to find the movie by whatever means necessary. If Sony won't release it digitally and let us pay for it legitimately, I fully expect that sooner or later a screener will make its way to a file sharing site, assuming it hasn't already.
The Interview may be an extreme example, but it's typical of an ugliness that's become pervasive in online culture: The idea that one group can intimidate another into quiescence by intimidation, bullying and provocation. That's not just bad for freedom of expression. It's bad for freedom of thought as a whole. We can have rational, civilized conversations with each other and disagree without resorting to threats and violence.
Wherever you see it, do what you can, in whatever way you feel comfortable, to push back. No one — no state, no anonymous online group — should be able to control the way you think or the way you express those ideas.
Get the best of iMore in your inbox, every day!
The spite viewings for the interview will be sky high. Didn't even plan to see the movie until I was 40 and it was one of those movies shown on TV because it's old as hell. But I plan to find it. Torrent, or DVD, I don't care but it will be watched. Because I will watch what I damn well please. Posted from the amazing whatever device I can afford because I'm a broke college kid.

#pussynation in regards to The Interview. As for Cuba, Congress won't really do anything to lift the embargo on Cuba. We'll work with Russia, China and even Vietnam....but Cuba? Much worse according to them. Makes no sense. #idiotcongress T-mobile isn't doing anything seriously shaking up the industry. Where are the lower overall prices from Big Red and American Telephone and Telegraph? There won't be any since they have the most cell phone customers. They won't because they know Magenta is struggling for coverage and until they have enough of it, nothing will change.

There won't be much lower prices until tmo improves coverage. Verizon isn't afraid of tmo because if you go outside of a city, with Verizon you don't have to worry. Tmo on the other hand, you may be lucky to have signal outside of a major city. So yes tmo is great for those around large metros and ones who don't travel much, but if you're not one of those, the added reliability and not having to worry about losing signal wins out with Verizon and AT&T in most cases.

Well said, Peter. Preach it. I feel like finding "The Interview" and watching it just out of sheer spite, just as a "F U" to those hackers, wherever they're from. Re T-Mobile, I'm a T-Mobile customer too and I like what they've been doing with their whole "Un-carrier" campaign, and they've actually improved a great deal in my area over the past couple years. And I love my $70 a month "unlimited everything" plan. But there's still one area where they fail pretty hard, and that's signal penetration inside most buildings. In my area their coverage and reception are generally excellent outdoors and I can easily get at least 3 dots of LTE on my iPhone 6, but as soon as I step inside most buildings, all my signal dies right at the door and I get "No Service." Not awesome. And it's getting really old for me to have to leave the building and go outside just to make or receive a call or text, or browse online. This is especially annoying for me at work, when I sometimes have to make or answer an important call. I know, they're gradually rolling out their new band 12 700A spectrum, but I happen to live in one of those areas where TV channel 51 is still occupying that spectrum, so even tho they've been making good progress rolling band 12 out in my state (California), I still won't be able to use it until they get that issue with channel 51 sorted. That might take at least another year or more, and at this point I'm not sure if I want to wait that long. I just can't justify going back to AT&T and paying almost US$100 a month just for ONE phone line. That's just ridiculous. I have a factory unlocked iPhone 6, so I'm tempted to start looking at some of the MVNOs that use AT&T's network. So yeah, until I start seeing results on the ground, T-Mobile's whole "Un-carrier" rhetoric is wearing a bit thin for me too.

Try cricket wireless. Sent from the iMore App

I might. Their plans actually look OK. So I'm going to have to get a hold of a Cricket nano SIM so I can test it out.

Hey Peter, In regards to the T-Mobile portion of this post, quit your complaining and stop looking a gift horse in the mouth... It's free and betters your experience. Is there any downside to you? Data Stash makes it easier for T-Mobile customers to download that awesome U2 album without hitting their data allotment. Aren't you one to never look a gift horse in the mouth? Well that's what you're doing by bitching about their marketing.

I agree. Peter sounds like a whiney kid in this article.

A whiny, hypocritical kid! Dude went off on those who complained (myself included) about the U2 album fiasco that actually had negative consequences. The boneheaded U2 incident prompted Apple to develop a tool to fix the self-imposed problem. The album takes up space which is at a premium for some users with 8GB and 16GB devices. Seems kind of hypocritical for him to lambaste people complaining about a marketing stunt that had negative consequences for a decent size population of users while T-Mobile's marketing stunt has no negative consequences for any user. But what do I know?

Not sure why this article was even posted. This is a free market, capitalist society. If T-mobile wants to go to uncarrier 100, so be it. It's more than any other carrier is doing at the moment. When you switched to T-Mobile, as I did, you knew they didn't have the best network in the nation...you switched for the price and the "uncarrier" initiatives. Not calling their promotions uncarrier isn't going to speed up the improvements of their network. As for the movie, holy crap...get a grip. At best, this was a two-three million dollar grossing moving before this nonsense. Just because you're curious now doesn't make it someone's right to see it. It's Sony's call if they want to tank the whole thing or not. And it's not a deprivation of freedom of speech if the company who paid for the movie chooses not to show it.

This article was posted because one dope in management gave a different and the wrong smug dope a pulpit in which to talk about whatever is on his mind. Not everyone should be given a pulpit to broadcast whatever is on their mind. This is one of those examples! If I were the guy who assigned this column, given it's free range, I'd select someone less abrasive, hypocritical, smug, and much more diplomatic.

Because they need something for his NSFW posts aka him whining and complaining about something. Must be trying to up his article revenue. Sent from the iMore App

WOW people relax! This is just one man's comments and opinions, who I look forward to hearing from every week, you guys sound like a bunch of angry trolls, who are upset that you don't have your own pulpit. Become as knowledgeable as Peter, and maybe somebody will listen to you. Keep up the good work Peter.

Noone here questioned Peter's knowledge of technology. Notice nothing was said about that part of the essay. And guess what Ronnie, the people that support Peter's opinion and the one's who don't have the right to post their thesis, synthesis, and antithesis. It's called free speech in the United States of America. I use iMore for 90% of my apple news. But I'm entitled to an opinion like everyone else. I don't complain when someone else posts something I disagree with. I may openly disagree with them, but that's the beauty of the First Ammendment of our great Constitution. Who's the troll now, troll.

Boom. Game over haha Sent from the iMore App

What? didn't know I was talking to 12 year olds.

I agree completely about the good enough mentality permeating Infinite Loop though. I've noticed it a lot with Yosemite - Finder, Activity Monitor, Spotlight ... to say nothing of the issues on iOS. Continuity has never worked for me at all, though, so I guess nothing ventured, nothing lost. That said, the 6 is my first iPhone since the 3GS, since I gave up on Android OEMs prioritizing good cameras, so there's one bright spot with Apple. And yeah, while sometimes the branding grates, the upshot is T-Mobile's actually improving and we can see it on a nearly daily or weekly or monthly basis. It's lovely to see a carrier give a shit.

I agree with you on T-Mobile. A carrier whose major slogan is "Data Strong" and who has as much of their coverage area stuck with only GPRS and 2G/EDGE service as they have, had better get busy and upgrade ALL of that territory as quickly as they can. I would love to take advantage of some of their services, but they are a no-go because every other carrier has had LTE going here for a year or three and T-Mobile only has worthless GPRS.

All of this stuff surrounding "The Interview" is crazy. I never think we should give in to terrorism in any form. I really want to see the movie. However part of me will always wonder how the same people who are calling Sony and movie theatre owners cowards for not showing the movie would react if they did and something really bad happened. It would be an absolute witch hunt and the heads on the embattlements would leadership at Sony, maybe Rogan and Franco (but I doubt it because Hollywood would defend them in the name of "art"), and the head of some government agency for "not doing enough to prevent this tragedy." I guess we will never know and maybe it's a good thing.

Fair points and I can agree on that. It certainly is a complex issue with no easy solutions.