NYU college student goes undercover at Chinese iPhone factory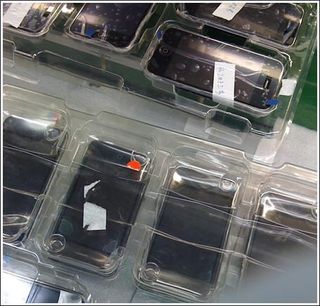 Dejian Zeng, a graduate student at New York University (NYU), got a job at Pegatron factory in China as part of a research project he is working on. Zeng worked with China Labor Watch to gather information about what it is like to work at one of the largest iPhone manufacturing plants in China. He spent six weeks as a plant worker for Pegatron and came back with a detailed experience of his time there.
Business Insider sat down with Zeng for a one-on-one interview and has published the transcripts of that conversation.
Zeng describes an average work day on the assembly line, which includes a lot of repetitive work (his first position was inserting one screw into the back case of an iPhone over and over again). It also includes very short breaks, strict security rules, and no phones allowed. That means no podcasts, no music, and nothing to stimulate the brain while working on mindless tasks.
Some other things of note in Zeng's research is that workers are required to wear a uniform provided by the company, but are only issued one uniform, employees get in trouble for laying down during breaks (not sleeping, but laying down), and day shift meals are more expensive than night shift meals.
Much of what Zeng uncovered is nothing that hasn't already been reported on dozens of times across the tech world, but hearing the level of detail about the daily life of an iPhone factory worker is fascinating, and a little hard to digest.
There is always a level of scrutiny placed on companies, especially in the U.S. and especially major tech companies like Apple, for how they do business with manufacturers overseas. Apple has been transparent with how it handles labor practices in other countries by releasing a comprehensive progress report (opens in new tab) based on regular audits it conducts at supplier factories it works with.
At the same time, the current U.S. administration is pushing for companies to build factories and bring jobs into the country, instead of outsourcing. No one can honestly say that it wouldn't be great to have more jobs for skilled laborers in the U.S., but Zeng made an interesting point that we should all consider.
You can read the transcript of the entire interview at Business Insider.
Lory is a renaissance woman, writing news, reviews, and how-to guides for iMore. She also fancies herself a bit of a rock star in her town and spends too much time reading comic books. If she's not typing away at her keyboard, you can probably find her at Disneyland or watching Star Wars (or both).
This is a great read. Considering lots of people want to bring iPhone manufacturing to the US. The phones would cost a whole lot more.

This is sad.. really sad :(

Quite honestly, the last point made on this article is a fantastic one: the "labor is even cheaper than the machine." It's exactly why the work is sent over there in the first place. And a lot of people outside of China want to talk about how crappy the work environment is over there, but the truth is that it's an entirely different culture that the majority of us don't even come close to understanding. If China changes their working structure, companies will just find another place that has cheap labor to be "inserting one screw into the back case of an iPhone over and over again." At the same time, it's in China's best interest to allow these kinds of corporate business relationships to exist also. It's bolstering their economy while bolstering ours.

If China changes their working structure, then that's progress even if companies move elsewhere. You certainly wouldn't want to be in this kind of working environment
Thank you for signing up to iMore. You will receive a verification email shortly.
There was a problem. Please refresh the page and try again.