Office 2016 for Mac now available as stand-alone software for $149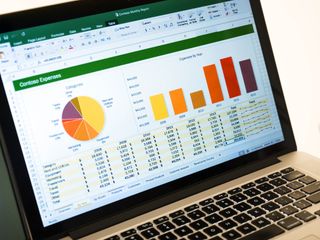 Office 2016 for the Mac launched in July, but only subscribers to Office 365 could access the new version of the productivity software suite. That has changed as Microsoft is allowing Mac owners to purchase and download Office Home & Student 2016 as a stand-alone product for $149.99.
The purchase offers users the rights to install Office 2016 on just one Mac, and it also comes with 15GB of OneDrive cloud storage. Users who sign up for an Office 365 Personal subscrption for $6.99 a month or $69.99 a year can get Office 365 on one Mac or Windows PC and also on one tablet and one smartphone, along with 1TB of OneDrive storage. Office 365 Home, for $9.99 a month or $99.99 a year, expands the install number to up to five Windows or Macs, along with five tablets and five smartphones.
Get the best of iMore in in your inbox, every day!
I have been writing professionally about technology and gaming news for 14 years.
The iPad version is free, why isn't Microsoft being as generous with their Mac version?

Because making it complicated is what they do.

I'm actually surprised people still buy M$ Office. iWork is free, plus there are a multitude of open source office suits. All will open Office documents, and save in that format as well.

The one thing I like about Office is that I can open and save directly to/from Dropbox, making it feel more like a traditional file system on iOS. With iWork and Google Docs, my documents get lost in silos.

Have you upgraded to iOS 9 yet? In the settings, you can flip a switch that makes iCloud Drive a visible app. Then you can see all your documents stored in iCloud (including ones there is no app for, like TextEdit documents). It's one of the best things about iOS 9.

Yes, I have tried that. One, the documents are still siloed in app folders, which is ridiculous, and two, iCloud Drive is unreliable. I do not trust it with my documents. It doesn't sync as instantly and reliably as Dropbox, and on the Mac, it doesn't behave as just a plain Finder folder as the Dropbox folder does. For example, when I cmd-delete a file to send it to the trash, please just send it there and don't give me ridiculous confirmation dialogs every single time.

Yeah I am noticing a lot of iCloud sync issues ever since I upgraded to iOS 9

iWork isn't even in the same galaxy as MicroSoft office when you want functionality. In fact it's not even in an adjacent galaxy. There are other good alternatives though, but I shall still buy this.

You are correct - iWork is totally not in the same galaxy. It's volumes better. I had office 2016 since it was a preview, and got a full version as a part of my office 365 subscription. I really wanted it, and I need it because of customer requirements, but it's a half baked product, much worse than office 2011 was, functionality wise. They've removed various important options from Outlook, and their own tech support was surprised to discover this, when I had an issue, and thought I'm going crazy. Sent from the iMore App

One of the funniest things I've read in a while. Seriously.
That said, as someone pointed out to me a while back. 95% of us don't need the power offered by M$ Office and this makes iWork adequate. But to suggest that it is better.? LOL, just LOFL. Even half baked it probably has more features than iWork.

Keynote is better than PowerPoint. I think everyone can agree to that. I can't make nearly as beautiful presentations in PowerPoint. My slideshows look amazing in Keynote.

You're surprised because you're ignorant. iWork is the Mac equivalent to Microsoft Works. While it's great for the basics, it is lacking in too many areas and the Spreadsheet app in iWork is horrible. Looks pretty, but horrible. There is a ton of manual labor in iWork that is reduced to a couple of clicks in Microsoft Office (or WordPerfect Office, and in some cases even LibreOffice) and Applications like Word and Excel far outclass their iWork equivalents. Even not being a Power User, there is a ton of stuff that you can do easily in Excel that is literally impossible in Numbers. I'm not talking about trying to be an at-home stockbroker, either. Additionally, just because an Office Suite opens and saves in Office Format, does not mean that it will maintain fidelity or the document will even be usable once it goes to Office format. Numbers destroys the formatting of Excel Workbooks, and Numbers Workbooks exported to Excel look horrible. You run into issues with someone using Apple fonts that aren't available on a Windows Machine (Microsoft bundles all of their Office Fonts with the Mac version of Office, so that is not an issue with Microsoft Office unless you intentionally choose one of those Apple fonts), among other things. The reason why Apple gives away iWork is because they aren't interested in really competing with Office on that level. They rather just say "ours is fee, and looks pretty" and move on. They aren't ready to make that kind of investment, and it would take them forever to get to where Microsoft is at, while Microsoft has already *almost* maxed out their client applications and are dipping into or integrating other areas of the market to add value. Apple has yet to stabilize their file formats. You're talking about iWork like it's amazing, when it's the Alcatraz of data because hardly anything can read those files and the formatting is often jacked up when you export to anything but a PDF/ePub file...

I did say "...and a multitude of open source office suits" Don't be an ass.

Some people cannot help themselves. I don't know why that is.

There aren't a "multitude of open source office suites." The only one worth even considering is LibreOffice and OpenOffice (which are largely of the same code base), and they have their own issues - which the internet has widely documented.

You obviously haven't done much research then. Stop being a troll and use Google. There are way more than just those two you mentioned.

The free version on the iPad and iPhone only allow viewing of documents, not creating or editing

They removed that restriction a while ago.

iPad version isn't completely free, and why should they give away Desktop Office? You're asking for free stuff and then bashing their product. How to be a Hypocrite 101?

It's funny how people expect everything to be free. Making software takes effort and any effort deserves to be paid.

Not solely due to the App Store but I think the effect became much more pronounced with the advent of the AppStores, 'Race to the bottom'.
The masses are used to very cheap or free software now. Having said that…….
Office Business Uk = £229.00 (http://www.imore.com/ext?link=http2F2Fclic...). Office Business US = $229.00 (https://products.office.com/en-us/buy/compare-microsoft-office-products?...). WTF???

The free version on the iPad and iPhone only allow viewing of documents, not creating or editing

The free version allows creating and editing. Just some power user features are limited to those with an Office 365 Subscription. It's been that way ever since the older "Office Mobile" apps were retired in favor of the separate Universal Office Apps (Word, Excel, PowerPoint). And to the person above, the iCloud "App" on iOS 9 isn't in any way the same as the dedicated cloud storage apps you get for Google Drive, OneDrive, or Dropbox (either on their native platforms, or on iOS). It's basically the Document Picker UI with a few more options added to it. They still need to work on that to make it a real interface to iCloud. I don't mind the App folders, personally. I think that's an elegant way of organizing data and better than a series of super nested folders.

I have to say, too, that one thing that drives me nuts with Office is that the menubar is in the window, a la Windows PCs. We Mac users already have a menubar. Why add another?

The menu bar isn't in the Window. The Ribbon is not a menu bar... Also, when you have industry standard software you want the user interface to be similar across platforms so that people can transition with minimal loss of productivity even if they leave your platform. From that perspective, keeping the Ribbon on both versions makes complete sense. It's not about adding another, it's more "why confuse users who may switch platforms and want to use the same software just because someone on a fanblog thinks the ribbon is redundant." Microsoft ports to OS X, they don't design OS X. The fact that Office is on OS X doesn't beholden Microsoft to replicate everything Apple does in its products. Office is *a lot* bigger than OS X, and it behooves them to ensure the easiest transition possible for people moving between platforms, or using both platforms simultaneously.
Thank you for signing up to iMore. You will receive a verification email shortly.
There was a problem. Please refresh the page and try again.