Official Star Trek Into Darkness app wants you to scan the sights and sounds of Trek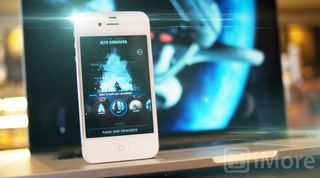 Official movie tie-in apps are a dime-a-dozen these days, with every film studio looking to every avenue possible to promote their multi-million-dollar blockbusters. The latest is for the upcoming Star Trek Into Darkness, which while not due in theaters until May of this year, has launched an app that attempts to draw you deeper into the the J.J. Abrams Star Trek universe. Or at least the promotions for the film.
To boot, Star Trek App (opens in new tab), as it's listed in the App Store, exists for you to scan released promotional photos and the audio of the two already released trailers. Scanning these things gets you points (typically 20 points per scan), which total up to slowly move you up a ranks and rewards chain. Right now there aren't a ton of available options for things you can scan - mostly it's promotional images from Empire magazine - so getting high up the rank chain isn't going to happen quickly. Presumably there will be more items to scan in the coming months, but for now you're going to top off as a Petty Officer with a bunch of available-all-over-the-internet pictures. Supposedly there will be more videos, images, and wallpapers to come, but for now it's pretty sparse.
While most of the scannable things are available online, there are a few that aren't. For one, you can get twenty points by visiting the future home of Starfleet Academy and loading up the app. I for one, am not about to make the thousands-of-miles trek out to San Francisco's Presidio for a measly twenty points. While many of us may never be able to get the geolocation points, anybody watching the Super Bowl The Big Game tomorrow will be able to to scan the commercial airing during the second quarter for exclusive in-app content.
Suspiciously (and somewhat disappointingly) absent from the app: J.J. Abrams's signature lens flares (opens in new tab). At least it's notably better - or at least more aware of what it's supposed to be - than some other official Star Trek apps available in the App Store.
Derek Kessler is Special Projects Manager for Mobile Nations. He's been writing about tech since 2009, has far more phones than is considered humane, still carries a torch for Palm, and got a Tesla because it was the biggest gadget he could find. You can follow him on Twitter at @derekakessler.
While you're waiting for Star Trek Into Darkness in May, I'd like to perform a bit of blatant self-promotion. <blatant-self-promotion> I'm a huge Star Trek nerd. See post above. I went full nerd and wrote a full-length Star Trek fan fiction novel. It's online, it's free, and you should read it. Because I said so. Here's a link: http://startrekaldrin.com/ <blatant-self-promotion>

Re: "...thousands-of-miles trek out to San Francisco's Presidio..." According to canon, the Academy is in the Presidio. But the 2009 film shows it in the China Basin area (shuttlecraft ascent scene, Romulan drilling rig boiling the Bay scene.) Right across from McCovey Cove and AT&T Park, home of your World Champion San Francisco Giants.

I could be mistaken here, but I thought Starfleet Headquarters was at the Presidio, and Starfleet Academy was on the opposite (north) end of the Golden Gate Bridge, at Horseshoe Bay (just south of Sausalito) by the Coast Guard station.

Yup. According to memory-alpha.org: "The headquarters of Starfleet Academy are located in the Presidio in San Francisco while the Academy training facility itself is located in Marin County across the Golden Gate Bridge just south of Sausalito, CA." - http://en.memory-alpha.org/wiki/Starfleet_Academy Still, Sausalito is nowhere near anything shown in any of the Star Trek movies or TV series. The 2009 movie shows shuttlecraft ascending from somewhere in the China Basin area. Presumably because it's a more picturesque location than the Sausalito area, and would allow for the "standard postcard shot" of the Golden Gate bridge from the air as viewed from the southeast, instead of the view from the north. There's plenty of confusion in the location of the Star Fleet HQ and Academy in the films. For example, all those matte paintings of HQ in ST:TMP are confusing. You see a shuttlecraft flying north towards the Marin Headlands (at the northern end of the GG bridge), yet it lands in a building with a view from the southern end of the GG bridge looking north to Marin. Etc.

Interesting. So apparently there are two parts of the Starfleet Academy, one on the north side of the bridge by Horseshoe Bay and the rest of it down at the Presidio next to Starfleet HQ. Now it makes sense. All those matte paintings in the films and TV series were pretty inconsistent, with some errors in there too, so that would explain the confusion.
Get the best of iMore in in your inbox, every day!
Thank you for signing up to iMore. You will receive a verification email shortly.
There was a problem. Please refresh the page and try again.