OneDrive for iPhone and iPad adds offline file support and Spotlight Search for iOS 9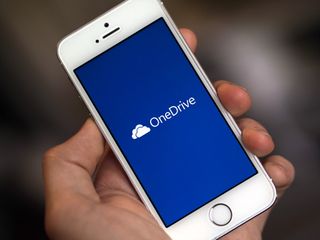 Microsoft has rolled out an update for its OneDrive app on the iPhone and iPad. The new 6.5.1 version lets users of Microsoft's cloud storage service keep files while they are offline, along with Spotlight Search support for iOS 9 users.
Here's the full change log for the new OneDrive update:
Offline Support: You can now keep files offline to read them anytime, even when you aren't connected to the Internet.
Search your OneDrive from anywhere on an iOS 9 device using Spotlight Search. Find files by name, contact, or tag, all in one place.
Fixed: Issue with Thumbnails not appearing.
Get the best of iMore in in your inbox, every day!
I have been writing professionally about technology and gaming news for 14 years.
Does it work with One Drive for Business customers?

The offline file support isn't all that great, limited use scenarios only. You have to individually select each file you want to store locally, you can't specify to store a folder, just files. Be careful... if you delete the local copy, that deletion action syncs to your online copy as well -- to remove the local copy only, you need to find that file in the main app, press 'n hold, and press the icon to 'remove local copy'. Also, you can't access the files outside the OneDrive app -- just as with the online version of a file, you can send it to other apps. More trouble than it's worth.

What would actually be helpful is if we could access business OneDrive accounts from the app, but it wouldn't accept the SharePoint server details. So not yet an alternative to Dropbox for Business.

I can access our Onedrive Business Sharepoint just fine. Sent from the iMore App

Really? Can you post instructions on how you force the OneDrive app to show the SharePoint documents rather than defaulting to your individual OneDrive using Office365 credentials?

And STILL no support for the iPad Pro! It's just ridiculous.

Ridiculous...? How so? The iPad Pro hasn't been out that long -- MS is surprisingly good about supporting the iOS platform -- it won't be long. If it was important, did you research availability prior to get the Pro? Contact MS support? Nothing really whine-worthy going one here...

I have a feeling many app developers (Microsoft included) are still working to get 3D Touch fully implemented. Getting support for the iPad Pro is probably next in line. At least Microsoft seems to be working on it, which is more than can be said for some other big developers. There are a few major apps the have barely even begun to support iPhone 6/6s Plus resolution... Sent from the iMore App

It is out quite a time now. Yes, I did contact MS and yes, I closely followed the MS presentation at the Apple event where they proudly said, how the will support the iPad Pro on the release day. Do you actually have an iPad Pro and know how terrible the app looks on it?

They demoed Word, Excel and Powerpoint at the presentation and said those would support iPad Pro on release day (and they did). Nobody mentioned OneDrive.

I've tried spotlight support and it doesn't work at all. Even the files have been as offline. Spotlight has been enabled for onedrive. I've given background update access also.
This's second time I update onedrive for iOS and I didn't get what they say in changelog. Previously, I don't see offline feature after update even it's said in changelog. So I made feedback in app store and then they update on the next day. Yeah, I see the offline feature after update on the next day. Sent from the iMore App

Haven't been able to locate Offline files that were declared Offline in personal OneDrive. After transitioning to Offline, accessing OneDrive results in login failure (I was expecting to see the offline file). I am using Version 7.3 on an iPad 2.
Do I use a different App to access offline files?
Thank you for signing up to iMore. You will receive a verification email shortly.
There was a problem. Please refresh the page and try again.