OneDrive for iPhone and iPad updated with AirDrop integration and more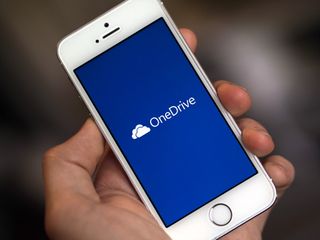 Microsoft has released an updated version of its OneDrive app for the iPhone and iPad that adds a few new features to the mix, including integration with Apple's AirDrop support.
This new addition should please many owners of multiple iOS products. Microsoft says the new AirDrop support will allow those folks to "easily share your photos, videos, documents and other files in your OneDrive directly to other iOS devices nearby."
If you have any video clips on your OneDrive announce, playing them on the app should be a better experience as well with this update. Microsoft says, "We added HLS support so the video playback adapts to your available bandwidth. This is particularly cool because it lets you get the videos off your phone, thus freeing up space with a near instantaneous playback experience."
Finally, Microsoft has added the option for the iOS OneDrive app to exclude video uploads to its automatic Camera Backup. This should be good for phone and tablet owners who have a limited data plan. This particular change was made based on feedback from users.
What do you think of these changes for the iOS OneDrive app?
Get the best of iMore in in your inbox, every day!
I have been writing professionally about technology and gaming news for 14 years.
Ive become a firm user of OneDrive in the last month or so since i took my Office 365 subscription & was over the moon to find they had upped our available storage from 25gb to 1tb. I like the fact it backs up my iPhone camera roll automatically so now i can just delete photos & videos at will knowing they are still always available to me through the app if needed. Any improvements to the iOS apps are always welcomed..

While I do not necessarily need these features in the OneDrive app, it have to appreciate the general direction MS is taking here. They went from shoehorning their stuff into an alien platform, to playing nice and even supporting proprietary platform features in pretty little time. This gives me some hope that future Office for Mac and OneNote for Mac versions will be something to look forward to. The direction is definitely right now, and if this gives them some business, it is well deserved. Now, if only Adobe would dump its AIR and GUI crap for some native goodness...

Lately I've been thinking of moving most things to Microsoft services just because I really like the direction they are going. I'm already using one drive and one note. The only things I'm iffy on changing is gmail and google search. I do like outlook.com a lot, but gmail seems to have more app support and it's pretty solid always, not to mention google calendar and contacts are pretty great, not sure how Microsoft stacks up there. And bing is, well, good. But google search might be better me thinks.

You don't need to switch entirely; you can set up forwarding on your GMail to send to Outlook. That way you can give Outlook a run and see if it holds up to your use.

yeah, ill try that. feels weird because, well, everyone uses gmail. so not using gmail feels a bit weird I guess.

Unfortunately as much as I want to get away from Dropbox, the OneDrive app for Mac is still buggy... Once they've fixed that I'll say goodbye to Dropbox. I have to say, Microsoft are doing a great job... Office 365 along with its free TB storage and Skype minutes is genius for Mac users who wouldn't normally have Office on their Macs.

What are the issues with the Mac version if one drive? I'm wondering because I'm kinda deciding which cloud service to use and I really liked one drive.

It keeps crashing. It has never managed to sync fully. Setting the simple preferences is impossible and it never seems to remember them (ie: the simple "start at login" for example). Setting up the selective sync makes it crash every single time. Also, on the iOS app some funky things happen, ie: the way it saves Numbers files and it doesn't offer to replace old files with updated version of the same file.
Thank you for signing up to iMore. You will receive a verification email shortly.
There was a problem. Please refresh the page and try again.