Apple's macOS Catalina is the surprising game changer of the year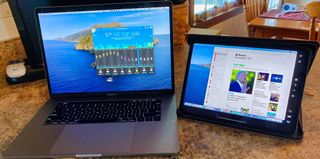 (Image credit: iMore)
Apple's macOS Catalina first found a home on my MacBook Pro in June soon after Apple's latest operating system for Mac was revealed. In haste, I elected to go all-in on the update and installed the first beta version on my computer's primary container. Since then, I've put it through the paces of everyday life and celebrated when the first official version of macOS Catalina was finally released earlier this month.
Four months after replacing the mostly ho-hum macOS Mojave with macOS Catalina on my laptop, I remain incredibly happy with the update for many of the same reasons Rene Ritchie explained in iMore's official review. My positive impression mostly relies on the introduction of three new features, including Sidecar, Mac Catalyst, and Approve With Apple Watch.
When macOS Catalina is long gone, it will forever be remembered for Sidecar, an official way to extend the Mac desktop to an iPad. Though third-party solutions have long been available that do the same, Sidecar makes the process so much easier for the casual user. And let me just rave about the nearly non-existent latency, even when the two devices are attached wirelessly.
As Eric Shashoua, CEO and Founder of Kiwi for Gmail and G-Suite notes about Sidecar:
And thanks to Sidecar, Apple is finally making it possible to use Apple Pencil on Mac. Touch Bar, only ever physically available on MacBook Pros, is also now open on any Mac that supports Sidecar. That one-two punch can benefit you on both iPad and Mac.
I've also been impressed with the efficient rollout of Mac Catalyst, a new software tool that allows iPad app developers to create Mac apps with ease, then let end users drag and drop content across both systems. Assuming a boatload of developers jump on board now that macOS Catalina is out, Mac Catalyst is likely to usher in a new era of Mac software across numerous categories, including gaming, banking, education, project management, and more.
Already, early macOS Catalina users are getting to know Twitter in a familiar way on Mac, and also the annoyingly, yet funny Carrot Weather. Watch for other iPadOS apps to make to jump to macOS in the coming weeks and months.
Finally, I offer kudos to Apple for thinking outside the box in launching Approve With Apple Watch. Being able to authenticate installations and unlocking notes and passwords on Mac from your wrist doesn't sound like a big deal. Try it for a while, and you'll realize it's a game-changer no one saw coming. Though this is technically a new Mac feature, it confirms that Apple continues to see Apple Watch has much more than a fitness wearable device.
Shashoua explains:
Beyond this, I hope Mac users who have already installed macOS Catalina have come to realize Apple didn't kill off iTunes but rather reimagined it (for the better) as three separate, but snappier apps called Music, Podcasts, and TV. And isn't the odd-sounding, yet accurately named Find My app much better than the two apps it replaced?
Finally, I don't usually advocate more apps for Mac. However, in the case of Apple Arcade, that's precisely what's needed. Burying Cupertino's latest money maker in the Mac App Store is the strangest of moves made on Apple's part. However, it's one that will almost certainly get corrected in a future version of macOS. Tweaks are one of the reasons for yearly macOS updates, no?
You can download and install the free macOS Catalina update from the Mac App Store on your supported Mac.
Questions
What's your favorite macOS Catalina feature? Let us know below.
Bryan M. Wolfe has written about technology for over a decade on various websites, including TechRadar, AppAdvice, and many more. Before this, he worked in the technology field across different industries, including healthcare and education. He's currently iMore's lead on all things Mac and macOS, although he also loves covering iPhone, iPad, and Apple Watch. Bryan enjoys watching his favorite sports teams, traveling, and driving around his teenage daughter to her latest stage show, audition, or school event in his spare time. He also keeps busy walking his black and white cocker spaniel, Izzy, and trying new coffees and liquid grapes.
I haven't been using the beta, and I've yet to install the GM. I have been following the reporting, though. I like the look and feel, but am leery of installing the point-zero version, opting to wait for first or second update. Sadly, neither my MacBook Air not my Mac mini are compatible with Sidecar, so I can't enjoy that feature, even though I have a compatible iPad Pro. My favorite features are the revamped Reminders app, automatic dark mode, and the iTunes breakup. I also have several critical non-App Store apps that I'm in the process of vetting for updates, so waiting is a good thing.

For the same reason I have not installed iOS 13 yet. Too early, too buggy.

It's buggy. It crashed my system so badly that Apple engineering had to get involved. The APFS file system is very raw.

By dynamically repartitioning your system volume, Catalina exercises APFS in new ways compared to previous macOS versions. I suspect that is probably behind some of the installation issues that people (including Dr. Mac) have run into.

APFS came in Mojave (and a year before that in iOS) and I had no issues with it, the problems are more likely to be with the dynamic repartition as blecch said

Unless you really need something in Catalina, it's a good idea to wait. Why? Because many people have run into annoying bugs and compatibility issues during and after the upgrade. Moreover, Catalina breaks many apps, including 32-bit apps (which are now officially unsupported and need to be replaced with 64-bit equivalents), music and audio apps (many of which haven't yet been updated for Catalina), and apps that don't deal well with the system volume reorganization (read-only root/system filesystem with "firm links" and user data volume at /System/Volumes/Data). Many developers haven't finished testing and updating their apps for Catalina, and I expect many compatibility updates to come out in the next couple of months, especially as early adopters uncover more issues and bugs. As @sfperalta notes, avoiding 'point-zero' releases is usually a good practice to avoid some of the annoying bugs and compatibility issues that typically come with any major OS revision. disclaimer: I'm running Catalina, and it has indeed broken several apps or forced me to upgrade (e.g. MS Office, VMware Fusion), but I can live with it so far. It has also fixed some bugs, such as rules not working properly in Mail (but some users have lost data in Mail.) If you do upgrade, definitely make a full backup beforehand so that you can revert if needed or if the installation fails, as it has for several people.

Forcing you to upgrade your apps is a good thing, you'll get new features, possibly bug fixes and continued support for those apps. I had no 32-bit apps way before Catalina came out because I always make sure I stick with the latest versions of apps, and for any that have become dead in the water there's almost always a better alternative. The only 32-bit apps I lost are old Steam games, I can live with that, backwards compatibility is something that always has to go eventually otherwise the OS becomes very hard to maintain

In spite of the other issues with Catalina, I really do love Sidecar. I've been wanting this for years and it is a massive improvement over third-party solutions with annoying and needless subscription pricing (Duet, AstroPad), hardware dongles (Luna), and generally mediocre performance (Air Display.) It's functionality that should "just work" out of the box, and it's great to finally have it.

Brillant? I guess for people who have all new hardware but that sidecar thing, doesn't seem like something I would use. Maybe once to try out but can't anyway due to my hardware not being the couple new computers that can actually run sidecar. The new iTunes apps are a complete mess also. As well as the whole storing of that media spread out now across so many different folders. iTunes was never something I complained about. It did a lot and all in one place. Now everything is spread out in so many different apps and the finder and even backing up would be a pain since before I just clicked to clone the iTunes folder but now my stuff is spread all over the place. Even the search bar in the new tv/movies app only searches the apple store not my own media. This is a huge problem. I don't know how such terrible programs ever were released to us. The whole new iTunes apps remind me of that terrible News app we got last year. Mainly the tv/movies app though. Its such a mess. Catalina corrupted my JBOD RAID also just starting my drives up in it. I could go on and on. I went back to Mojave and will be staying there. For the first time ever I can't see me ever updating until apple does some serious work on the iTunes apps. How they broke it apart though is a big mistake. Fine since they want to continue to push people to use their own services like tv+ and Apple Music, but what about people who have their own media library? Its like they just want to screw with us and make life miserable.

There is actually a workaround to run Sidecar on older Macs, it might not be as smooth but it works. I think the splitting of iTunes is a great idea and something that needed to happen because iTunes tried to do too many things at once. iTunes was fine if you already knew how to use it, but it created a much bigger learning curve for newcomers, although I agree that the search should be able to search through your own library rather than the whole of Apple TV etc.

I never had a problem with iTunes doing so many things. It was one place to get things done, but now stuff is all over the place and even makes backing up or cloning content more of a pain. So I think its worse now but just my opinion. I can understand if someone just uses Apple Music for instance, its a lot easier and better now but for people like me who only use their own content its a lot worse. Even how cover art for movies or tv shows is now stretched out. Or seasons of shows now shows on one new page so you have to scroll down where before all seasons were on the main iTunes page and you could click on each season quickly. I know I will just have to learn to live with the changes for I'm going to keep on using Mojave for as long as possible.

I haven't upgraded due to the eGPS issues. I have a Sonnet 550 breakaway box with a Sapphire Pulse RX580 hooked up to my 2018 Mac mini and there have been many issues regarding trouble booting up.

I've upgraded on my Mac at home, no problems thus far. I'm waiting till 10.15.1 until I upgrade my Mac at work just to be on the safe side

I never had any issues with iTunes. The three new media apps are a mess and because of that I downgraded back to Mojave. I think as long as Apple dosen't fix the new media apps I stay with Mojave.

This is the first iteration of the new media apps, so there will be a lot of adjustments to follow
Thank you for signing up to iMore. You will receive a verification email shortly.
There was a problem. Please refresh the page and try again.