Opera's free unlimited VPN app for iOS lets you surf the web anonymously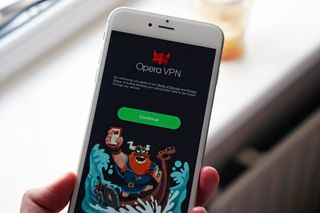 Opera has launched a free VPN app on iOS that lets you browse the web anonymously from your iPhone and iPad. The app offers unlimited access to Opera's VPN service, with five countries available to choose from at launch: USA, Canada, Germany, Singapore, and The Netherlands.
A VPN not only comes in handy for bypassing content restrictions, but it also offers a way to ensure your anonymity online. From Chris Houston, President of Surfeasy, Opera's VPN division:
Opera's VPN app also blocks all ad tracking cookies, which means that you won't be inundated by ads to buy the Nike Air Max 2016 on every single website you visit. The app is now available for the iPhone and iPad, and can be downloaded from the link below. Opera also offers the VPN service on its desktop browser, although the feature is limited to the dev build.
We test and review VPN services in the context of legal recreational uses. For example:
1. Accessing a service from another country (subject to the terms and conditions of that service).
2. Protecting your online security and strengthening your online privacy when abroad.
We do not support or condone the illegal or malicious use of VPN services. Consuming pirated content that is paid-for is neither endorsed nor approved by Future Publishing.
The clumsiest man in tech.
So how are the makers of this FREE app generating money/sales/income/profits?

It's free access, but you get a limit of 500mb(if you register) for free, then you pay for use.

You should provide a link to that info because I can't find it anywhere.

It is not a true VPN. https://nakedsecurity.sophos.com/2016/04/25/opera-adds-a-sort-of-vpn-to-...

That's not exactly the same thing.

Free software in the case of VPN is always risky it never provides data encryption which is necessary. It also never allows you to transfer and receive data in complete security. I have used express, Ivacy vpn best vpn app for ios. I would suggest people to use reliable vpn software for risk free internet activities https://www.ivacy.com/vpn-app-for-ios/

Works great with Netflix. US Netflix streamed beautifully outside US. Sent from the iMore App
Thank you for signing up to iMore. You will receive a verification email shortly.
There was a problem. Please refresh the page and try again.