OS X Yosemite: What you need to know before installing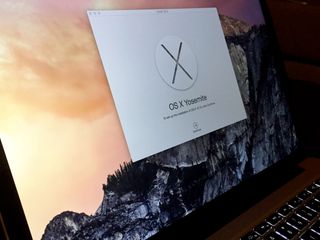 OS X Yosemite is available for download. It's free and will run on most Macs built in the last seven years. Before you install it, however, there are a few things you should keep in mind.
Back up your Mac
Before you make any major change to your Mac, make sure to back up your Mac. It doesn't matter if you use Time Machine, copy files to an external hard drive or clone your Mac, just make sure things get backed up before you do.
Check with crucial app developers before updating
Now that Yosemite has been out for a bit, most application developers have updated their apps with new versions optimized for the new operating system. But others are still working on new versions. So the best thing to do is to check with each individual developer of the apps you rely on the most to make sure you're using the most up-to-date version, and that they've tested their software to work with Yosemite.
Download OS X Yosemite
To get Yosemite, just open the Mac App Store. Apple's heavily promoting Yosemite right now so you shouldn't have any trouble finding it and getting it, but you can always click here and make it easy on yourself. It's a free update, so you don't have to worry about getting charged for it.
Because you need to download it from the Mac App Store, Yosemite is able to upgrade from OS X Snow Leopard (10.6), Lion (10.7), Mountain Lion (10.8) and Mavericks (10.9). If your Mac isn't running Snow Leopard, you'll need to get it there before you can install Yosemite. You can buy a copy from Apple's online store for $19.99; it's shipped on DVD.
Here's the list of Macs that Yosemite works with:
iMac (Mid 2007 or newer)
MacBook (Late 2008 Aluminum, or Early 2009 or newer)
MacBook Pro (Mid/Late 2007 or newer)
MacBook Air (Late 2008 or newer)
Mac mini (Early 2009 or newer)
Mac Pro (Early 2008 or newer)
Xserve (Early 2009)
Bear in mind that not all Macs will run Yosemite the same way. Certain features like Handoff and Instant Hotspot only work on Macs equipped with Bluetooth 4.0, or Bluetooth LE. That's something you'll only find in most 2012 or later era machines.
Downloading Yosemite will deposit the installer inside your Applications folder. That installer measures several gigabytes, and will automatically delete itself after installation as part of its own housecleaning process. That's a great way to save hard drive space.
If you're upgrading multiple Macs with Yosemite, make sure to copy the installer to an external hard drive or a USB thumbdrive so you don't have to download it again. The installer can be copied like any other file or application - just drag it to the target disk.
If you don't happen to have an external hard drive handy, moving the installer out of the Applications folder should stop it from deleting itself once it's done upgrading your Mac.
Install Yosemite
Once Yosemite installs it will automatically launch. If you've saved it for later use, you can double-click it like any other application. Select the hard drive you'd like to install it on (for most of us, that's the only hard drive the Mac has), and then let the installer do its thing — your Mac will restart and begin the upgrade process.
For the most part, installing Yosemite is a hands-off process. Once the installer has put the new software on your Mac, just step back, go have a beverage or a snack, and let it do its thing.
Post Yosemite clean-up
After Yosemite is installed, the installer may ask you a few questions. It may also find software that won't work with the new operating system; if it comes across any, it will warn you. Then it will move these apps and system extensions to a folder called "Incompatible Software." Again, check with developers for updates to any apps you rely on.
If you've left the Yosemite installer in its default location in the Applications folder, it will have automatically deleted itself after it's installed. If you wanted to keep another copy but forgot to make one, you can always download it again from the Mac App Store for free.
Enjoy Yosemite!
Hopefully by now you're running Yosemite and enjoying Apple's efforts to modernize and harmonize the Mac with a new user interface, cool new features and more. For a complete rundown of everything that's changed in Yosemite, read our review.
And if you have any questions, let me know in the comments.
Master your iPhone in minutes
iMore offers spot-on advice and guidance from our team of experts, with decades of Apple device experience to lean on. Learn more with iMore!