Outlook for iPhone and iPad rolls out a new look based on Sunrise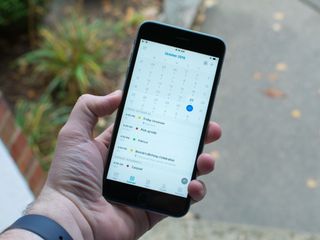 Microsoft is rolling out a new and major update for its Outlook email and calendar app for the iPhone and iPad. The app will incorporate a number of design features that are a part of the Sunrise calendar app that Microsoft acquired a number of months ago.
Microsoft says:
Microsoft adds that nearly 30 million people are now using some form of Outlook on their tablets or smartphones. In addition, Engadget reports that the Sunrise calendar app will eventually be discontinued by Microsoft, but only after all of its main features have been incorporated into Outlook.
Source: Microsoft (opens in new tab), Engadget
Get the best of iMore in your inbox, every day!
I have been writing professionally about technology and gaming news for 14 years.
Well, that saddens me! I LOVE Sunrise, and I don't use Outlook for email! Why would I download Outlook bloatware just for the calendar? I guess it's back to iOS calendar. Anyone have a suggestion for a new calendar app that is similar to Sunrise??

Outlook on iOS is actually not bloat ware. It is a very nice app they also acquired. At least check it out if you haven't.

Except Outlook is by and far the best email client on iOS. This is welcomed news. Sent from the iMore App

No kidding...much nicer than the stock email app, and it does the calendar as well Sent from the iMore App

I prefer Pocket Informant for calendaring as it has by far the best week-view of any of them, and Fantastical 2 for the Today plugin and the Watch app. For mail, I'm beta testing AirMail which I've been using on my Mac for a few months. AirMail blows all currently available 3rd party iOS mail apps out of the water and interacts directly with your data without storing login credentials or a copy of your data on another server. With exception of OWA for iPhone, Microsoft's other apps like Outlook and Sunrise store an entirely separate copy of your data on different servers -- an additional layer I'd prefer not to have.

Likewise, Pocket Informant for me too due to the week view & currently the excellent Spark email app by Readdle. Sent from the iMore App

A lot of people love Spark -- I tried it and can see why. I personally don't like how it handles credentials and data in order to provide the enhanced functionality, but that's just me. I very much prefer stuff to be only stored locally on the device, with client software interacting directly with the originating server. If an email app asks 'what should we do with your data on our servers' during the uninstall process, it's not 'the one' ;-) For me, AirMail provides the perfect balance of features with the locality of credentials and data.

Spark doesn't do all the inbox sorting a stuff on the server. It's all done on the device.

Spark is great, however, it does it's fair share of 3rd-party server stuff: https://readdle.com/blog/2015/06/how-we-handle-your-account-information-...

I'm still not seeing this update in the App Store. Maybe later today?

Got it and looks awesome.By far the best email client for iOS Sent from the iMore App

So why is there a need for a separate email client? What is wrong with the native client? It integrates with Siri and other apps easily. Do I need more than one copy of my emails on my phone (both iOS and Outlook, for example?)

Are they still storing your password on their server?

My thing with Outlook is that it either doesn't request access to contacts/calendars that are already on the phone or the setting is so hidden I can't find it. I store the majority of my contacts in iCloud, but even after adding iCloud to Outlook I still have no access to that contact info from my Google Apps account. Drives me crazy every time and I delete the app after a few minutes.

I have tried and tried to stick with the native email app however I have to admit outlook is so much better not so much because of the iOS version but because icloud rules for Mail are a joke and ever since Yosemite upgrade the client-side rules do not function properly however Outlook client side work perfectly and are reflected immediately on the iOS version it is sad that Apple will not do even a simple thing such as create alerts for subfolders in iOS mail this is ridiculous in this day and age Sent from the iMore App