OWC shows off prototype flash storage upgrades for 2013 Macs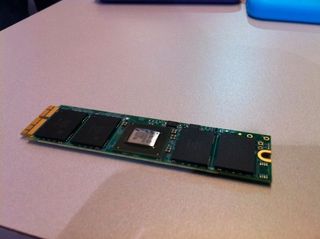 Among the products that Mac parts and peripheral maker Other World Computing (opens in new tab) showed off at CES this past week were prototype flash drive upgrades and replacements for Haswell-based Macs as well as the new Mac Pro.
In 2013, Apple offered new versions of the iMac, Retina MacBook Pro, MacBook Air and a new Mac Pro - a refresh to 80 percent of their Mac line (the poor Mac mini is still lagging behind). In all cases, Apple made an important change to the flash storage that each of those systems uses: they added a PCI Express (PCIe)-based storage system.
PCIe-based flash storage replaced Serial ATA (SATA)-based storage, based off older technology that's commonly used to attach hard drives and CD/DVD drives to the computer. PCIe flash storage enables much faster data transfer - in some cases, up to 9 times faster than before.
You've long been able to upgrade the flash-based storage systems of older Macs, because those flash drives aren't soldered onto the motherboard, unlike RAM. They're socketed, which means the Mac can be disassembled, the flash drive removed, and replaced with a bigger and in some cases speedier system. OWC has long had those upgrades available.
But the 2013 models, with their PCI-based flash, presented a dilemma: the same parts initially weren't available. And the standard that much of the rest of the PC industry is turning to - an edge connector standard for flash storage called M.2 - isn't what Apple ended up using in its new systems.
Looks like OWC has cracked the problem, because they were showing off prototype flash storage systems for the newer machine. There's no word on pricing or availability, but this is exciting news for buyers of newer Macs who might have been concerned up to now that they'd be stuck with the storage capacity they could afford at the time of purchase forever.
This shouldn't discount many of the other cool stuff OWC showed off a CES, including new Thunderbolt accessories and storage systems, cases and more - hit up the link above for more details.
Do you have one of the newer Macs? Were you concerned about storage upgrades? What do you think about OWC's new offerings? Tell me what you think in the comments.
#CESlive is where you'll find all of our CES coverage!
Get the best of iMore in your inbox, every day!
I've relied on OWC for years for all of my Mac upgrades, parts, and accessories. This is certainly good news to my ears, and my wallet too!

Nice to hear that a RAM upgrade may be possible. But it won't be a DIY operation for me if it's ever necessary. My "Late 2013" iMac's screen is glued onto the aluminum backshell. Will be interesting to see when its 16GB RAM is no longer enough.

Not a RAM upgrade. Flash storage. RAM is not upgradable at all. Soldered to the motherboard.

Is this true though for 2913 iMacs- it's glued to the Panel? Yikes!- I just got one, when I want to put in one of your drives, what are my options?

I have a newer mac, but have not been concern about upgrades. This is great information to know when I get to that point. Thanks for the review! Sent from the iMore App

I've been waiting to see if OWC was working on this glad to see it in motion will be welcome for my new MBA

Any time line when these are coming out? I would love to upgrade the PCIe flash drive in my late 2013 mac pro... the 256GB is just too small.

Any news on this upgrade?

I have a 2013 MBA with 126 GB of storage.. BIG MISTAKE.. I can barely fit my operating system and applications. I have zero pictures or movies and have minimized everything I can and I am still out of space.. i hope OWC hurries and gets this upgrade ASAP! I Don't want to buy an entirely new machine just for storage. BTW.. I upgraded my 2009 MBP with OWC's SSD and it rocks.. Thanks OWC!