OWC's Thunderbolt 3 Dock aims to be the only hub your MacBook Pro ever needs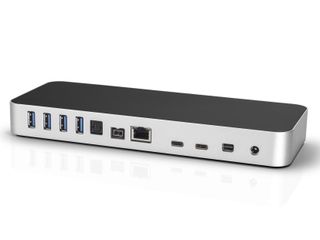 If you've got your eye on Apple's new MacBook Pro, you may want to check out this Thunderbolt 3 dock from OWC. The accessory maker has just introduced a dock that includes a total of 13 ports and the capability to drive two 4K displays.
From OWC:
In total, the OWC Thunderbolt 3 Dock features five USB 3.1 Type-A ports, S/PDIF optical audio, FireWire 800, Gigabit Ethernet, two Thunderbolt 3 ports, mini DisplayPort, a headphone jack, and an SD card reader. The Thunderbolt 3 Dock is currently available for pre-order at the special price of for $279 (opens in new tab), down from its normal price of $299.95. Deliveries of the dock are expected to begin in February 2017.
○ MacBook Pro with M1 Review
○ Macbook Pro with M1 FAQ
○ Touch Bar: The ultimate guide
○ MacBook forums
○ Buy at Apple (opens in new tab)

Get the best of iMore in your inbox, every day!
Joseph Keller is the former Editor in Chief of iMore. An Apple user for almost 20 years, he spends his time learning the ins and outs of iOS and macOS, always finding ways of getting the most out of his iPhone, iPad, Apple Watch, and Mac.
$280!!!!??!? Hahahahahhahhhaha Posted via the iMore App for Android

Ummmmm... from what I can see this is the Thunderbolt 3 dock that you DON'T want to buy. It does NOT charge your MacBook nor does it support 5K displays (they are advertising 2 x 4K displays).

I do believe the only way to connect a 5K display is via the port on the MBP itself, in fact, the LG 5K display that Apple is promoting uses one TB3 connector by using TB3's bandwidth, not DisplayPort 1.2, which is only good for 4K. ...Other 5K monitors actually use two DP1.2 connections (two cords). Apple's own 5K 27" iMac has it's own proprietary chip to drive the display (you can't use it in monitor only mode). So, you CAN plug in a 5K display to your MBP, which will also charge the MBP, then plug this dock into one of your other TB3 ports for all these connections. Brilliant, really.

There is a Thunderbolt 3 Dock from StarTech that advertises 2x4K displays or 1x5K display -- so it does not seem to require direct connection to the MacBook. https://www.startech.com/Cards-Adapters/Laptop-docking-stations/thunderb... I saw another article on this OWC model and it seems it does provide charging power to the MacBook, but it does not indicate how much. The LG Ultrafine 5K display offers the full 87W charging -- but unfortunately only provides USB-C ports (no USB-A or microphone or Gigabit ethernet) -- so its not a full replacement to the old Apple Thunderbolt display which provided those things for Thunderbolt-1 Macs.

Even though they have the chips to be used listed on the tech spec page, an OWC tech support person doesn't have the details yet on the power supply. They plan to support the 15" 2016 MBP, so I'm feeling confident that they will give the upcoming dock enough juice to do the job.

That is good regarding charging power... I hope they support the full 87W. Regarding the StarTech dock I linked to above -- it is apparently "Windows Only" for 5K support and it doesn't say if it is single cable or dual cable.

I just looked up the Startech dock ( https://www.startech.com/Cards-Adapters/Laptop-docking-stations/thunderb... ) and saw this in the "Special Notes / Requirements" section of it's specs - "The docking station does not support Mac or Linux operating systems."
Plus this "Thunderbolt 3 equipped computer with a Thunderbolt 3 port - Windows only. "
And this - "This docking station will not charge your host laptop."
So thtis is perfect with something like my Skull Canyon NUC which run windows and does not need charging, but as reads from it's specs, it is no good for any apples

It does charge your MBP.. they just don't say it in a way that stands out.. I chatted with them, and it will charge the 13 and 15" rMBP

I don't get why people waste time dealing with hubs and dongles. If the new Macbook pro support Thunderbolt 3 and USB-C why noy just get new TB3 & USB-C accessories?

some people have a lot of money invested in this year's or older peripherals. ...(edit) oh, and, the SD card reader is very convenient for pro/novice photographers.

Hubs are good for single-cable connectivity. Connect one cable and everything else is now connected. The LG Ultrafine 5K and 4K displays provide USB-C ports in case your external accessories are all USB-C (then you get single cable connection to all your new toys). One cable that I like is using Gigabit Ethernet while at my desk and you cannot connect that over Thunderbolt-3 directly from your switch or router. Right now it seems the best option out there for those who like to convert their MacBook Pro to a desktop workstation is the LG Ultrafine 5K display with some dongles or a hub hanging out the back of it. However, the real drawback to all these setups is that Apple has not produced an external keyboard with a touch bar built in. It kinda kills the experience of having a touch bar if your desktop experience still uses function keys.

Agreed. I'll be using my new 15" MBP in clamshell mode most of the time. If it proves useful / possible in the near future, having an external FULL SIZED keyboard with touch bar functionality would be perfect for me.

x1 Thunderbolt 2 34" monitor
x1 HDMI 27" monitor
x3 FW 800 HD docks
x1 USB 3 dual HD dock
x2 256 GB USB 3 thumb drives
x1 TB 2 UAD Apollo 8 multichannel audio interface
x1 TB 2 UAD Quad satellite DSP box
x1 USB wired Apple keyboard
x1 USB Kensington trackball
x1 USB iLok2
x2 USB cables for charging iPhone & 12" iPad Pro. A TB3 dock as above will greatly simplify my cable mess and accelerate tear down / setup when I need to move my rig.

Anyone remember the PowerBook Duo? It had a proprietary connector to connect to Apple's dock & display. I think it's great Apple is going forward, great to see TB3/USB-C/3.1 gen. 2...it's much more versatile than any previous connection, (faster too), and it can carry power in both directions, so you can power your MBP from any port with a device that carries power. While this is convenient, yeah, the mag-safe was a great way to make sure you didn't mess up your power cord, but, with the longer battery life these Macs carry, you shouldn't have to plug in as often. When mag-safe was first invented, laptop batteries lasted up to 3 hours max. This is a nice dock for when your MBP is parked at home or work, however, some people will still need individual adapters for various tasks. It's still better than the past...smaller, can't connect upside down, some devices will be able to charge the battery while using them, and can do so on any port. Again, each of the TB3/USB-C connections can be used for data or displays AND charge the battery at the same time, that can't be done with the old connections.

for more on Thunderbolt: https://en.wikipedia.org/wiki/Thunderbolt_(interface)
for more on USB-C: https://en.wikipedia.org/wiki/USB_Type-C

OH, I read the comments and forgot to post...Only thing this needs is a Space Gray color option (they have a USB-C dock for the 12" MacBook that comes in the same 4 colors as the MB).

They have one.... I preordered it! (only silver and Space Gray potions at the moment)

I just noticed that this hub does NOT have HDMI output and I don't see a 3.5mm headphone or microphone jack either.

@BC 2009 - noticed that too...currently I use Hingedocks vertical that very sweeeeetly connects to everything I use at my work desk and home office. They have advised they are developing one for the 2016 MBP as we speak!

From the spec sheet; Available Port Types
(2) Thunderbolt 3 ports (downstream port can support USB 3.1 Gen 2 devices)
(1) mini DisplayPort (can use a HDMI adapter here)
(4) USB 3.1 Gen 1 Standard-A ports (rear) - 1 compliant with Battery Charging 1.2 spec
(1) USB 3.1 Gen 1 Standard-A port (front) - compliant with Battery Charging 1.2 spec
(1) Gigabit Ethernet port
(1) S/PDIF digital audio port
(1) SD 3.0 media card reader (front)
(1) Hybrid 3.5 mm headphone / mic jack
(1) FireWire 800 port

keep in mind thunderbolt can go to hdmi. i have a thunderbolt/displayport to hdmi cable i use to put my macbook air on my tv. Very useful when i can only get the soccer game on a dodgy feed. Or NFL games since i don't have cable and my local team is never on tv

I think you are correct, but 1) Ebay USB audio in and out: $5. 2) DisplayPort to HDMI adaptor from Monoprice: $7. Not that big of a deal if you want those ports.

This is like making a $100 hamburger. You can do it. It may be the best. But I'm more an $4 double double and a cup of water kinda guy.

neat little extension... No one is happy with the thinnest Apple laptop,. but u have two or four TB ports.... two run at a slower speed, so that may amount to something.