Pandora update for iOS 4 now available to download in App Store!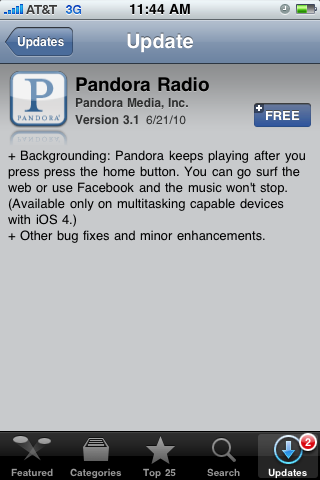 If you are a Pandora user and are currently running iOS 4 on your iPhone or iPod touch then head into the App Store to update the app to version 3.1 which contains the new multitasking feature. Today, at some point, Apple will be releasing iOS 4 to the masses so it is no surprise we will start to see many applications in the App Store updated to be compatible with iOS 4.
So waste no time and take advantage of the latest version of Pandora!
[Thanks to all of you who sent this in!]
Get the best of iMore in your inbox, every day!
Your source for all things Apple
iOS4 can be downloaded through iTunes now.

iOS 4 is out now in the UK

I'm downloading iOS4 now!!!!!!

It works great, I'm listening to pandora now

Works perfect on my JB 3G running iOS4!!!!

Oh and I will be using Pandora WAY more now too!!!

What is that little plus sign where you click to update it? Is that in reference to its select device compatibility?

@metsgiantsfan234 the apps with the "+" signs are the apps that have been updated for iOS4, Apple is just too clever!

@Fedy thanks...that makes a lot of sense

sign means universal iPhone/iPad app.

All you lucky people get such great apps over in your countries. No Pandora love for Australians :( I know it might have something to do with music licences and etc, but still.

Not so fast, if you haven't updated it yet DONT. The update erased all my bookmarks and staions, and added a bunch of annoying audio ads between songs.. What garbage

if they can get pandora to automatically continue playing where it left off once you are done making a phone call while it is playing in the background it would be perfect.