PBDirection keeps you on the right track with your iPhone and Pebble smartwatch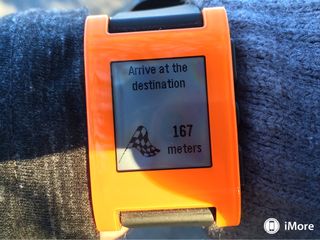 The smartwatches are coming, and so far we've only scratched the surface of what's going to be possible. One of our favorites – in no small part because of its iPhone integration – is the Pebble, and with an app called PBDirection, you can get directions right on your wrist.
PBDirection comes in two parts. The iPhone part you download as normal from the App Store. Within this you find a link to install the watch app to your Pebble, which is done the same as installing anything else to your Pebble, by opening the linked file in the Pebble app on your iPhone.
The iPhone app isn't exactly a winner in the interface department. It's all iOS 7, but it does look a little rushed, and like it was just thrown together. It's less of a downer though considering that it'll be in your pocket, and you'll only be looking at it for probably 10% of the time you're using it. It's here you're presented with a bunch of settings to tailor the app and the watch app to your personal tastes, including turning on vibration for routing alerts and trying to control battery usage. Vibration alert is basically essential, since you don't really want to have to keep looking at your watch constantly while you're out walking. Make it tell you when you need to do something.
PBDirection hooks into Apple Maps to work out your routing information. You type in your desired destination, and it works out the best route to get there. You can look it through step-by-step within the iPhone app with relevant markings on the map, and once you're happy you hit start and the information is passed over to the watch app. You can also check your progress in the iPhone app as well, though that somewhat defeats the object.
There is one thing in particular that needs to be highlighted, and that is that the watch app needs to be open at all times. Thankfully, PBDirection has an on-board music control option, which means that you don't have to keep quitting and reopening to control your iPhone music player. The interface on the Pebble side of the app isn't particularly inspiring either, but it gets the job done, which is more important. It counts down as you get closer and closer to the next instruction, and should you have set vibrate to on, it'll buzz when you need to change direction. Should you wish, you can toggle through to an ETA screen as well as the turn-by-turn directions.
The good
Pretty accurate
Vibrate means you never miss your turning
Particularly good for directions while you're walking
On-board music controls
ETA and turn-by-turn screens available
The bad
Interface could be better
Watch app has to be open at all times at present
The bottom line
PBDirection won't be the last time we see an iPhone and Pebble navigation solution, but it's a great look at just how useful your smartwatch can be. It's probably not for the drivers among us – after all, Apple Maps will give a much better navigation experience on your iPhone – but for walking about strange places it's a great tool to have. A little rough visually sure, but ultimately the information gets to you in a timely manner, and that's what's important.
Master your iPhone in minutes
iMore offers spot-on advice and guidance from our team of experts, with decades of Apple device experience to lean on. Learn more with iMore!