Pebble E-Paper watch gets a user interface demo but still no news on release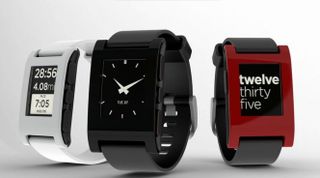 You may recall the Pebble E-Paper watch that launched on Kickstarter earlier this year and managed to get over $10 million worth of pledges. Well the guys have released an update on its progress along with a demonstration of the user interface that you can expect to see if you were one of the successful backers.
The Pebble watch will have full connectivity with your iPhone via Bluetooth and will allow you to do things like play music, see message notifications, read emails and it even tells you the time too. The watch was originally slated for release in September but that has now slipped; at this time there is no official shipping date for the Pebble although it is still expected to be this year.
The new video shows a prototype Pebble connected to a large board that demonstrates the watch output on a computer screen. The video also shows a watch face on an actual iPhone so you can see what to expect on the display of your watch. At this stage, it is hard to believe that it can all shrink down into a watch sized casing and do everything that has been promised; Pebble still has lots of work to do.
If it does meet all of its expectations, the Pebble watch could be the accessory to own due to its excellent integration with your iPhone and the strong demand for the product. Apple already has the iPod nano that can be worn as a watch however there is no Bluetooth and no way to connect it to your iPhone. If Apple does decide to update the iPod nano this year and add in this sort of functionality then Pebble would have some serious competition on its hands.
Would you be interested in owning a smart watch that can give you quick access to SMS messages, email and other notifications?
Source: Kickstarter
UI preview with Martijn (opens in new tab) from Pebble Technology (opens in new tab) on Vimeo (opens in new tab).
Get the best of iMore in your inbox, every day!
UK editor at iMore, mobile technology lover and air conditioning design engineer.
It is frustrating being a backer without even a current release date (and it clearly backfired on them, the way they tried to slip news of a delay into the previous update). Most of us would say "At least tell us when you THINK it will be available, then", but you can guarantee there would be much wailing and gnashing of teeth if that date then arrived and passed, so I am not sure what I would do in their position.

The KickStarter page says Estimated Arrival: September 2012. That has always been the date that they "think" it would be available.

I am a backer of this project and I don't mind waiting. I backed the project and took the risk that I may never get anything out of it. Just like any other investment there is never a guarantee that you will ever see a return. I backed the project because I believed in the product. That is the way I see it at least.

Waiting for iPod nano with bluetooth 4.0.
Would also like to see gyroscope, vibrations
and siri integration. Wifi would be great for
Apple tv integration. Remove the 3.5 head
Phone jack. If it is possible connect head
Jack in the 9 pin doc like palm pixie phone?
My 2 cents.

Re: "If Apple does decide to update the iPod nano this year and add in this sort of functionality then Pebble would have some serious competition on its hands." Tick-tock, tick-tock. We'll know in a few more weeks...