Untethered jailbreak on iOS 5.0.1 shown off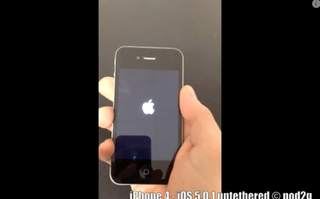 pod2g has shown off an iOS 5.0.1 untethered jailbreak running on an iPhone 4.
Hopefully iPhone 4S and iPad 2 owners won't have too long to wait, however, as he previously said he'd overcome the cache issues on A5 devices -
Either way, looks like they're finally nearing the end zone in the land of untethered. Don't forget to support jailbreak devs and donate when you can if you find their tools useful.
Source: pod2g
iMore senior editor from 2011 to 2015.
Are they really going to make us wait until Christmas???? Damn.

Glad I out from under iPhone - what a total hassle!!!

Your android phone must be a real bore if all you got to do is troll an iPhone blog site.

That is funny and probably true, Happy Holidays

Then why come here? Got out from under, so go back under....

New guy here....what does tethered and untethered mean? And what does jailbreak do for the device? Sorry for the dumbness.

Untethered means you can restart your device with out having to use your computer

How about Ipad 2? Already jailbroken?

Stop showing it off and just release it already! Sheesh.

Perhaps they're waiting for 5.1 to be released so Apple can't close the exploit straight away.
If waiting is an issue then step up yourself and release one......

Good job,you are the Master of iphone.
Thanks for all the works you have done.

Probably too moronic to understand the iPhone anyways... Can't even form a proper sentence.

I can barely see what they are doing on the phone, and why is it SO SLOW, if mine were that slow I'd be sleeping by the time the wheel stopped spinning

Your blog is bookmarked, so I dont lose it again.

This may not be the most beneficial place to inquire about this, but I'm searching for a pest management provider inside the pittsburgh region and have no way to find out who is the most effective. I found this company that is truly close to me and wanted to see if any one has any critiques on them. Spectrum Pest Control, 3058 West Liberty Avenue, Dormont, PA 15216 - (412) 446-2802
Thank you for signing up to iMore. You will receive a verification email shortly.
There was a problem. Please refresh the page and try again.