Portable fuel cell charger can keep your iPhone fully charged for up to two weeks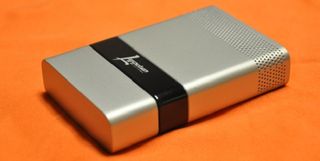 A new, portable fuel cell charger will be available to buy this year and it claims to be able to recharge your iPhone between 10 and 14 times. The small charging device does not need to be recharged by plugging it in; it works with replaceable fuel cell cartridges which can even be carried on planes.
The charging unit and replacement cartridges will be available to buy online from Brookstone and the cartridges can be fully recycled once depleted. There is no pricing information available at this time however the replacement cartridges are thought to cost no more than a few dollars. The system is being tested with users this year and an announcement on retail availability should follow that.
We've used all sorts of batteries for years, from household brands like Duracell and Energizer to the lithum-ion and lithium-polymer types found in many gadgets. How does the idea of a fuel-powered cell grab you?
Source: Cnet
Get the best of iMore in in your inbox, every day!
UK editor at iMore, mobile technology lover and air conditioning design engineer.
I do like the idea, and like they said if the depleted cartridges can be recycled then thats just amazing.

I wouldn't take this thing on a Plane . Prob would not allow it.

I love when people make statements based on nothing.

There's no flame. How could this be unsafe on a plane? Fuel cells use an ion exchange membrane to generate electricity from the fuel source and give off water as exhaust. Sounds friggin amazing to me. Bring it.

Unless it's methanol (DMFCs) or butane. Doesn't say here.

They should work these into the phones / devices themselves...instead of add-ons.

No, what they need to do is work in a solar panel on the back of phones and also some endothermic converters so that both light and heat (body or otherwise) can help power the phone more when needed.

And if you live in a cold climate and the phone is in your pocket? The phone is in a case? Tell you what. Run that idea by the White House. I hear they have a few of my tax dollars they haven't spent yet. I'm sure, based of the other things they have "invested" in, your check will be in the mail.

RIM/BB just got awarded a patent a few months ago for putting fuel cells in their phone...

Cost is definitely the question. I've been looking forward to fuel cells becoming a viable replacement for batteries for quite some time. Also, it'd be really handy if an economical refilling device became available for home use, though I don't expect that any time soon. Plus, I expect the economy of such a device wouldn't be very good. If I recall correctly, the way to make this really economically viable is to use super-heated water from a nuclear reactor's cooling system as the source water for splitting.

Oops... I know see that these use lighter fluid, which I missed before. Now, I'm mostly just confused.

Seems backwards to me. In a world where we are trying to go hybrid/electric vehicles, why are we trying to convert electronic devices to be consuming fuel?

Well Chris, the vast majority of electricity is generated by burning fuel, so a fuel cell just moves where the fuel burn takes place. It's a wash.

Would it have been so hard to make the cartridges refillable via normal means like lighters can be? Something tells me the whole idea here is to get you the device and then nickle and dime you to death on the come-back with the cartridges. And why wouldn't they do it this way? HP does it with their printers. Under $400 for a color laser printer is a steal nowadays... until you realize that the toner cartridges to buy cost about half to two-thirds that price to buy all 4 of them.
This product would have been better with user-refillable cartridges or if it ran off of water... like other hydro-fuel cell systems work. Well, looks like I'll continue to carry my solar cell around to power my iDevices. I'm good to go with that one until our sun blows up. lol

It will be just like printers, They practically give you the printer but you pay out the nose for ink.

For about $100 I can buy an 1100 wh external battery that will charge an iphone 6 times, and can be recharged an any lectric outlet, so i don't have to worry about the external battery running out. I'm sure there are situations where someone is not near an outlet when their external battery dies, but i doubt that's too many. I can only see this as a viable solution if it is super cheap, more environmentally friendly (which looks unlikely) or if the market for people who don't have easy access to an electric outlet to recharge an external battery is larger than i think.

You will be paying partly for the Brookstone name. Even if is is refillable down the line, it still costs. I have a 11000mAh charger for the iPad, and iPhone, or just about any mobile device that uses USB to charge. It has several adaptors. Yes there will be a point where the charger cannot be charged any longer, but the $80.00 has to be cheaper in the long run, unless the fule cells are really cost effective.

I say that some kind of fuel cell battery will be in the new iPhone come Fall. It's the main part of the smartphone that needs a innovative upgrade

10-14 charges sounds amazing but how necessary is it really? How often is anyone away that long from a charger? It would be nice if they could make it even smaller - even if it reduces the # of charges.

It's initial offering is going to be at brookstone. Which mean it is going to cost a lot and just as everything else the refills will probably cost a lot as well. Be realistic, anything like this is always milked for all the money it can get which means the average wal-mart going Joe won't see this as affordable.

You can certainly see your expertise within the work you write. The arena hopes for more passionate writers like you who aren't afraid to mention how they believe. Always go after your heart.

you retard, Samsung infringed on patent. as well as comment
from keynote was no a single come close to be able to copying that.
implying they still experimented with copy, merely didn't do a good job. get some education and learning.
My web-site ... iphone 4s problem
Thank you for signing up to iMore. You will receive a verification email shortly.
There was a problem. Please refresh the page and try again.