Q&A with Big Cave Games - what it's like jumping from console to mobile development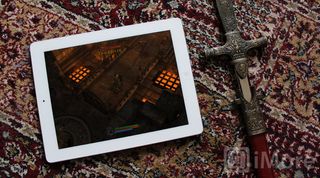 Big Cave Games kicks off their inaugural iOS title today, ORC: Vengeance. It's a polished dungeon-crawling hack-and-slash adventure, which you can read more about in our review over here. After hearing about the fledgling studio's history in PC and console games, we decided to toss a few questions their way.
Mind telling us a bit about yourselves, where you're from, and Big Cave Games?
Andrew: My professional career started out in the business world, and then I decided I wanted to be a game developer. I've since been developing games professionally for about 15 years. I've worked on all sorts of games in programmer and lead programmer capacities, RTS as well as first person shooter games. I've worked at 7th Level, Ion Storm, a small startup doing Pocket PC stuff and Disney games, and finally at id Software where I worked on Rage and idTech5. There I met Ryan where we took the ultimate leap of faith to go "indie", start Big Cave and work on ORC for Chillingo.
Ryan: I started in the industry working at Treyarch on the Call of Duty franchise. That was an excellent learning experience working with a large team, short development cycle, and a huge franchise. Andrew and I worked together at id Software on RAGE for consoles and PC. Working with new technology and a new IP, this expanded my design and art capabilities and was once again an excellent learning experience.
Shortly after RAGE shipped, Andrew and I left id and formed Big Cave Games. We had a very simple mission statement: make games people want to play. While we are sure every game studio has that hidden somewhere in their mission statement, we really focused on it from the start. ORC came about from us wanting to play an original action RPG built for mobile devices. We figured others wanted to as well, and that gave us extreme motivation to make the game.
Having worked on both sides of the fence, how much do you see mobile competing with PC and console gaming, either for developer or player interest?
Ryan: A few guys can crank out a decent game in a few months and compete on the App Store next to some of the biggest publishers in gaming. You can't do that in the console space. Typically, console games require millions in production and marketing costs, along with years of development time. So for developers, mobile is competing with console in that a lot of developers are quite interested in simplifying things and working on smaller projects.
Mobile has been great for gaming. It has introduced gaming to a lot of new people while also giving everyone a new way to play games. It remains to be seen whether or not mobile can compete with consoles. We live in a very busy world where often times we can't make it to our consoles or PCs to play games. A lot of people have turned to their phones for their quick gaming fix.
How long did it take for you to develop ORC: Vengeance? How does that compare to the usual PC/console production cycle? What kind of tools did you use?
Andrew: Too long! Big Cave Games is a two-man team (Ryan and myself), and along the way we hired some excellent contractors to help with music, sound and character models. We had initially planned to "crank out" a game in three to five months, but we soon realized we wouldn't make that, or if we did, we wouldn't be making the game we really wanted to make. In the end it took us about eleven months. We decided pretty early on that we wanted to put all we had into ORC since we knew we really only had one chance at it. That meant making sure everything about the game was highly polished… graphics, story, gameplay, controls, music, sound, voice acting, etc. It all had to be top notch. Chillingo's expertise really helped us out there.
Because our backgrounds came from the console/PC industry, we were basically "noobs" when it came to the mobile market. We knew what we wanted to make, Chillingo offered input on what the mobile market expected and demanded. In fact we reworked the entire game's UI based on some of their early feedback as well as dropped in a few last minute features they really thought we should ship with. In the end I think we ended up with a game that is highly polished and feels like it was built specifically for mobile devices.
Developing ORC involved many, many long days, nights and weekends of effort. It was different from games we'd worked on in the past because this was our game and our vision. The weeks and eventually the months just flew by, but we enjoyed working on the game. We set out not wanting to build our own engine so early on we chose to use Unity 3D. It's an excellent product for building iOS games and essentially a one-button click to put the game on your iPhone. Up front we built some custom tools and game systems that would easily allow us to set up and tweak gameplay and game levels. We had to work as efficiently as possible since we were only two guys.
There's obviously a lot of inspiration from classic PC action-RPGs in ORC, but there was also a lot of compromise for the mobile experience. Which factors needed the most adaption?
Ryan: There were a couple things we decided very early on, before we even began to develop ORC. One, the game had to control well for the touchscreen device. Two, we must consider that the player may only have a few minutes at a time to play, so let's design around that. Action RPGs like ORC typically require a lot of mouse clicking and a lot of time, so we knew we had to tackle this correctly.
Control wise, we took an opposite approach of the furious clicking. We wanted more automation so the player wasn't covering the screen all the time. One simple tap to move and initiate attacks, and simple gestures to perform high-powered skills. We also added auto-run to move through the levels quickly without covering the screen. All of this combined resulted in a very simple and elegant control system that we are very happy with!
Our philosophy regarding player time was simple: pickup and play for five minutes, or sit down for fifty. ORC has a nice Checkpoint system that allows for that. The game saves often and quickly, and if you have iCloud, will sync with it. Play ORC on the go, then come home to your iPad and continue where you left off. It's really nice.
How has it been developing for iOS so far? Is it easy to work with Apple? Are you looking at Android and if so, is piracy a concern?
Andrew: There really haven't been any hurdles developing for iOS. There's a nice simplicity involved with making games for a standardized platform like iOS. While Unity 3D does insulate you from a lot of the details involved with creating an iOS game, we considered that a good thing. It gave us more time to focus on gameplay, fun and user experience instead of how best to render triangles, play back sounds, etc. We spent some time up front figuring out what the capabilities of the iOS devices were, and that probably saved us a lot of time on the back end.
Chillingo has handled all the interactions with Apple, and that has been nice being able to rely on them for that because that was just one less thing for us to worry about. I'm sure ORC will eventually make it to Android devices. Unity 3D makes that pretty easy, however, concrete plans for getting it there haven't been discussed yet.
What can we expect next from you guys? Expansions for ORC? Other platforms? Multiplayer maybe? Or are you looking at new projects altogether?
Andrew: We'll have to see what happens. It's our hope our Warchief can continue the fight against the undead for a long time.
Master your iPhone in minutes
iMore offers spot-on advice and guidance from our team of experts, with decades of Apple device experience to lean on. Learn more with iMore!
Editor-at-very-large at Mobile Nations, gamer, giant.