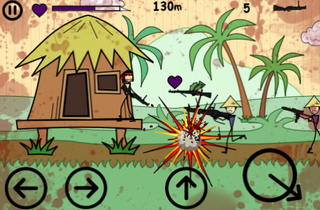 If cartoon violence is something you love, then Doodle Army [$0.99 - iTunes Link (opens in new tab)] might be right up your alley. It provides more comical 2D side-scrolling cartoon action than any other game I've found in the App Store.
The object is simple - keep progressing while disabling all of the attacking stick figures. You start out with four different locations, including Boot Camp, Rice Paddy, Beach Bunker, and Sand Dune. 25 different weapons are at your disposal that will vary by location. Weapons such as a pistol, shotgun, assault rifle, machine gun, grenade launcher, and even flame thrower are all included. You are even given a choice of control style with two different options, shooting at tap/drag or use of an onscreen dial.
At the end of the day, Doodle Army is a pretty decent game for the money. It provides you with some nice variability with the included weapons and landscapes which will help keep your interest in playing. If you are a fan of 2D side scrolling games along with a low price price, Doodle Army is worth checking out.
More screenshots after the break!
Get the best of iMore in in your inbox, every day!
Your source for all things Apple
1st.
The game is one of my favorites. I love the cartoon violence.

2nd.
This game is the best doodle game ever maide if you dont get it you will not be shown the true ipod/iphone/ipad experience lol

I do think damaging for every of your very poor souls to the market place who tend not to decide for Christ Christ
Thank you for signing up to iMore. You will receive a verification email shortly.
There was a problem. Please refresh the page and try again.