Razer introduces the Junglecat iOS game controller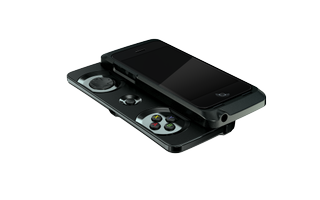 Razer, known for their incredibly well designed and made gaming hardware, has announced that they are entering the mobile gaming market with their newest product: the Razer Junglecat. The Junglecat is a slide out gaming controller that also doubles as a case for your iPhone 5 or 5S. The controller measures in at a mere 18mm which slightly doubles the thickness of your phone but also comes packed with everything needed for your favorite games on iOS.
When you want to use the Junglecat, you just have to pop open a top piece and slide your iPhone into the case until the Lightning connector is connected to your phone. On the slide out controller you get access to a D-pad, ABXY buttons, and two trigger buttons located on the top left and right corners of the controller. The benefit of having a physical controller compared to just tapping on your iPhone's screen is that you have the ability to respond quicker to in-game scenarios thanks to the physical buttons and so that you have your phone's entire screen to enjoy every detail the developer added into the game.
In addition to the Junglecat controller, Razer created a companion application so that users could get the best experience out of their new purchase. Inside of the iOS app you can find every application that has been developed to work properly with the controller or any other gaming controller on the market. Additionally, the user has the ability to create 20 different profiles on how they would like the different on-screen controls to be mapped to the Junglecat's hardware buttons.
So that the controller does not have to be taken off the moment you are done gaming, Razer has made it so that all of the iPhone's ports and buttons are accessible with the control still attached. The one exception to this rule is of course the Lightning port that is used to connect the Junglecat to your iOS device. It does look like there is a micro-USB slot on the bottom of the controller that could be used to charge the phone.
The Razer Junglecat will be going on sale in black and white variations for $99.99 and will ship worldwide in July. You can visit the official Razer Junglecat website (opens in new tab) to find out more about the controller and sign up to be one of the first people to get your hands on it.
Get the best of iMore in in your inbox, every day!
Should be lightning, not thunderbolt. Sent from the iMore App
Thank you for signing up to iMore. You will receive a verification email shortly.
There was a problem. Please refresh the page and try again.