Real Racing 3: Top 10 tips, hints, and cheats for better cars and faster upgrades!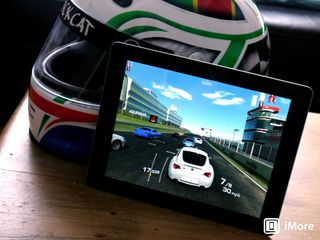 Real Racing 3 by Firemonkeys and EA is one of the best racing games out there for iOS. The fact it comes as a free download with in-app purchases frustrates some – myself included – but it has at least opened up the opportunity to play to many, many more. That aside, it's a fantastic game, and if you're looking to get a little better, or learn some tricks to mastering the in-app purchases, then look no further. Here's our guide to getting the best from Real Racing 3.
1. Always have the best car you can
Seems an odd statement, but it's the best way to progress through the game well. The game structure recently changed into a progress driven career mode, so getting the best car possible at the right time is even more crucial. Don't think about conserving credits – either pre-loaded or something you've bought – go for the best you can afford. At the beginning of the game you don't want to be thinking about upgrades, you need to hit the track, and the initial choice of car won't matter too much. I started out with the Ford Focus RS, which has proved to be highly upgradeable and an excellent all-rounder as the game has progressed. But as you progress now, you need to have certain performance ratings on your car to enter certain races. So if you can get something faster, then do.
2. Be smart with your upgrades
An increase in top speed isn't going to help on most tracks and challenges. Engine upgrades tend to offer better results in top speed, but less in terms of acceleration. In a lot of the races in RR3, lower 0-60 times will benefit much more than being able to go 195mph. The start is crucial, and getting away from the line and up to racing speed quicker will ultimately gain you more places in the early part of the race, and being able to pull away from corners quicker than your opponents will help you consolidate your position once you've passed them. So, look to upgrading the drivetrain before the engine, get that 0-60 time down. Also look at combining this with reducing the weight of your car.
3. Likewise, be smart with in-app purchases
It truly is possible to play RR3 without spending a penny, but you'll spend more time waiting around for things to happen. If you should feel you want to spend some money to help you out, be smart. Look at the packages you can purchase that combine gold and R$, and also the specific car related packages too. Don't blindly tap away to increase just your R$ or your gold, strike a good balance. And, if you have the currency available and a deal flashes up on a car such as 40% off, buy it. If you're in a position to buy it, and to use it at your current level of progression, then do it. I picked up a BMW Z4 GT3 for 40% below it's regular in-game price, which otherwise I probably wouldn't have done.
4. Know your circuits, and the different layouts of each
This comes with playing time, but as you become familiar with the circuits make sure you take note as to which layout you're racing on. This will affect your mindset, and possibly even your choice of car going into a race. For example, all Cup races at Laguna Seca will see you starting 22nd on the grid, which puts you the other side of the final turn. So you're already at a disadvantage, with a slow corner to negotiate before even hitting the start/finish straight. Here you'll want to be in the absolute fastest car you have for the race. Likewise at Silverstone, there are three different configurations, with two different start lines. Both see you starting a cup race on a turn, but the National layout sees you use a completely different part of the circuit to the International layout, while the Grand Prix layout combines both. Considering the track before the race is almost as important to success as the car you choose.
5. Horsepower isn't everything in a drag race
It isn't everything, but naturally it is important. What's going to win you drag races is timing. Since RR3 uses Time Shifted Multiplayer, your opponent is a real person who went down that same strip. You time your run to perfection and you stand a solid chance even if you're lacking a few horses over them. The launch is key, but remember that the delay between the red and green lights varies through rounds, so don't get caught out and false start. Once you're off the line, glue your eyes to the rev counter. Hit the sweet spot for each gear change just below the red line, and you're on for a good run. The counter will stop or bounce around just at the top of the red line depending on the car, but hit the gear changes at the right spot and you won't be caught. Well, not always, anyway.
6. Run wide (but not too wide), don't slide
Hitting the grass kills your momentum, a lot, but equally so does sliding round corners. While it looks cool, it isn't going to help you win your races one bit. If you go in a bit hot and you're not going to make your turn in for the apex of the corner, let it run wide and use all the track. It may cost you some lap time, but it's going to cost you a lot less than if you overcook it and get the tail out. If you're too late on the brakes, keep your turn in as smooth as you can, and you'll come out better in the long run.
7. Use the bonuses to your advantage
The latest update brought some additional ways to earn extra R$. Playing every day is one of those, so even if you don't feel like playing, fire it up, claim the reward, then close it again. Also, as hard as it is not to use brute force to knock your opponents out of the way some times, do whatever it takes to avoid them and claim that clean race cash. Also, stick at one particular series, and complete as much of it as you can before moving on. The new career style progression ladder will help, but hitting 25% complete in a series for example nets you free currency. And currency is good.
8. Spam your Facebook friends
OK, that's not really what you need to do, but you can earn extra gold by sharing your results with your friends on Facebook. You can also share to Sina Weibo if you're in a supported region. But, for five free gold, who cares what your friends think, right? Such a shame I don't use Facebook...
9. Get all over those kerbs
When I completed my race license test here in the UK, I was told that kerbs are generally bad, and that the fastest line around the track isn't to drive all over them. That doesn't apply at all in Real Racing 3, in fact some of the quickest lines I've found involve getting plenty of kerb into some of the turns. Take the image above, taken from the Brand Hatch track. Follow this line through this turn and you can carry a little extra speed, which ultimately works out as you hammer round the final turn and off down the start finish straight. I've also found a lot of the other cars generally stay away from them, so if you can keep that line tight and use the kerbs, you can often sneak up the inside. But only do this when you're confident you can get a good exit speed or you'll get burned on the other side.
10. Your best tips and tricks?
So, that's a few of my own tips and tricks to getting the most out of Real Racing 3, but I've only really scratched the surface. If you've got any others, be sure to drop into the comments below. I know I'm always trying to make my game better, as I'm sure a lot of you guys are!
Get the best of iMore in in your inbox, every day!
Congratulations on using first gear! If you would like to use second gear, simply purchase it from the EA Shop for only $0.99, a special savings on the regular $1.99 price!

That's... sarcasm about their freemium/IAP based gaming model, right?

I don't understand this kind of criticism. This is an amazing game that is free. If it was payed, I'm sure people would complain way less. I am now at 97% with all cars owned and didn't spend a nickle. That is great value, I say.

I have been playing this game for a few months and as it its on my girlfriends ipad I can purchase, Which A)is cheaper and B) gives me the drive to unlock and purchase things myself. So far I have been loving this game, you dont need to purchase anything in the game you just need persistance and when I need to upgrade or service a vehicle and I have to wait an hour or whatever that doesnt frustrate me, it just lets me take a bit of time out from it, which further add to the addictiveness of the game in the long run, I know it will feel like a real acheievment when i start racing a zonda knowing I didnt spend a penny! (I do wish they would allow qualifying though I hate starting at the back.

That is the right attitude Andy!

That's the spirit, Andy. Just don't waste any money, specially Gold, on unnecessary upgrades and mind having money to take advantage of the 20% promotions when unlocking a car. If you don't waste it, you'll have more than enough Gold for the 800 and 600 Gold cars that will come later on. For one that likes to play the game, it just keeps you going with updates. I'm still to reach 100% because the updates just make the game grow. If it wasn't for it, I would've finished the game and eventually stop playing, long time ago.

How? What did you do? I've played for 2yrs everyday & have 94 cars & not the most expensive cuz I can't win all these races & they don't give enough free goldnor videos to watch

Tips and hints? Sure. Cheats? None. Think I'll have to get back to playing this game. It's fun!!

If you need cheats it's no longer a game. Winning with cheats is just for show. You only kid yourself.

I have one question:
Which track can you earn the biggest reward (RS dollars)?
I would like to race on it day by day to double it with the daily reward system...

I haven't completed all the levels, but from my experience, STREET-SPEC SKIRMISH : TAB 18 - Mount panorama will help you earn more money with daily bonus. It has four laps and will take appr. 8:35 (in my case) minutes and will give you 12,450 R$ + 3500 clean race bonus. It'll give 2300 fame as well. So, if you have 100% daily bonus, your total earnings will be R$ 24,900+3500. Almost every day, I start with this event.

EVERYDAY HEROES Tab 19 Mount Panorama 4 laps. With 100% bonus and most of the clean race bonus you will net 29000+ every time. I use Porsche 911 GT3 RS. Set brakes to low, go down the outside at the start, touch brakes at first bend and go cleanly around the outside. You should be in 3rd by the second bend. By the start of the 3rd lap you should be over 200yards ahead so you can change the brakes back to high and relax. As mentioned somewhere else, manually advance the date 1 day before each race and you will soon be on 100% bonus every race. Don't forget to put the date back to auto when finished playing.

Everyday when i open Real Racing 3 i drive the following race...Performance Rumble, Tab 20, Supafly Gloval Open Round 2, with my Shelby GT 500... brings with dayly bonus... (14150x2) + 3500 clean racing bonus... that is the price of a very expensive upgrade... right?

Which race Patrick, Mazda or Suzuka?

@Nobbyonekenobe... suzuka!

@Nobbyonekenobe... suzuka!... patrabdu is also me!

Bro. I read all comments and this is the best. i have being playing this race since months for daily bonuses. Accolade Open . The last race, i mean Suzuka Circuit Cup, i play with 918 RSR concept. With dailiy bonus it gives 40.000r$ plus 3500 player level point. i dont remember what they call to it. The one makes you to level up.

for me, with a 32 level driver, PR 30.7 its from MASTER GLOBAL GRAND FINAL, Mount Panorama CUP
using my BMW Z4 SDRIVE35IS. i got R$ 32,000. its my first and maybe the only......I try to race it again even i'm the first, i still won the race but only got S$ 17,000 this time.

Most of the comments here reply with the maps with the greatest R$ rewards per race. They are correct. But the thing is, most of these maps are very long and will damage your car's endurance to 0 even if its a hundred percent stat. Here's my tip though.
***If you unlock the Accolade Open Event (where you could use the srt10 ACRx, R8LMS, 918Rsr Cocept and BMW GT2 lms), @ tab 18, do the Melbourne Cup which will give you about 25,000R$... Your car wont be totally wrecked, you could even do 5-8 more Speed Snap Races on tab 10 that would give you 1650r$ per win (it only use half of an endurance piece, as how i call it). After your car is just slightly from the edge of being wrecked, do the Mount Panorama Cup on the last tab and a win will give you almost 30,000 R$.. So doing math, 25,000+8(1650)+30,000 = 68,200 for every car.. If you use three cars just so you can fix all of them, that's a good 200,000R$ for every three set of cars that you can send to mainainance to be fixed :D
** and also, the Melbourne Cup = 4000 Exp and the Mt. Panorama = 4400 Exp. that's 8400 exp for every car you put on those races :D i have only unlocked up until the GT3 world series event and by far, this is my best way of getting R$ :D

Race 2 in the Ferrari showdown is Le Mans 24 heures course - 2 laps takes 7.5 minutes and using 100% daily bonus and agent/manager/engineer nets you $168k for winning. Even more so than most circuits, a good start is important, so taking the RH line from the grid will get you up to 5th or so after the first S-bend. Holding line through the next two corners should get you in front. So long as you have speed going into the first big straight, your lead should be maintained. On low brake assist, you can take the two high speed chicanes without a screen tap and should have an unassailable lead after the first two minutes, even in a relatively low upgraded F40.
I like this course, as reward is based on distance and the high average speed on this course makes distance go by quickly. The fame rewards have you levelling up quickly enough to make it worth spending a gold to hire the agent, I find.

You guys all suck at this. Mount Panorama at 30,000 with 4x used? Do Performance Rumble. Endurance at Indy on Tier 18 Race 1. I get 80,000 with 100% and Manager (it's worth it) used every day. You will total your car but what's 665 to service your Shelby when you get 80,000 from 1 race? *Note: you only get 80k if you go far enough. 80k starts at about 23.5 mi. 19-23 still pays very well anywhere at 62,500 to 70,000. I once got 86,000 at 24.1 mi with a Shelby but it's rare

On the FIRST race of EACH day giving you 100% bonus do EXPERT / ACCOLADE OPEN / TAB22 Last Race. DOUBLE UP with MANAGER and AGENT. - Earn $140,000 and ton of FAME! I Do it in 8.43mins - Lap everyone and beat 2nd place guy by 9400m. Got from Level 52 -> Level 70 in no time.

play in legend series .. in the hybrids series, race 10 laps of circuit des 24 hures u het 3 lakh R$

I have found high winnings at the following tracks.
**Pure Stock Challenge, Tab 17, CUP Hockenheimring, 3 LAPs on long track, I dominate using fully upgraded BMW 1 series M Coupe, First Place winnings are over R$10,500 an 1600 Fame. With Daily Bonuses R$17,500. After winning, hit RETRY and race again. you can get two races out of one car before servicing.
** Performance Rumble Tab 14 Supafly US CUP, Indy Motor Speedway Road Course, 5 LAPs takes 8 minutes, wining over R$12.580 and fame 1900 I use Shelby GT500 or BMW M3 GTS, with bonuses something like R$20,000 normally only one race can be run before service is needed. Race some where else the here to get two or more racer out of one service. I also have found that the daily bonus resets for me at 8PM ET. So I could race every other day race at 7:50 pm and the 8:00 pm and get the daily bonus two races in a row, while using the same car and not having to do service on it. It would be nice if someone could compile and share winning for each race in the game.

I have found an other that gives 13,125R$ and 2,400Fame points:
Pro/am supercar club 21/3 suzuka circuit
And it takes 7:30 min to go round with the nissan gt-r

I prefer the following races:
- Everyday Heroes, tab 18, CUP Hockenheimring. It takes about 8 minutes on a fully upgraded Porsche 911 GT3 RS to complete 5 laps around the long Grand Prix circuit, but for the 1st place with 100% daily bonus you earn more than R$30000 + over R$3500 clean race bonus if you drive carefully, and also 2800 fame points. You will definitely need to service the car after this race, which costs around R$1000.
- PRO/AM Supercar Club, Tab 21, CUP Suzuka Circuit (4 laps). About R$14000 (without daily bonus)
- Supercar Masters Series, Tab 21, CUP Suzuka Circuit (4 laps). About R$14000 (without daily bonus)
Last 2 races are good if you've already used today's daily bonus and just want to earn some credits with maximum "hour salary".

Nice tips man... would you add me as friends in facebook? Thanks!

For a quick 3,325R$ and 600 Fame (140 seconds) try the
Pure Stock Challenge>Turbo Burst World Cup Finals> Elimination> Indianapolis Motor Speedway
I use the Focus RS because it take no time to service (-30) and only costs 432R$. Also you can run the race several times without having to service. Adding in the clean race bonus you can end up with more than 4,000R$, which is pretty sweet considering it only take 140 seconds. If you use the Focus, you just have to move the the far right immediately after you take off so that you can hit the first curve on the inside and not be the first elimination.

If you change the date setting from automatic to manual you can can the date after each race and get the 100% Bonus on every race you run

Bottom line... this is a really cool app... especially for one that's free. If you want to bitch, piss, moan and whine, do it someplace else!! Don't ruin a good thing for the rest of us that are okay with working for something instead of having everything handed to us. You stupid kids want everything perfect and NOW!! Get over yourself!! If you have an inadequate phone to run the app, bitch at your cell service provider or the manufacturer of your phone and be glad someone was decent enough to put a game this awesome out there for you to play!! I REALLY HATE WHINY, PUNK-ASS BITCHES THAT WANT EVERYTHING FOR NOTHING!!!!!!! Apps of this quality take a butt-load of work and countless hours of development time to work this good!! Have some respect for the developers working their butts off to give you an app of this quality!!

Mind you, you can request improvements to things that you think might make the game better, but you need to understand that there are limitations to technology. And some improvements take longer than others to fix!! Just because they don't get it fixed right away doesn't mean they aren't trying to work on ways to correct the problem or that your way is the best solution to the problem!! Be patient and tough it out and just enjoy the game as it is in the meantime.

Real racing is damn cool and all thanks goes to the developer!
I play this game day and night and I over sleep and then
Get late for work..
I'm not sure what the developer has planned
For the future but I guess it would be cool
If you can let us drive the car in Manuel gear as well
As auto. It would be our choice, maybe we can
Use the Manuel option and loose in the race.. It
Would be fun. The other is for certain cars you
Should let us modify the cars. It's the same if
You modify it the wrong way your car would
Not go properly but if you choose the rite parts
Then boom... Ur car speeds. Like in the real life!
I'm impatiently waiting for the next new upgraded and
Think about my idea and please reply.
Thanks.

I need more friends, please add me

I can also give an advise... sometimes i really can not win a race. What you can try to do is to turn of the wifi and not to play online! Sometimes this makes you win a race! This works especially in the long distance races. Sometimes online you see people who have been driving 15 or more km... when you put yourself offline and go look at the same race you find distances such as 8 km or even less... that is easy to ride than!

I found out that changing the date of my gadget will give me instant Daily Race Bonus. Just don't forget to turn off Set Automatically for your date & time. Hope this cheat will help you guys.

and to add if you want to automatically deliver or service your cars it's the answer to it.

Anyone else had trouble with RR3 since loading IOS7 on iPad?

Ever since I upgraded my iPhone 4S to iOS 7, RR3 stutters and sticks while I'm playing. Very frustrating. I've tried playing with the phone in Airplay Mode, with no other apps running in the background, and it still has issues.

Do I get gold every time I share to facebook

I started playing real racing 3 yesterday, I currently have like 60 gold coins and could buy a decent car... However my question is: would I be able to use any car in any race ? In all races I've played I haven't seen one good car, you can only buy 4 cars in each league.. I want to buy like a Chevy Camaro and use it In beginner races.. Can I ?

My best tip and one to get away from the artificial intel and poor drivers is to run the outside lines until you are in the top ten or clear from a pack.; stay inside and you will become a wreck....cya

Top tip: Get to the "Classic American Muscle" event, upgrade Dodge '69 Charger RT up to half or higher and race the Indianapolis endurance challenge for the Dodge '69 showcase. Virtually, you can race a never ending race. It's the easiest of circuits, a full lap is around a minute and for some reason as you overtake cars they don't improve much in skill, and you'll see that quite a lot of them spawn, so that they even crash against each other all the time and you can overtake lots of them easily (if you don't crash into them yourself) Support that race with the 100% daily bonus and the manager upgrade simultaneously for a 4x reward. I've gone as far as 452 miles (I got really bored actually and dropped it... I play in Km but I wanted to get to 500 miles (200 laps, 3 hours of racing) and started fooling around and ended up loosing =) for a massive 1.700.000R$ price and a couple of level ups of fame with the extra coins that were also very welcome. In the mean time, if you didn't get to that event yet, just do whats been told by others here. I'd only add that you keep an eye on the upcoming car prices so that you have the R$ needed to buy them when they unlock, since you'll get the 20% discount at that time and that will save you R$ for upgrades... (20% can be a lot when you start buying 1.000.000R$ cars... and even more when you save 20-40 gold coins for those cars that can't be bought with R$) Don't follow tip 1 of this page... upgrade your cars using only R$, since you'll have to use your coins later in the game to buy cars and some upgrades that will be impossible to avoid since you have to achieve the required PR and that will only be possible if you have a fully upgraded car. You don't even need to upgrade every car in the event. Just enough to unlock the next one, and when you get to the best one of the 4, then upgrade that one as high as you can. Hope it helps!

Hi, Nico, this is really a great tip. Until now I did not reach 1.500.000 R$ but maybe because I need to upgrade the car more. The problem now is that the next upgrade needs gold... Much gold. And I am busy to save gold for the very expensive next car which needs 150 gold! Is it worth to upgrade anyway? Also do you drive this race online or offline? Do you turn off the brake assistance? Or only half maybe? Until now I could drive about 30 km, so about 50 miles... Not 500 as you mentioned. But I feel I can do more with maybe the right upgrade, but don't want to spend the gold for it... Tell me what is wise to do! Thanks mate!

I may have used a few gold coins to upgrade the car a bit more. I upgraded every upgrade payed with R$ and then upgraded the engine and drivetrain using coins, which unlocks another level upgradable with R$ so you can take it a step higher. I'm going 240kph without any need for braking when turning. In any case, with around 15-16 upgrades installed I achieved 200km, so keep trying. It's vital that you don't crash against other cars. One crash could mean losing enough speed/distance to the rest of the cars and running out of time. Save all the gold you can, you'll have to buy a few cars with them, and a few upgrades also to achieve the PR required. I drive online, with low (the middle one) braking assistance, which for Indianapolis means no braking assistance at all.

Just so you believe me... =) https://www.dropbox.com/s/uw8p7ndqz0m2aak/TheBigIndy.PNG That's 500 miles, 200 laps completed, still 90 seconds left and a bunch of cars in sight. After that I just stopped and got 1.9Million R$ (1.7M price + 200K clean race) and 81K fame. As said, I had the daily race 100% bonus and the manager and agent hired. No need for engineer... fixing the car is just 800R$ =)

Best advice ever! I'm gonna try it out. I've bought a dodge'71 and on my way to the Dodge'69 endurance challenge. Btw, this dodge car is soo slow LoL Thanks for the tip, Nico! :-)

Hi,
After I downloded the latest version it is impossible to get over 100.000 R$ day bonus +extra bonus in Dodge 69 endurace challenge.;-(

This was the best tip yet!!!! However, in the last update to the game, they "fixed the glitch" and this no longer works! Dang!

hi nico.
My version also upgraded and I do not see what you specify..
Do you remember which version it works?
Does anyone know how can i download a previous version? Currently my best race is: "Accoland Open -> Suzuka Circuit (last Cup)"
with BMW GT2 ALMS. after 5 laps 8:43 min i win 140,000R$ + 5400 fame
100% bonus + agent

i am stuck in real racing3 the last update i can not open new pr to get one more trufi to finish spirit of ferrari what should i do to ope only one pr i tried hard to finish all parts help me please to open one pr to go to the last part i can not buy coins in iran this game is the only thing that keeps me happy why do you put your cars that we have to buy coins it is not fair we are human too

It would really help if you would learn to write sensible sentences. Then we would know what is your problem.

i kn itow you will not help so forget it by the way i am a state graduate in 1983 civil eng

So, I downloaded the app today because of an article I saw on Engadget. I load up the game and apparently have a gift of over 700 Million R$ credits and over 500 Million little gold credit things. Any thoughts on why?

It just happened right now with a friend of mine! I found your comment when I googled "million gold rr3" trying to understand what happened. We are unlocking every series in order to race with the new Lamborghini Veneno right way! It's either a glitch or some Christmas special from EA. Either way, my friend is very happy with it. The Gold coins alone are worth over US$ 50.000.000 (50 million dollars) !! If it were bought through the inside store.

Same thing happened to me, did you ever figure out what was going on?

Hey Noah, I looked around a few places and forums but I found no other instances other than the ones posted here nor did I find any explanation. Just a glitch I suppose. Pretty strange but pretty nice too. I just wish I could sell the gold for real money at discounted prices and make a little bit of money from the gift. Haha, if only...
Let me know if you find anything out too.

dude i downloaded the game and completed a race and i found my self whith lot of cash and gold or it name is mabye speedbosst in any way why is that im happy about it but i want to no why and i did not used any cheats i want to no why is it a glith or something ?

Love the game but frustrated.... the game hung so I had to delete and reinstall the app.. I had to start over cloudsave did not bring back my previously unlocked cars and tracks. It did however remember what achievements I had completed... lots of extra gold can be collected by completing achievements...can I somehow get back to where I was.... I miss my "72RS...

I have a simple question.... Can't you all compete without hacks and cheats? I've spent a little coin on rss and gold. But prefer the honest way! I'm lev 60 now and ready go pack it in because of all the hackers and cheaters!

Thought I'd try a few more races, but it's looking more likely that I will quit. If I can't race honestly, without cheats and hacks, the I guess it's time to quit! To all you cheaters out there got 2 words for ya! But can't type them here!

This game is too much fun to let cheating a holes like you to ruin it. So sick and tired of getting robbed by goofs who can't play honestly! Hope you enjoy the empty victories losers!

Thanks for this article. It mainly confirmed a few things I already knew, some of which I had to learn the hard way by trial and error. This is one of my favorite games now. Only been playing for a while and am just on series 4, about to go on to series 5, and have played at least 25% of all of the sub series below them as well. I definitely agree with using the best car you can to help you get ahead in the game. My goal is to power through as many of the series as I can, but not necessarily buying all of the cars. I skipped over the Shelby '66 Cobra and one of the bmw's. Have not yet spent a penny on in game purchases though I was tempted. It just takes a little patience, and even though it might not be a "smart" use of your gold, there are a lot of times when I spend 1 gold to buy the Engineer so my car wont' take any damage, especially if I know I'll most likely win the race and if the damage is almost critical and i wanna keep playing w/o having to wait for the repair time, which gets longer and longer for each better car. This is really one of the best games I've played on Android since I've owned it. Highly recommended

Can some one please help me - I completed all the levels and i want to play the game from beginning. How to do that?

@Waseem Indian
Go to Setting > first tab (gear icon)
Choose cloud save
Then you will see button for "clear local save"

There are only nine tips & tricks points.

I have been playing on and off for a while now and I haven't spent any money on it, but I just bought a Lamborghini and have been going good . Another tip is that if you don't want to spend any money on it a way to get free money or gold is to take a break for a month when there isn't anything going on and they give you a returning bonus.

I haven't enjoyed a game like this since ea's best game every, "Motor City Online"! Remember that? I was HottRoddin Captian of the MoPaR or No CaR Racing club.
I found a sign up bonus in the beginning of Real Racing 3
If you run the first race in the game, (the one that has you tilt your device left and right and does your breaking automatically or any of the next few race's that say "complete this event" ) in reverse direction for one full lap then turn around and finish the event your achievement rewards will fully load up to over 100 Gold!! Makes for a nice getting started boost and it makes me wonder what else if anything is hidden in the game.

I am having trouble with the app Real Racing 3, it is cutting out after every event and sometimes during and actual event, having to re boot it all the time is really annoying .. Can someone tell me how to fix this.

I am generally successful progressing through the maze of races and challenges. My goal is to 100% all races and career paths. I am having zero success in completing the Ferrari F40/50 Emdurance Challenge at LeMan evening. I can get to 6.0 miles but I always run out of time and cannot seem to pass that next car in the first sweeping left turn after the chacanes. Help!

The trick with the Endurance races is the previous successes:
If you win an endurance race (whatever the race and the car) with a big margin above the objective, the next endurance race is getting easier.
The reverse is also true, if you miss an Endurance race objective, the next try will be harder to reach.
So my advice is: select a endurance race you already made, and you know you will succeed easily. When you reach the objective, continue to drive as far as you can in order to have the biggest distance covered. redo the same race one or twice.
Then try again the Endurance race with F40/50, and you'll see it is going to be easy.

@Bentley Jones
This is not a place for spam. Stop luring our netizens into buying your products RIGHT SMACK in the middle of a conversation on Real Racing! NOT about GOLD from you Africans!
XD

I'm stuck on the Quanticfire American 40 NASCAR race at Indy. It's the last race to win, but no matter how hard I try.....I can't win the race. I have maxed out all my car updates..e.g....engine, drivetrain, etc... any tips would be helpful!

I had a lot of trouble on the same race today. You need to take the turns by tilting your device really gently, that way you dont lose any speed in turns if you do it right and you can keep going at max speed if you don't make a mistake or crash. Also, take the turns a little bit more on the outside than the AI cars, but be carefull not to get stuck between them and the rails once the turn is over. Last tip, try not to get caught up in mass accidents, to do this drive more to the inside on the straight pieces, that way you can easily avoid it if something happens. (mostly at the start of the race when everything is densely packed) Hope this helps you out!!

Thanks. I have been doing those tips and best finish has been 5th. I wonder if it's because its the last segment in the series which is 98% complete....and it's intentionally making it almost impossible. I have some cars blowing by me out of nowhere after 4 or 5 laps. Have you completed the 17 segments in the NASCAR series? It's that last Indy series race that's crazy impossible...despite dodging all accidents. Always starting in 43rd position does help! Wahhhh!

I meant starting last every race in 43rd position does NOT help. The edit button didn't let me correct my comment. I am 99% complete....but it's really tough or impossible catching up to the top 5 positions. There must be a trick I am not using. I have tried to win for over a week. Driving me nuts.

Try to draft once in a while. Sometimes you can pick the fastest of them, stay behind it till it helps u gain enough speed for quick overtake. If u do this, sometimes ur Nascar car can hit 206mph. Just be smart & leave the back of another car slowing u down
Thank you for signing up to iMore. You will receive a verification email shortly.
There was a problem. Please refresh the page and try again.