Real Racing 3 set to bring console like visuals to your iPhone and iPad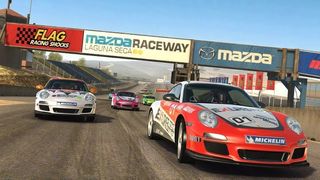 Firemonkey has revealed some screenshots and a teaser video from its upcoming third episode of the ever popular Real Racing series of games for the iPhone and iPad and it looks amazing. The new game, if the screenshots and video are anything to go by, looks like the best version to date and the graphics look simply stunning.
The only thing we know so far is that Real Racing 3 is scheduled to hit the App Store later this year. I wouldn't be that surprised if it were shown off on-stage at next month's iPhone 5 event. With visuals that look as good as they do in the trailer it would be a no brainer to show off on the new iPhone's larger display.
Source: TouchArcade
Get the best of iMore in in your inbox, every day!
UK editor at iMore, mobile technology lover and air conditioning design engineer.
You obviously don't play games on consoles if you call this "console-like" graphics. Nevertheless, very impressive for a mobile device but far from console quality.

In denial? Why exactly would I be in denial? I own an iPad 3 so it's not like I'm not going to play it but these are simply not console graphics. As I said, very impressive for mobile graphics but play some PS3 or XBOX 360 and you'll quickly realise these graphics are a generation behind. Have a look at Gran Turismo 5 or Forza 4 and then you'll get an idea of what console graphics are.

Behind by a few years, not a generation though as that would be like ps3 graphics. The graphics are up there with some PS3/xbox games though.

It's definitely not in this generation. More like PS2+HD graphics. Some effects are just too outdated to be compared to this generation.

Yep. Denial. That looked amazing.

You guys just don't game on consoles so I don't blame you for not knowing the difference ;) Anyway, I'm gonna stop this stupid discussion and enjoy the great graphics (for a mobile device) of this game on my iPad 3 and future iPhone 5 :)

Well im starting it back up again , i play on all consoles and PC an its definitly like an early Xbox 360 game for sure, if you dont beleave me fine haha but i know more shit than you do little kid ;P

Nice Porsche models. Would like to see what other cars are in the game.

Damn, this is very impressive... Can't wait to see it on my iPad 3.
Thank you for signing up to iMore. You will receive a verification email shortly.
There was a problem. Please refresh the page and try again.