Real Racing, GTA Chinatown Wars on sale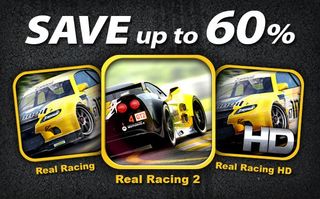 The folks from Firemint have reduced the price on all titles from their hit Real Racing Series and have them on sale until Monday 14th February.
Rockstar Games have also slashed the price of their hit iOS title GTA Chinatown Wars', in celebration of chinese new year, until Sunday 6th February (11:59pm ET)
Go enjoy some great titles while their on sale, before they go back up in price! Which games will you be buying?
[TUAW]
Writer for iMore, YouTube Vlogger, and Host for [TEChBrits]
Im willing to buy one of the Real Racing games at the sale price, but I don't want to buy and then buy again when the HD version comes out for RR2.
My question: Should I get Real Racing 1 HD, or Real Racing 2?
Get the best of iMore in in your inbox, every day!
Thank you for signing up to iMore. You will receive a verification email shortly.
There was a problem. Please refresh the page and try again.