Review: Vellum 1.2 brings ebook creation into the 21st century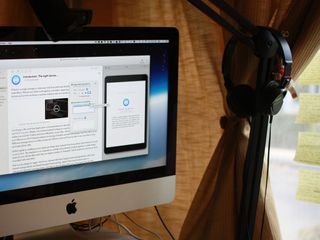 I've been building and editing ebooks for just over four years now. I started back in 2010 with Macworld when we were still hand-compiling HTML files; and though our process changed and simplified greatly over the years, we still needed multiple programs and long working hours to put everything together for multi-platform ebook releases.
Enter Vellum (opens in new tab). I got my first glimpse of the Mac app two years ago back in its early beta stages: At the time, the WYSIWYG ebook-builder only supported text and limited styling, but its live-preview engine and instant-compile for iBooks, Kindle, and Nook gave me true hope for a great cross-platform ebook tool. Vellum 1.0 launched this January with those limited tools, and image support promised down the road. 11 months later, the company has delivered on that promise.
A picture's worth a thousand words
Take it from someone who's struggled for the last few years — cross-platform image implementation is hard. Each platform uses slightly different CSS behind the scenes. Some platforms (cough — iBooks — cough) remove certain image-related code so as to avoid major bugs within the iBooks WebKit framework, but that means having to write extra code for the Kindle and Nook side of things. And then there's the issue with Retina-quality images and size constraints, and keeping captions tied to images.
Vellum 1.2 takes every single one of these headaches and tranquilizes them out of existence. Want to add an image? Drag and drop it onto your Vellum document. (Heck, you can even copy and paste without issue, or import images from a Word document.) Want to make it bigger or smaller? Double-click on it and choose one of four sizes. Want to isolate it on its own page? No problem. Want to make it a link or add accessibility text? Sure thing. Connect it with a caption? Just click the gear icon and add whatever text you like.
If there's any problem with an image you've dropped into your document, Vellum will alert you with a small triangle icon overlaid on the image. These warnings won't prevent an ebook export, but are there to let you know that your image is too small for the size you've chosen and will look pixelated, for example, or that you've forgotten to include a caption.
It's simple, the controls are easy to use, and best of all — you can preview what your image layout looks like on the iPhone, iPad, Nook, and Kindle by clicking the Preview button in Vellum's toolbar.
Building iMore's first how-to book with Vellum was almost comically simple in contrast to my old workflow: It took about four hours to format the entire book and get it ready for export. Contrast that with the 50-60 hours I used to spend formatting images in Word, then having our art team reformat them in InDesign, and formatting them a final time for iBooks and Kindle using custom CSS sheets.
Stylish photographs
Vellum offers five template styles for photographs: plain styling, drop shadow, black border, grey thick border, and photographic border with drop shadow. Unlike the ePub export for apps like Pages, which flattens styles onto images, these styles are just that — CSS styles. If you crack open Vellum's epub export, you can manually adjust these as you see fit. (That goes for any of Vellum's templates, if you prefer to fiddle with colors or fonts post-export; the app currently doesn't let you fiddle with the template colors and such in-app so as to prevent any multi-platform export issues.)
Vellum also provides a template called "Portrait," ostensibly for portrait images, but the Portrait style can be used on any image in your book, at any size. The Portrait template lets you round the corners of your image along with adding a drop-shadow, and it's a nice alternate option for distinguishing images within your ebook.
And then there are captions. Vellum provides full support for image captions — and ties those captions to the images via CSS so that they don't get separated on different pages — and offers five distinct caption styles. All are well-styled and look great paired with any of Vellum's photograph templates. It would be lovely to be able to auto-fill an image's caption title in the accessibility field — currently you have to fill both out separately — but it's not a deal-breaker by any means.
Vellum's final image option is the ability to add small header images to your chapter titles. Though you can't change the size of these images (an unfortunate omission), you can change how they appear within Vellum's Book Style template, and what title style accompanies them.
Almost there (stay on target)
With the introduction of images, Vellum has gotten to a place where I feel comfortable using it as my main ebook generator. It's not perfect yet — I've still got a laundry-list of wishes that include inline linking within chapters, more options for templates/template color customization, footnote support, a PDF export option, and the big one: support for HTML5 video (an even bigger pain than implementing cross-platform images). But it fills enough of my and iMore's needs that we can start using it as our primary tool.
In addition, iBooks Author's new ePub import tool makes it delightfully easy to take the initial Vellum file and build out any extras we might want to include for our Mac/iPad users (videos and animations, for example), while still providing our iPhone, Kindle, and Nook readers with the majority of our content.
Vellum is helping the ebook community build a better road, and it's one I'm very excited about — because anything that makes ebook creation not feel like 1990s web is a good tool in my book.
You can download Vellum for free from the Mac App Store and play around with its tools and preview screen; when you're ready to create an ebook file, you can choose to either pay $50 for unlimited ebook generation of one Vellum file, $150 for ten Vellum files, or $300 for unlimited ebook generation of all Vellum files. (Note: The Vellum folks are doing a 50 percent off update sale for a limited time, so that's actually $25/$75/$150 — even easier to start your first ebook project.)
Get the best of iMore in in your inbox, every day!
Serenity was formerly the Managing Editor at iMore, and now works for Apple. She's been talking, writing about, and tinkering with Apple products since she was old enough to double-click. In her spare time, she sketches, sings, and in her secret superhero life, plays roller derby. Follow her on Twitter @settern.
Do they have a roadmap for the future features? I agree with the struggle for e-books, but until someone comes out with a switch watch kit of e-book producers, I'll save my $300. I'm talking something that on command, spits out books formatted for at least all the major formats, ibooks, kindle, e-pub, kobo smashwords, etc. Its certainly a drag having to do it all several times.

Vellum's export options should be good for all the major formats. It spits out webkit-friendly ePub (iBooks), fallback ePub (Nook, Smashwords, etc), and Kindle (KF8/MOBI). It's one of the big reasons I recommend it so highly.

Did they have ebooks before 2001? I don't remember if they did, but if they didn't, that means ebook creation was already in the 21st century :-)

Ha, my title is in response to a long-running joke that "ebooks have been stuck in the land of 1990s web design". (Competing formats, terrible tools, etc.)

This looks like it might be just what I'm looking for, thanks! One question: is it appropriate for absolute beginners to the world of writing ebooks?

I don't think it's appropriate as a stand-alone tool for absolute beginners, unless you really like the stylized way it can make an eBook versus doing it yourself. In other words, for a beginner, you aren't buying much that you couldn't do yourself in Microsoft Word, then exporting it to Mobi [ free if you do google search ] and using smashwords.com to cover the rest, including Apple, etc. Once you become familiar with it, and have released a title, it's better to see that going direct has it's monetary advantages [instead of using smashwords to cover most, sans Amazon] and in doing so then Vellum works wonders in creating the right format for each company [like iBook, GooglePlay Books, etc]. But again, I'd suggest using smashwords + Amazon the first time around and get the hang of your audience and optimize it thereafter.

Is there a way of converting the file into a format for a printed book? Pdf, Word? I've just found out about Vellum. Up to now I've been working in Scrivenor. Vellum looks easier, but Scrivenor will export to all the options.
Also, do you know whether they're planning a Vellum for the iPad?
Thanks so much for this review.

A awesome other example for creating a ebook is described in this article "http://www.pdfmoz.com/pdf-software/pdf-book-creator"
Thank you for signing up to iMore. You will receive a verification email shortly.
There was a problem. Please refresh the page and try again.