Samsung ChatON brings multi-platform chat to the App Store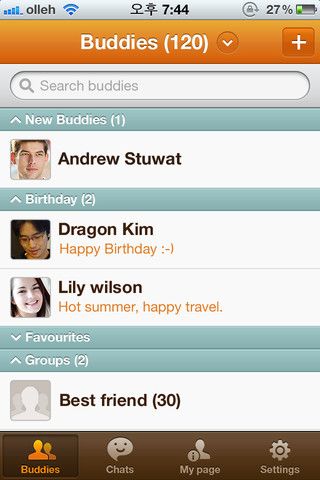 ChatON is an instant messaging app that supports multi-platform chat across iOS, Android and Samsung Bada platform. Soon the app will also be available for BlackBerry and Windows Phone as well, so it will cover most platforms. What makes it really interesting is... the app was made by Apple's Samsung.
ChatON supports multi platforms and devices. Users can chat freely through ChatON.
Currently, ChatON supports iOS, Android, Bada, Samsung Feature and will support Blackberry, Window mobile, web soon.
ChatON provides multi ways to make your communication richer.
1:1 Chat, Group Chat, Broadcast, Drawing Message, Picture, Video, Voice, Location, Contact, Calendar.
Using ChatON, create your own unique drawing message by hand drawing etc.
ChatON provides group management feature for easy group chat
ChatON provides Interaction rank which informs you how often you chat with your buddies.
For every chat room, you can easily see all sent images and videos in a Trunk.
Something to say for your buddies? Use 'Buddies Say'!
The Samsung ChatON app is available on the iPhone, iPad and iPod touch for free although it's not a universal binary.
Have an app you'd love to see featured on iMore? Email us at iosapps@imore.com, tell us about your app (include an iTunes link), and we'll take a look.
[gallery link="file" order="DESC" orderby="title"]
Get the best of iMore in in your inbox, every day!
UK editor at iMore, mobile technology lover and air conditioning design engineer.
It's not available in the UK market :S

Yeah. I'm fed up of how us-centric apple news is. I can't imagine the tech radar or electric pig sites talking about Siri as male or the new bbc apps as if that were the case everywhere.

Apple is a US company............
Problem?.............

Well, maybe that's because this is not only an American website, but Apple is an American company. Get over it, moron.

Apple might be an American company but it's firmly in a global market.
With a website such as TiPb they are also used buy a global audience.
I think that iOS users in other country's like myself read about certain apps then look forward to using them but when we go to download then a little sign appears to tell us that it is only available in the us app store.
Can be quite disappointing.
Myself I think that TiPb do quite a good job in catering to other nations with their reviews of products.

This sovels my don't have a Poken problem! I'll just say I don't want to be poked, I want to be Bumped.Reply by on July 19th, 2009 at Sunday, July 19, 2009 @ 3:25 pm@Laurin, and I shall Bump you!

WOW,
This could lead to me chatting with some Android user ladies. LOL!!!

WhatsApp Messenger fulfills all my needs, in this field.

Not available for ipad2 in Canada....

Tried it while I had a galaxy S2, and it sometimes took hours before recieving texts. Whatsapp is more reliable.

Is it? Most of my friends are using Kik at the moment, no idea why, and nobody I know ever used WhatsApp so I never had a reason to purchase that.
Bit disapointed this is US only- but only a little.

Laura: Good point about thiiknng globally vis a vis Apple's vetting system. I think Guidestar would be one of several partners. There's also TechSoup Global.

How is this better than GTalk?

I am very inesretted to know if you are planning on adding new translations of the bible to GloBible? I am specifically inesretted in the translation called God's Word.

It is available on the American, Irish, Middle East, Dutch and French app stores but not the UK and Canadian. Seems a little odd.

Infinity blade 2 free? http://m.freemyapps.com/share/url/a11ca916

I hope that samedoy I can learn how to put my thoughts into words like you. I am a novice writer just starting to learn how to format and write. I really admire your work.

While I love all these apps trying to push SMS into obsolescence, none of them will succeed. Until one of them does it's just annoying having your friends and family asking you of you use x app for messaging. The only thing worth using currently is the Facebook messenger app because of the huge user base.
But until ALL phones come pre installed with a universal an ubiquitous SMS alternative, all of these apps are a novelty.

Are you kidding me.... Facebook messenger app... the only one to use. You obviously need to get out more as other messeging apps "INCLUDE" Facebook. This app is actually a good idea and will be better when released for everyone and allows free calling like Viber

I personally like Groupme over all others, its fast, its reliable and its on all other platforms

Games Will Change... Foreverwww.musicwillchangeforever.com

Hello Kai wong Will you plseae do a video review with the canon Eos 16-35 L2 Lense?I viewed your review on the 17-40 lense ,considering buying the 16-35 for landscape and arcatecture.

Video kept stopping; never could watch it continuously or in total. Seemed like it was probably an excellent video.

Yeah, Google left the real estate business. The MLS systems are just too regional, and I believe that Google thought that it would have a battle on its hands. In the long run...I guess they just felt that it wasn't in their best interests...
Thank you for signing up to iMore. You will receive a verification email shortly.
There was a problem. Please refresh the page and try again.