See how the Apple Watch helps improve the lives of wheelchair users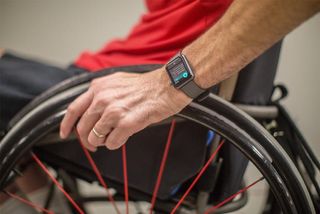 Apple is working hard on WatchOS and its accompanying Apple Watch to ensure those who happen to be in wheelchairs are still able to get the most out of the wearables. The company is working on an issue that will affect potentially millions of users worldwide. It's a difficult task too, requiring Apple's engineering teams to completely overhaul deployed algorithms and more. Co.Design sat down with Apple's Ron Huang, director of software engineering, to discuss exactly what this all entails.
Interestingly, the Apple Watch, among other fitness trackers, look for arm movements as well as detecting the heel of one's foot striking the ground to measure steps. Clearly, this way of calculating fitness and movement isn't effective when it comes to wheelchair users. Apple opted to conduct some testing. From the Co.Design piece:
More than 3,500 hours of data from more than 700 wheelchair users were collected. It was concluded the more efficient way of enabling those in wheelchairs to effectively track movements was to detect pushes, more specifically the three different types to move around.
As well as making changes to its algorithms, Apple also has to undergo UI tweaks, one example being the replacement of the Stand ring with a Roll ring in the Apple Watch Activity Tracking. Instead of being asked to stand up every 60 minutes, wheelchair users will be bugged to roll in place for a minute each hour. It's an interesting development for Apple and its wearable tech, making us wonder just what the company could achieve next to help those around the world.
Get the best of iMore in in your inbox, every day!
Interesting read. Well done.
Thank you for signing up to iMore. You will receive a verification email shortly.
There was a problem. Please refresh the page and try again.