Serato's new Pyro app lets you effortlessly become a DJ on your iPhone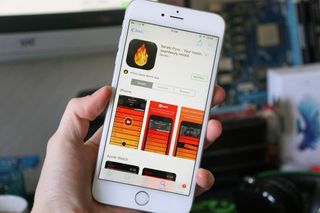 There's nothing worse than having that awesome playlist configured only to have it end abruptly simply because it's an absolute pain to create one in the first place. Serato's latest iOS app called Pyro is set to change all that by offering an entirely new experience for combining a collection of similar songs to create quite the playlist. Better still, the app will be your DJ and make all tracks mix seamlessly.
When firing up Pyro, the app will see you start a fire to add songs, artists and playlists from both music stored on your iPhone or iPad, as well as Spotify. Pyro's magic, which is the underlying algorithms, will then kick into gear and start offering suggestions for more songs that could be added to this new playlist, depending on the collection you shared.
The mixing of tracks and seamless transitions is a really cool feature, which adds to the overall experience of Pyro. No longer will you have to endure the second or two silence between tracks. All songs pulled down by Pyro are taken from Spotify's vast catalogue. There's even Apple Watch support too. Android, OS X and Windows versions are in the works and will be released in the future.
Serato Pyro is also free, so there's really no reason at all not to try it out.
Via: Engadget
Probably works better for techno or house or edm or similar but, as expected. With music with words like hip hop you need specific cue points for a mix to be seamless and to not have it sound garbled. This tends to be a problem with all of these sort of apps/tools. Serato is now well known for professional dj software so i'd hoped for something a bit better but I didn't expect a full fledged serato like client that could replicate two turntables and an expensive mixer. I'd bet it would be fun to play around with and possibly useful if Techno was my thing.
Get the best of iMore in in your inbox, every day!
Thank you for signing up to iMore. You will receive a verification email shortly.
There was a problem. Please refresh the page and try again.