Seven things you may have missed about Apple Watch Series 3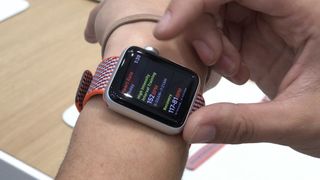 The Apple Watch Series 3 is now available for preorder, with many (myself included) staying up late Thursday night to place a crack-of-dawn order to avoid missing out on slipping shipping deadlines.
But if you haven't ordered a new Series 3 GPS-only or GPS + Cellular watch yet, and are still weighing the pros and cons, I've got a few things you might not know about Apple's newest smartwatch.
Apple Watch Series 3 Cellular vs GPS-only: What's the difference?
The S3 chip is fast, fast, fast
One of my complaints about the company's original Apple Watch was speed: The thing moved like molasses. It took over a minute to start up, spun forever to launch apps, and Siri was less than responsive.
watchOS updates combined with Apple's S2 chip architecture fixed this somewhat in Series 2, offering a 50% increase in speed over the original model — but even this model took a minute to turn on and had app spinning issues.
watchOS 4 will further improve speed for Series 2 users, but not in the way the Series 3's S3 chip will. Apple's new smartwatches are Roadrunner-fast. The company pegs them at 1.7x faster than the Series 2. And while we haven't had enough hands-on time with Series 3 to put the watches through any serious testing, even in my short experience with the smartwatches, they fly.
Siri on LTE is an instantaneous joy, while scrolling now feels as buttery-smooth as it long has on the iPhone. Opening and using apps during my hands on was similarly speedy, as was heart rate measurement.
Climb mountains or stadiums without your iPhone
While older versions of the Apple Watch have a number of features to help track your health and movement, they've missed out on incorporating an altimeter; the sensor tracks your elevation gains as well as flights of stairs climbed, and has been a mainstay of the iPhone for a few years now. You could get that data on your Apple Watch in a workout — but you'd have to bring your iPhone along for the ride.
As of Series 3, that's no longer true: Both the GPS-only and GPS + Cellular watch models incorporate an altimeter for native elevation tracking. It's a nice addition for the fitness and Fitbit crowd alike, and lets the Apple Watch take another step of independence away from the iPhone.
The Series 3 GPS + Cellular has more storage
All Apple Watch models up to this point have come with 8GB of storage, but the GPS + Cellular Series 3 is set to double that, offering 16GB for all its casing styles — aluminum to ceramic.
Apple's given no overt reason for the change, but it may have to do with extra room for music streaming, or stand-alone apps needing more space. Whatever the case, it's a boon for users who plan on buying the top-tier Series 3 model.
You can't roam internationally
The GPS + Cellular model of Apple's Series 3 watch is fully-featured in most of the ways that matter: There are no limitations on what you can do on the watch over LTE; it all comes down to the apps you're using and your overall battery life. (Which, admittedly, will not be the best if you're solely using the LTE antenna.
But outside of the on-the-watch experience, it's quite restrictive. This is largely due to space restrictions: Unlike the iPhone, there's not enough room in the Apple Watch casing to add all the bands necessary to make the watch compatible around the world; instead, Apple is offering six different Apple Watch makes at launch (3 for each size) that cover 1-6 countries each.
As such, Apple is currently prohibiting Series 3 watches from being able to roam internationally on their own. You'll still be able to use your iPhone's roaming capabilities to use your watch, but you can't leave your iPhone behind in your hotel room and place a call on your watch while in a foreign country.
It's not yet clear how this intersects with the E.U.'s ruling against roaming-limited plans, though because you have to connect your Apple Watch to your iPhone's plan, that may circumvent it.
The Apple Watch Series 3 can't roam, and won't work between countries
What about moving from one country to the other? In theory, if your Apple Watch Series 3 supports the same LTE bands for your new country's iPhone carrier (say, moving from the U.S. to Canada), you should be able to switch plans. But until we do roaming tests with production hardware, we won't be able to confirm.
You can't put in your own SIM card or separate carrier
Only 10 countries are offering the Apple Watch Series 3 GPS + Cellular at launch, with 17 carriers (6 more carriers will add service later in 2017). If you don't have an Apple Watch being sold in your country, you're currently out of luck for purchasing one — and while we've noted above that you can theoretically buy an Apple Watch that has the same bands as your carrier, we don't recommend it
But what about switching carriers on a compatible network? Can you pop in a SIM card? The answer is yes, you can switch carriers at will — but not through a physical SIM card. Instead, this works similarly to Apple's embedded Apple SIM on the iPad. You can add or cancel service from any available carrier in your region at any time, but it's all done through the Watch app — no plastic card necessary.
Yes, you can buy Apple's GPS + Cellular Apple Watch and use it without LTE
It's worth noting, however, that whatever carrier you choose must also be the carrier linked to your iPhone — you can't use your Apple Watch on T-Mobile with your iPhone on AT&T, for example. This is because carriers aren't actually offering Apple Watch data plans; instead, they're only offering "add-on" options that connect your Apple Watch Series 3 to your existing iPhone plan. (And yes, the add-on pricing is overpriced: $5-$10/month just to share your iPhone's data.)
Lame? Yeah. But as with Apple and carrier plans of the past, I expect to see this evolve and change over the years.
It's not Qi-compatible (but it does support AirPower)
While you may have seen the Apple Watch Series 3 make a cameo on Apple's upcoming AirPower charging mat, the Series 3 doesn't support the Qi standard — the iPhone 8, iPhone 8 Plus, and iPhone X are Apple's only devices that do. Instead, it will be able to use Apple's AirPower mat due to some as-of-yet undisclosed technology in addition to its existing magnetic charging interface.
No, you still can't use it with Android
The GPS + Cellular model may have an LTE antenna, but that doesn't mean you can use it as a stand-alone device: You still need an iPhone to set up your Apple Watch, and it requires being connected to that iPhone's cellular plan to function. Sorry, Android (and BlackBerry) fans: If you want to use an Apple Watch, you need an iPhone.
Can you use an Apple Watch with your Android phone?
Other cool things?
Other neat things about Series 3 you want to highlight? Let us know below.
Get more iMore in your inbox!
Our news, reviews, opinions, and easy to follow guides can turn any iPhone owner into an Apple aficionado
Serenity was formerly the Managing Editor at iMore, and now works for Apple. She's been talking, writing about, and tinkering with Apple products since she was old enough to double-click. In her spare time, she sketches, sings, and in her secret superhero life, plays roller derby. Follow her on Twitter @settern.