How to set up LTE and cellular on Apple Watch Series 3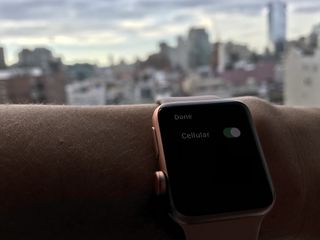 Apple's GPS + Cellular Apple Watch is here, and I've gotten a ton of questions from our readers and various folks on Twitter in regards to how cellular data works on the Apple Watch. Here's a brief overview of everything you need to know.
How carrier plans work
Let's get this out of the way: If you want cellular phone calls or data on your Apple Watch, you're going to need to connect the Series 3 to your carrier. If you don't, and you bought a Series 3 GPS + Cellular model for a non-LTE reason, you'll never have to sign up for a plan if you don't want to: You'll still have every feature availalbe on the watch aside from Cellular connectivity.
How do carrier plans work on the watch?
Unlike Apple's a-la-carte iPad plans, a GPS + Cellular Apple Watch is intrinsically tied to its parent iPhone plan; this allows you to receive phone calls from the same number even if you're out and about. This means that you:
Have to have a phone plan that currently supports eSIM (the technology used to connect the watch's cellular service)
Need a phone plan that currently supports adding the Apple Watch
Can't sign up for a different carrier on your watch than on your iPhone
In practice, this is pretty simple: When you set up cellular data on your Apple Watch, you'll be redirected to your current iPhone carrier's portal for Apple Watch, where you can add on a ~$10/month plan based on your carrier and region. There's no option for picking your own carrier like the Apple SIM, so you can't hack your way around your provider offering support for another LTE watch but not Apple's own.
What does LTE data cost on the iPhone?
Most providers are actually letting you share your iPhone's data plan for free; the only cost is instead a ~$5-$10/month "device fee" that covers infrastructure. It's a bit of a rip-off in terms of pricing — though, coming from cellular carriers, what else is new? — but there's currently no other option if you want to use LTE on your smartwatch.
Do I have to sign up for cellular data when I buy the watch?
Nope. When you first set up an Apple Watch with cellular support out of the box, you'll be asked whether you'd like to add it to your current cell plan; if you say no, you can set it up later at any time through the Watch app on your iPhone.
Will carriers lock Apple's eSIM to their network?
Not that we've heard, but it's best to check with your carrier.
Can I switch to a different iPhone plan (and thus, Apple Watch plan) at will?
As long as you can get out of your carrier contract, absolutely.
Can I cancel my Apple Watch plan at will if I'm not using it?
Depends on what your carrier demands, but you should be able to; in the U.S., all Apple Watch plans are month-to-month.
What if I move to a different state and change my cellular service provider? What about a different country?
As long as your new cellular company supports the same LTE bands as the current watch model you own along with an Apple Watch plan, you should be able to set up a new cellular account and add your watch to it on your new carrier. (You'll have to put in your new carrier's SIM into your iPhone before switching plans, however.)
For example, if you live in the United States and use AT&T but plan on moving to Canada and using Bell, you can cancel your AT&T phone and watch plan (or put them on hold), sign up for Bell on your iPhone, and add a Bell add-on plan for your watch.
How to roam with your Apple Watch and use LTE data in a foreign country
If you move to a country that uses a different subset of LTE bands — and, as such, requires a different kind of Apple Watch — then you'll have to purchase a new model for your new country.
How many LTE Apple Watch models can I have paired to one iPhone?
This entirely depends on your carrier, but generally, you can pair more than one if you really have a hankering to do so. AT&T, for instance, allows up to 5 smartwatches to share the same iPhone number on a single plan.
Can I have multiple LTE plans active on the Apple Watch?
While you can certainly pay for multiple LTE plans on Apple Watch, the eSIM can only relay one carrier at a time. For example, if you have an AT&T personal plan and a Verizon corporate plan, you'd have to go to the Watch app and switch your cellular preferences every time you swapped SIM cards — it doesn't happen automatically. If you need to, here's how to do that:
Open the Watch app from your home screen.
Tap on the My Watch tab.
Select the Cellular option
Tap the Info button.
Tap Remove [carrier] Plan to untie your Apple Watch's eSIM from your current wireless provider.Keep in mind: This won't cancel your plan; you'll have to go to your carrier directly if you'd like to do that. It's the equivalent of taking out a SIM card to add a new one.
Switch the SIM cards in your iPhone between your current carrier and your second carrier.
Confirm that you can access the internet with your new SIM card.
Open the Watch app.
Tap on the My Watch tab.
Select the Cellular option.
Tap Set Up Cellular to reconnect your watch plan with your other carrier.
How do I cancel a cellular plan?
Decided to ditch cellular data on your Apple Watch? Unfortunately, there's only one way to remove a plan permanently: Get in contact with your carrier.
Apple will let you remove the plan in question from the Watch app (via My Watch > Cellular > Tapping on the Info button), but that doesn't cancel your service: It's the equivalent of removing a SIM card from your iPhone. Removing a plan during the unpair process does the same thing.
Instead, if you wish to cancel, you'll have to either call or chat with your provider. I ended up using AT&T's online chat service to cancel my Watch plan:
Sign in to your AT&T account from att.com.
Go to AT&T's Wireless contact portal.
Click on the Chat available button to open a support chat.
Why can't I roam with Series 3?
Essentially, the roaming limitation comes down to two issues: space, and battery life. The Apple Watch Series 3 has very little room with which to fill LTE bands, and as such, each model has a very limited number of bands that it supports; there are currently six different models (three in 38mm, three in 42mm) for the 10 countries that currently support Apple Watch.
Swipe to scroll horizontally
| Apple Watch model | Country | LTE Bands | UTMS bands |
| --- | --- | --- | --- |
| A1860, A1861 | U.S., Canada, Puerto Rico | 2, 4, 5, 12, 13, 17, 18, 19, 25, 26, 41 | 800MHz, 850, 1700, 1900 |
| A1889, A1891 | Austraia, France, Germany, Japan, Switzerland, U.K. | 1, 3, 5, 7, 8, 18, 19, 20, 26 | 800MHz, 850, 900, 2100 |
| A1890, A1892 | China | 1, 3, 39, 40, 41 | 2100 MHz |
Our personal theory as to why roaming isn't supported? Apple didn't want to offer "region roaming," where you could roam on your Apple Watch's regional bands, but other countries wouldn't work.
Also, even if you're traveling within an area where your Apple Watch should technically be able to roam, there's another factor to consider: battery life. The GPS + Cellular model just hits the usable "all-day" battery life metric; given that roaming has a habit of devouring battery life on the iPhone, I imagine the end result wasn't good enough for Apple to allow for it on Series 3.
What if I have an enterprise plan?
Check with your company and your carrier, but it should be doable; you'll just need to go through your company's device manager the way you would when adding other services (like international data).
How cellular connectivity works on Apple Watch
Carrier questions answered? Good. Let's move onto the meat of things: How cellular connectivity actually works on the Apple Watch.
Which Apple Watch models support LTE connectivity?
As of this writing, only the Series 3 GPS + Cellular options.
Apple Watch Series 3 Cellular vs GPS-only: What's the difference?
How do I set up cellular data on the Apple Watch?
You'll be asked to activate cellular data when you first set up a new Series 3 GPS + Cellular Apple Watch — whether or not you restore from a backup of a previous iPhone. (Of course, it's up to you whether you actually decide to activate your data during setup or you want to skip it and wait until a later point.)
If you decide to set up cellular, you'll be brought out of the Watch app on iPhone and into a web view for your respective carrier. Yes, a web view. It sucks. It's slow. If you're getting your Apple Watch on Friday, be prepared to wait through a lot of spinning and erroring out. (It took me two tries to set up the Apple Watch, and that was Wednesday before launch when most people didn't yet have access to this portal.)
You'll likely have to sign in with your carrier, agree to terms and conditions, enter in some emergency contact info (AKA if you activate SOS and 911 can't locate you from your cellular signal, that's where they go), and confirm your add-on purchase. Because it's all processed through your existing carrier plan, you shouldn't need to enter in any credit card information, but your carrier experience may vary.
Once that's been set up, you'll be free to continue your Apple Watch setup and use LTE at will when your iPhone is disconnected.
If you want to change or discontinue your plan at any time, you can do so from the Cellular screen of the Watch app; you can also view your current cellular data usage from this screen.
How exactly does the Watch connect to LTE?
By default, your Apple Watch will prefer being connected to your iPhone via Wi-Fi or Bluetooth, or connecting to an external Wi-Fi network that your iPhone has authorized in the past. (If you've read about the "LTE bug" in the news recently, it has to do with pre-authorized Wi-Fi networks.)
Apple Watch Series 3's "LTE problems" are actually an existing Wi-Fi bug
While you're connected to Wi-Fi or your iPhone, you won't have any indicators on your watch face; if you swipe up from the bottom of the screen into Control Center, you'll either see a green iPhone icon in the upper left corner, or a blue Wi-Fi icon (with its traditional curved bars representing signal strength).
If you leave your iPhone at home, turn it off, or are otherwise sans iPhone or Wi-Fi, your watch will start up its LTE mechanics and look for your carrier's network. This process can take up to a minute and is similar to the process when you hop off Airplane mode on an iPhone, or toggle Cellular off and on.
It'll stay connected to LTE as long as you don't have any better options (existing Wi-Fi networks or your iPhone) available and your watch can properly "see" carrier towers (certain things, like water or faraday cage-like houses, may interfere).
Can I turn cellular service off on Apple Watch if I don't want it and still use it like a regular Series 3?
Absolutely. You can either toggle it off from Control Center on your watch or by disabling both GPS and cellular through Power Saving mode (visit Settings > General > Workout).
Is there any way to force Apple Watch to use cellular instead of Wi-Fi or my iPhone?
Unfortunately, not easily. You can turn off your iPhone, but if you're within range of a known Wi-Fi network, your watch will automatically want to connect. You can always bring your iPhone with you and tell it to forget that Wi-Fi network, then explore with your watch, but it's less than ideal. We can only hope that in the future, Apple adds in a toggle to disable Wi-Fi as it currently offers with cellular and Airplane mode.
How can I see if I'm connected to a cellular network?
Swipe up from the bottom of the bezel while viewing the watch face to reveal Control Center.
Look in the upper left corner. If you're connected to a cellular network, you'll see four green dots, with connectivity outlined by them either being colored in (service) or outlined (no service). If you're not connected to a cellular network, you'll see one of the following:

A green outline of an iPhone (connected via iPhone)
A red X (Series 3 GPS + Cellular only) or a red iPhone with a line through it (Non-Cellular Apple Watch)
Blue Wi-Fi bars (watchOS 4) or a green cloud (watchOS 3 or earlier)
What can the watch do on LTE?
Almost everything you can currently do on the watch via iPhone or Wi-Fi. You can receive messages and emails, call people over cellular or FaceTime Audio, get info from third-party apps, call Siri, find friends… The list is huge.
Some information we've received is that certain carriers will allow you to receive SMS messages on your Apple Watch Series 3 without your iPhone, but won't let you send them. We're looking into this.
What can't the watch do on LTE?
In short: Everything you currently cannot do with a watch connected to iPhone.
Specifically, your Apple Watch will flail around if you ask it to do a task via Siri that it doesn't know how to do (send a note, for example, or look up something on Wikipedia). You can't hand this off to your iPhone, because your iPhone isn't here… so instead, Siri just tells you to look on your phone later.
Everything the Apple Watch can do without an iPhone
You also won't be able to place international calls on the Apple Watch without the iPhone (at least on AT&T), though you can place regular and FaceTime audio calls without a problem.
You also won't be able to browse the internet, because A: Tiny Safari doesn't exist. B: A tiny internet browser would be terrible.
Other questions about Apple Watch and cellular?
Let me know below.
Updated October 2017: Added information about switching plans and international data.
Master your iPhone in minutes
iMore offers spot-on advice and guidance from our team of experts, with decades of Apple device experience to lean on. Learn more with iMore!
Serenity was formerly the Managing Editor at iMore, and now works for Apple. She's been talking, writing about, and tinkering with Apple products since she was old enough to double-click. In her spare time, she sketches, sings, and in her secret superhero life, plays roller derby. Follow her on Twitter @settern.