Seven things you need to know about the 2014 Mac mini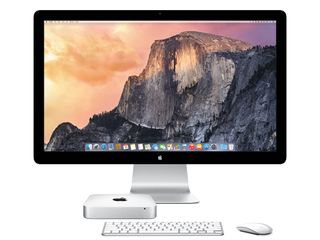 Apple's venerable Mac mini is its least expensive Mac model, and a good entry-level system that's an attractive option for PC users making the switch to the Macintosh. It's long overdue for a refresh, but at Apple's October Mac and iPad event, it finally happened. The Mac mini has finally joined the rest of the Mac product like with Intel's "Haswell" fourth-generation Core processors. Here's what you really need to know about the new Mac mini.
1. Rewinding the price back to 2005
Apple introduced a new $499 model, $100 less than the previous entry-level Mac mini. When the Mac mini first debuted all the way back in 2005, it was a $499 machine, but as features and capabilities increased, the price crept up to $599. So we're back where we started from, at least on price.
To get the Mac mini in the $499 price zone, Apple has duplicated its iMac strategy: The new less-expensive model also features a slower CPU, a 1.4 GHz dual core i5. Some people are going to shake their head, but hear me out: That's actually good enough for most general users. It's the same clock speed as a MacBook Air, for example, though the regular hard disk drive won't make things feel as peppy as they do on the pure-SSD Air.
2. Bye bye FireWire
The Mac mini has two Thunderbolt 2 ports but it's also removed FireWire 800, which was available on the previous-generation model. If you have legacy FireWire gear you'd still like to use, Apple and others make Thunderbolt to FireWire interface adapters that will get the job done.
3. No more off-the-shelf server configuration
Apple previous offered the Mac mini with OS X Server pre-installed, equipped with a 2.3 GHz quad-core i7 processor and two 1 TB internal hard disk drives that could work separately or be striped or mirrored as a RAID array using Disk Utility. That system is gone.
In its place is a $999 2.8 GHz dual-core i5 system equipped with 8 GB RAM and a 1 TB Fusion Drive. Even without a four-core option, that'll be a nice speedy system. But if you want OS X Server, you'll have to download it yourself from the Mac App Store — another $19.99 expense.
With the addition of Thunderbolt 2, external connectivity on the Mac mini is faster than ever, and there are plenty of server-class Thunderbolt 2 RAID systems to choose from if you're looking for redundant storage.
4. No more quad-core offering
The Mac mini has long borrowed heavily from the parts bins of the 13-inch MacBook Pro. With no new "standard" MacBook Pro to borrow from, Apple's using the MacBook Pro with Retina display as a template for the Mac mini instead. So the processor configurations options look the same as what you can get on the 13-inch Retina MacBook Pro.
And just like the 13-inch Retina MacBook Pro, there's no quad-core processor option to choose from. (There wasn't a quad-core processor on the old 13-inch MacBook Pro, either, but Apple did offer a 2.3 GHz quad-core processor as an option on the Mac mini.)
Instead, Apple's incremented clock speeds on dual-core i5 chips. It offers a 3.0 GHz dual-core i5 processor as an option too. (No surprise here, because the 13-inch Retina MacBook Pro offers the same option.) But 3.0 GHz and dual-core is as fast as the Mac mini gets these days. Anything more for a headless Mac and you're jumping to Mac Pro territory (and tripling the price).
5. You can use the Mac mini to drive a 4K display
You can connect two Apple Thunderbolt Displays up to it via the Thunderbolt 2 ports, or the equivalent: The Mac mini enables you to drive two displays at 2560 x 1600 pixels. But the Mac mini also has a HDMI port that complies with the HDMI 1.4 spec.
This HDMI port can be used to drive a 4K display, albeit at slower refresh speeds. So with that HDMI port, you can connect a 4K display and expect to see 3840 x 2160 resolution at 30 Hz, or 4096 x 2160 resolution at 24 Hz. Again, that's the same as the 13-inch Retina MacBook Pro.
6. You may be stuck with RAM
I'm still trying to get a definite answer from Apple on this, but early indications are that the Mac mini no longer has user-upgradeable RAM. There's no longer any mention of being able to upgrade it on Apple's web site. So you'll have to decide when you place your order how much RAM you think you'll need, and hope it's enough.
7. 802.11ac is now standard
In addition to a faster CPU, faster graphics, and a faster peripheral interface, the Mac mini also gets faster Wi-Fi: It joins the other Haswell-based Macs with 802.11ac Wi-Fi networking support, which can work up to three times faster than 802.11n. Of course, if you're still using a pokey older AirPort Extreme Base Station or Time Capsule, you'll have to upgrade before you see any speed benefit, but that's the price of progress.
The bottom line
Many of us have been waiting for a new Mac mini ever since Apple refreshed the MacBook Air with Haswell processor in 2013, so it's about time we finally got a new Mac mini. Is this the Mac mini you've been waiting for, or are some of these changes making you think twice? Sound off in the comments, let me know what you think.
Master your iPhone in minutes
iMore offers spot-on advice and guidance from our team of experts, with decades of Apple device experience to lean on. Learn more with iMore!