Share your iPhone and Apple Watch setup with Homescreen.me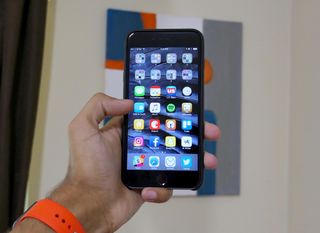 You may remember Homescreen.me — the site has been public since 2012. Its goal has always been to give you a place to share your iPhone Home screen in a central location at a link that's easier to remember than an auto-generated url from a photo-sharing service.
Some time after launching the site, the team realized it'd be pretty nifty to have an iOS app for Homescreen.me — that way you could do the screenshotting, sharing, and browsing all on the same device. Unfortunately, after a successful beta period, the app was rejected by Apple. You can learn all about that on the Homescreen.me blog.
In the end, the team took what they'd learned from iOS, applied it to the web, and relaunched Homescreen.me site.
Signing up and sharing your Home screen and watch face
You can sign up for an account with Facebook, Twitter, or the classic email address. Once you're in, you can fill out a short bio and upload a profile photo.
All that's left is to upload a screenshot of your current iPhone setup. If you've got an Apple Watch, you can upload a shot of your watch face, too. Homescreen.me asks you to fill out a short description so readers can learn more about your setup, as well as the source of your wallpaper.
What's perhaps our favorite feature of the relaunched site, Homescreen.me asks you for the model and color of your iPhone and the model of your Apple Watch. It makes for a more accurate representation of your unique setup.
Our Home screens and watch faces
Speaking of unique setups, I asked iMore's editors to upload and share their Home screens. You can check 'em out at the links below:
Alright, it's your turn — I'd love to see your Home screen setup. Share a link to your Homescreen.me in the comments or send us a Tweet!
Get the best of iMore in in your inbox, every day!
Mikah Sargent is Senior Editor at Mobile Nations. When he's not bothering his chihuahuas, Mikah spends entirely too much time and money on HomeKit products. You can follow him on Twitter at @mikahsargent if you're so inclined.
Who wants to see an icon cluttered home screen?

Gotta agree with this. I love my iPhone but I hate icons, icons, icons. Sometimes I choose not to use an app (or choose to use an app) depending on whether I like the icon, considering it's in my face most of the day. And "folders" icons are so **** ugly I try not to use them. #FirstWorldBitchin

It'll be a nice break from seeing pictures of everyone's lunch. Sent from the iMore App

Nice find Mikah ! I will use this.

That was terribly interesting to see how the iMore team use their devices. I'm not sure what I excepted, but it wasn't what I was expecting. -People are so interesting. Sent from the iMore App

http://homescreen.me/Safichi

http://homescreen.me/dlashworthjr Sent from the iMore App

Can we just get an app that takes your screenshot and frames it in a picture of your iPhone? I found a few that haven't been updated in years. I think they make screenshots look better.

http://homescreen.me/nikonredneck
Thank you for signing up to iMore. You will receive a verification email shortly.
There was a problem. Please refresh the page and try again.