Shared Google Calendars not showing up on iPhone, iPad, and Mac? Here's the fix!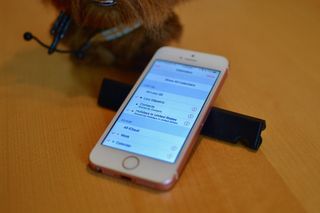 Updated March 2017 with additional steps for un-syncing calendars.
If you accepted an invitation from someone to share a Google calendar but aren't seeing it on your iPhone, iPad, or Mac; it could be due to your Google Sync settings. Google turns sync off by default for new calendars, particularly shared ones. It's frustrating, and it's why you can't immediately see them on your iPhone, iPad, or Mac even when you can see them online. Luckily it's also simple to fix — once you know how!
How to get shared Google Calendars to show up on iPhone, iPad, and Mac
Launch Safari or any other web browser on your iPhone, iPad, or Mac.
Sign in if you aren't already.
Under Shared Calendars, tick the boxes for the calendars you want to see on iPhone, iPad, and Mac.
It can take a few minutes for the calendars to appear. If they don't appear right away, close the Calendar app and reopen it.
How to stop a calendar from syncing across your devices
If you have a shared Google calendar that you only need access to every once in a while, so you don't want it on your iPhone, you can un-sync it. I share a practice space calendar with about a dozen people, which takes up pretty much all the space on my calendar app. Un-syncing it from Google's calendars makes my schedule look a lot less daunting.
Launch Safari or any other web browser on your iPhone, iPad, or Mac.
Sign in if you aren't already.
Untick the box for any calendar you don't want to sync with your iPhone or iPad's Calendar app.
Click Save to save the settings.
From now on, those calendars won't even appear as an option for you to add to the built-in Calendar app (or even any third-party app that supports Google Calendar).
Any questions?
Do you have any questions about syncing shared Google Calendars with the built-in iPhone and iPad Calendar app? Put them in the comments and we'll help you out.
Allyson Kazmucha contributed to an earlier version of this article.
Get the best of iMore in in your inbox, every day!
Lory is a renaissance woman, writing news, reviews, and how-to guides for iMore. She also fancies herself a bit of a rock star in her town and spends too much time reading comic books. If she's not typing away at her keyboard, you can probably find her at Disneyland or watching Star Wars (or both).
I've tried changing my settings at the google accounts link, but my extra calendars still won't show up. I even deleted and reinstalled my account on my iPad, but it still doesn't work. Any suggestions? Only my main google calendar shows up, but none of the extra calendars I've created.

Thank you thank you thank you!!!!!!

Thanks . this worked wonders in my family devices.

Thank you! I had gone into my iPhone settings and checked the "Workouts" calendar (which is a feed from my training log on another site) but it never would show up on my phone calendar. I did what you recommended and 10 seconds later, my planned workouts were in my phone!!

Thank for this quick and simple fix! My girl friend shared her work calendar with me and I couldn't get it to show up on any of my devices including non ios Ones. Once I went to the selective sync page I Saw it wasnt checked and once I checked it off and it instantly showed up!!

My Google Calendar disappeared from my Iphone. Continues on my Ipad and computer. How can I get it back on my phone. I have gone to Apps, Google and it will only show a cloud and arrow pointing down and will not load.
6/14/2016 9:07am Thanks,

thank you , thank you, thank you!!!!!!!!
i had google calendars syncing with my wife's iphone and my apple calendar and then erased some accounts on the google calendar page and when i reset them up they would NOT sync with my wife's apple calendar (but were with mine). i knew i was doing it right but ... i never knew about this sync page. weird that they need it. never saw it before but it fixed it fine on first try thanks again

Clicked REPLY but response was just lines of code

Well I have tried this over and over. I have a google calendar that shows up just fine on my macbook air. But it will not show on my iphone. I have deleted the account and added it again. I went to this sync page and it is listed with a greyed out check mark I can't change. I toggled on the "contacts" section. hard reset my phone. Still nothing. So frustrating that it is fine with my calendar app on my macbook air but not on the iphone.
Thank you for signing up to iMore. You will receive a verification email shortly.
There was a problem. Please refresh the page and try again.