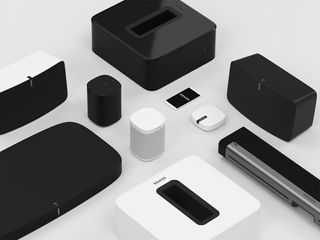 From the voice-activated Sonos One to the Alexa-enabled Sonos Beam, Sonos has quite the lineup of premium audio listening devices. If you're looking for a premium audio experience, easy pairing and streaming of audio, loads of audio services, excellent design, and near-universal compatibility with mobile devices, you're going to want to give Sonos at least a little bit of your time. Want to learn a little more? This guide can help you decide if the Sonos system is right for you.
What is Sonos?
It used to be that if you wanted to play music in any room of your house other than the room with the stereo, you had to run wires and connect them to at least a pair of speakers in each one. Talk about cumbersome and labor-intensive work! And let's not forget all the holes in the walls and yards of unsightly wires running everywhere.
Well, those days are over: Sonos is a speaker system that connects wirelessly to your computer, phone, or tablet to play music in any room or every room of your home. It also plays music directly from music streaming services.
Here's the current (extensive) list:
Apple Music
Pandora
Spotify
Amazon Music Unlimited
Google Play Music
SiriusXM
SoundCloud
Deezer
TuneIn
Napster
iHeartRadio
7digital
AccuRadio
Anghami
Audiobooks.com
Bandcamp
Batanga
CalmRadio
Classical Archives
Concert Vault
CustomChannels
DAR.fm
DASII
Daytrotter
FIT Radio
Focus@will
Gaana.com
Groove
Hearts of Space
Hotelradio.fm
Hype Machine
Live Phish
Mixcloud
MLB.com Gameday Audio
Mood:Mix
Murfie
Nugs.net
Radionomy
RadioPup
Rockbot
Rusc
Saavn
Slacker Radio
Soundmachine
Spreaker
Stingray Music
Stitcher Radio
Tidal
Tribe of Noise
Your personal music library
How does Sonos work?
Sonos uses your existing Wi-Fi setup to establish its own secure wireless mesh network (SonosNet). Over this network, the speakers connect to and play music from any device with Wi-Fi capability and the internet. All of this is managed by the Sonos app, which is available for Windows computers, Android phones and tablets, iPhone, iPad, and Mac computers.
If your Wi-Fi connection isn't reliable, Sonos speakers and devices have ethernet ports so you can hardwire a speaker into your router to guarantee a secure connection, or daisy chain speakers together in rooms where the Wi-Fi strength is lacking.
Can you tell me more about the Sonos lineup? What speakers and devices are available?
Whether you're an audiophile who wants premium sound for their television, living room, and office, or a person who wants to enjoy music wirelessly in your home, Sonos probably has a player for you.
The $200 Sonos One is an Alexa-enabled smart speaker with all the audio qualities of Sonos's lineup. With the help of Alexa, you can use your voice to control your music listening experience on Amazon Music, Spotify, Apple Music, and more.The Sonos One also features AirPlay 2 support, wireless syncing with other Sonos speakers and accessories, and humidity resistance if you decide you'd like a dedicated bathroom speaker.
| | Sonos One |
| --- | --- |
| Amplifiers | 2 Class-D (digital) |
| Tweeters | 1 |
| Woofers | 1 |
| Microphones | 6, far-field |
| Weight | ~4lbs. |
| Built-in voice control | Amazon Alexa, Google Assistant coming soon |
The $150 Play:1 is Sonos' entry level player in its roundup. With its two dedicated amplifiers, single tweeter, and mid-range woofer, it produces a crisp high fidelity sound for your audio enjoyment. It is wall-mountable and humidity resistant, so you can place it in your bathroom without worrying about moisture damaging its components. While you can't get stereo sound out of one Play:1, if you buy two, you can set them up as a stereo pair of left and right speakers.
| | Sonos Play:1 |
| --- | --- |
| Amplifiers | 2 Class-D (digital) |
| Tweeters | 1 |
| Woofers | 1 |
| Microphones | N/A |
| Weight | ~4lbs. |
| Built-in voice control | None |
The $500 Play:5 is the biggest home speaker Sonos has on offer. With the heftier price tag, comes more features and bigger sound out of one player. Boasting six amplifiers, three tweeters, and three mid-range woofers, one Play:5 is all you need for big stereo sound. Like the Play:3 and Play:1, you can create a pair of stereo speakers with separate left and right channels, but it's not necessary for a stereo effect. Also like the Play:3, you can place it either vertically or horizontally without sacrificing sound quality. Like the Play:1, it is humidity resistant, so take one into the bathroom with you while you shower.It also features a separate line-in jack to which you can connect any device that produces sound and has a 3.5mm audio connector. For instance, you could connect any MP3 or CD player to your Play:5 and listen to music from those devices on any Play:5 in your home, even those to which the devices are not connected.
| | Sonos Play:5 |
| --- | --- |
| Amplifiers | 6 Class-D (digital) |
| Tweeters | 3 |
| Woofers | 3 |
| Microphones | N/A |
| Weight | 14lbs. |
| Built-in voice control | None |
The $400 Sonos Beam is a compact soundbar with Amazon Alexa built right in. You'll be able to make use of the Beam's beam-forming microphones to give you the same voice control functionality that you'll find in the Sonos One. That means along with controlling your music, you'll be able to use your Beam to control supported smart home accessories in your home. It means you'll be able to do with the Sonos Beam everything you can do with any other Alexa-enabled device.
| | Sonos Beam |
| --- | --- |
| Amplifiers | 5 Class-D (digital) |
| Tweeters | 1 |
| Woofers | 4 |
| Microphones | 5, far-field |
| Weight | 6.2lbs. |
| Built-in voice control | Amazon Alexa, Google Assistant coming soon |
The $700 Playbar consists of nine speaker drivers: three tweeters and six midrange woofers. It also has nine separate amplifiers to boost its sound output. Using Dolby Digital Audio as the encoding for its virtual surround sound, it offers a superb home theater experience. It connects directly to your television via an optical cable, which is included.Are you a night-owl while your significant other is an early bird? Do you have children? If so, you can benefit from the NightSound feature of the Playbar. NightSound reduces the volume of crashes and bangs while ensuring that softer sounds remain audible so that you can watch the latest superhero movie late into the night without disturbing the rest of the house. Neat, huh?It also functions as a music player, which like the other players, connects to any device with WiFi capability and the internet to stream music through it and any additional players you have in your house.
| | Sonos Playbar |
| --- | --- |
| Amplifiers | 9 Class-D (digital) |
| Tweeters | 3 |
| Woofers | 6 |
| Microphones | N/A |
| Weight | 11.9lbs. |
| Built-in voice control | None |
The $700 Sonos Playbase is a TV stand with full-theater sound. It supports televisions up to 77lbs. This slim, low-profile stand is a home theater sound system that doesn't play around. With only two cords (one for power and one for your television), setting up the Playbase is simple. Once you've got it going, you'll be able to watch television and movies, listen to music and podcasts, stream audiobooks and the radio in rich sound. Thanks to Sonos's Trueplay technology, the Playbase will adjust its sound output based on the space in which it resides. So feel free to place it wherever you want it and let the Sonos system take care of the rest.
| | Sonos Playbar |
| --- | --- |
| Amplifiers | 10 Class-D (digital) |
| Tweeters | 3 |
| Mid-range | 6 |
| Woofers | 1 |
| Microphones | N/A |
| Weight | 18.85lbs. |
| Built-in voice control | None |
The $700 Sub is Sonos' subwoofer and adds richness and power to the bass notes in your Sonos setup. You can use it to add an extra layer (or fourteen) to your home theater system or your music listening system.With its two force-canceling speaker drivers set up so that they face each other, the Sub is capable of frequencies as low as 25 Hz without any cabinet noise.
| | Sonos Sub |
| --- | --- |
| Amplifiers | 2 Class-D (digital) |
| Speaker drivers | 2, force-canceling |
| Tweeters | N/A |
| Woofers | N/A |
| Microphones | N/A |
| Weight | 36.3lbs. |
| Built-in voice control | None |
Good to know. But should I buy a Sonos?
You should definitely consider Sonos if you want to play music from any of your Wi-Fi capable devices or your favorite music streaming service in any room of your house. While it's not the only company that produces similar devices, (Bose comes to mind,) Sonos has received positive reviews from audio-snobs and regular music lovers alike.
Whether you're one of the aforementioned audio-snobs, or regular-joe-music lover, give Sonos a try! If you've got any specific questions or want to share your Sonos experience, be sure to leave a comment or send me a reply over on Twitter!
Get more iMore in your inbox!
Our news, reviews, opinions, and easy to follow guides can turn any iPhone owner into an Apple aficionado
Mikah Sargent is Senior Editor at Mobile Nations. When he's not bothering his chihuahuas, Mikah spends entirely too much time and money on HomeKit products. You can follow him on Twitter at @mikahsargent if you're so inclined.