Should you get a Sonos Play:1 or Sonos Play:3?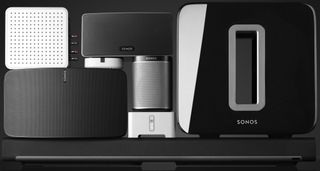 Regardless of whether you listen to your favorite music from an online streaming service or rack up a playlist of hundreds of songs from your computer, phone, or tablet, you know that you can fill any room in your house with awesome high fidelity sound with a [Sonos](/./sonos] player.
You've narrowed your choices down to two players: the Play 1 and the Play:3 and you're wondering which one will work the best for you. Let's compare them and see.
Sonos Play:1
The Play:1 is the smallest and cheapest player Sonos makes. One Play:1 can produce quality high fidelity sound on its own, but not in stereo. To get stereo sound with Play:1, you need two of them set up as a stereo pair of dedicated left and right audio channels. You can do this easily from the Sonos app.
Another nice thing about the Play:1 is that it is humidity resistant. No, that doesn't mean it's waterproof or even water resistant, but you can put it in the bathroom and take a shower without worrying that you're going to damage it.
Size: Small
Number of amplifiers: Two.
Number of drivers: Two. ( One tweeter and one mid-range woofer.)
Bass radiator: None.
Wall mountable: Yes.
Single player stereo sound: No.
Stereo pair: Yes.
Humidity resistant: Yes.
Change orientation: No.
Direct access to music and volume control: Yes
Sonos Play:3
The Play:3 is Sonos' mid-range player in terms of size and price. Like the Play:1, it will produce beautiful high fidelity audio. Unlike the Play:1, one Play:3 is all you need to listen to your music in stereo. However, if you want a wider separation in vocals and instruments, you can buy two and create a stereo pair.
Another feature the Play:3 has over the Play:1 is the ability to shift its orientation from horizontal to vertical depending on your preference or space restrictions.. However, don't put a Play:3 in the bathroom: it is not humidity resistant. It does have rubber feet, through, so you don't have to worry about marks or scratches on your furniture.
Size: Medium
Number of amplifiers: Three.
Number of drivers: Three. (One tweeter and two mid-range woofers.)
Bass radiator: One.
Wall mountable:Yes
Single player stereo sound: Yes.
Stereo pair: Yes.
Humidity resistant: No.
Change orientation: Yes.
Direct access to music and volume control: Yes.
Which one is right for me?
There are two factors to consider when trying to choose between the Play:1 and Play:3 — size and space.
If all you want is a small speaker to fill a small space, then you can save some money and go for the Play:1.
If you have a bigger room to fill and a bigger budget to fill it with, go for the Play:3.
Master your iPhone in minutes
iMore offers spot-on advice and guidance from our team of experts, with decades of Apple device experience to lean on. Learn more with iMore!
Girl gamer, bookish sort, sci-fi and fantasy lover and writer. Now creating helpful content for Mobile Nations.