Should you get an iPhone 6 or Android, BlackBerry, or Windows Phone?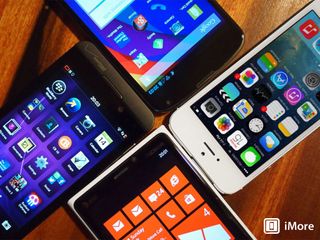 Apple has released the brand new, top-of-the-line, flagship iPhone 6 and iPhone 6 Plus. But is either of them the right phone for you? While everyone here at iMore certainly believes the iPhone is absolutely the best phone for most people, most of the time, we're lucky that every major platform now has one or more great phones for us to choose from as well. The iPhone may have the best overall user experience, the highest quality apps and games, the widest range of services, the biggest selection of accessories, and the best customer support, but there are also things the iPhone doesn't offer that other phones do, like physical keyboards, high power cameras, digitizers, or simply no Apple logo anywhere near them. So, how do you know the iPhone is for you?
User interface and interactions
Apple prioritized iPhone user experience from the get-go. It didn't have as many features as other phones of the time, but it had an interface that made every other phone look obsolete by comparison. From slide to unlock to pinch and zoom, it became a mainstream sensation. Over time, Apple's built on that with everything from FaceTime for incredibly easy video calls to Siri for incredibly engaging voice control. A lot of other companies throw a lot more features at the wall, hoping something sticks. Apple's focus on the best, more coherent, most usable features. iOS 8 makes it even better. Last year Apple re-built the entire interface on top of a game-style physics and particle engine, so it's even more discoverable, playful, and powerful than ever before. This year they've added extensibility for custom keyboards, widgets, inter-app communication, and more, and continuity to seamlessly move between iPhone, iPad, Mac, and, coming next year, Apple Watch
Plus, with the new iPhone 6 and iPhone 6 Plus, you get Touch ID, a breakthrough fingerprint scanner that lets you unlock your iPhone and use Apple Pay as your digital wallet.
Apps and games
Apple is neck-in-neck when it comes to sheer number of items in the App Store, but they're still way ahead when it comes to the quality of items in the App Store. Sure, every platform has more than its fair share of junk, but the best of the App Store is still unmatched. There are a couple reasons for this. First, Apple's frameworks for developers are still unmatched. Everything from audio to accelerate to metal just don't exist in useful form anywhere else. Second is the developers themselves. Early iOS developers came from the very design-centric, experience-centric Mac developer community. That set the bar very high. Likewise, some of the biggest and best gaming franchises came to the iPhone early, and still come to the iPhone first. While you can get a lot of name brand apps on multiple platforms now, many of the boutique apps are still iOS exclusive, including Tweetbot, Capo Touch, Storefront, Fantastical, Drafts, Screens, Twitterrific, Vesper, Launch Center Pro, Infinity Blade, Tiny Wings, Letterpress, and more. That's not even including Apple's own apps, some of the best in mobile, like GarageBand, and iMovie. Other platforms are attaining breadth. iOS has kept ahead on depth.
Range of services
When you get an iPhone, not only do you get instant access to all of Apple's great services, like iCloud backups, and iTunes in the Cloud re-downloads, but you also get access to pretty much all of Google and Microsoft/Nokia's best services — Gmail, Google Maps, Chrome, Google Drive, Google+, Hangouts, Outlook, SkyDrive, Bing, Skype, BBM (BlackBerry Messenger) and to the best third party services like Dropbox, Box, Spotify, Songza, Pandora, Netflix, Amazon Kindle and video, HBO Go, Hulu Plus, and many more. Apple doesn't offer their stuff on any other phones, but almost everybody offers everything on iPhone.
Selection of accessories
Because Apple only makes two new phones and a year, typically keeps the same design for two years in a row, and sells hundreds of millions of them, it makes it a no brainer for accessory makers to support them. Almost anything and everything that gets made in the next year will get made for iPhone 6 and iPhone 6 Plus.
Also, now that Apple has HealthKit and HomeKit, everything from health and fitness accessories to home automation gear will coherently, conveniently tie into the iPhone 6, iPhone 6 Plus, and iOS 8.
No matter what kind of case you want, what capacity battery charger, what kind of photo mount or lens, what type of Bluetooth accessory, what kind of lights or speakers, door locks or openers, chances are you won't only find it, you'll find several great options to choose from.
Customer support
If you have an Apple Retail Store near you, there's no point choosing any other phone. Apple will not only sell you an iPhone, but they'll help you set it up and show you how to use it, give you free lessons on all the main features. More importantly, if anything goes wrong, they'll fix it for you or swap it for a new phone, usually while you wait. You can make a Genius Bar appointment, walk in with a broken iPhone, and thanks to Apple customer service and iCloud, walk out half and hour later with a replacement phone containing all of your stuff, that's essentially a clone of the one you walked in with. No one else comes close to matching Apple's level of customer service. Appallingly, no one else even tries.
iMore!
Even though the iPhone's user experience is unmatched, the app, accessory, and services unequaled, and the customer service the best in the business, there's still more you may need. That's where iMore comes in. We'll help you get used to your new iPhone, help you figure out which are the best apps, accessories, and services for you, and help show you all the things you can do with it, like photography, music, and more. And when you're ready, we'll help you upgrade to your next phone.
Whether you keep up with us on the web, with our iPhone app (opens in new tab), or via RSS, Twitter, App.net, Facebook, Google+, YouTube, or iTunes (opens in new tab), or some other way, you'll quickly find out the iPhone doesn't only come with great stuff, it comes with a great community!
Who should get the iPhone?
If you want a phone that just works, and that has all the great user experience, app and game, accessory and services, customer support and iMore community benefits, then the iPhone is for you. And if you've been holding out for a bigger screen or extensibility, hold out no more!
The iPhone remains the single best phone in the world for most people, and for most people it remains the single best choice.
Everything you need to know about iPhone 6
Everything you need to know about iPhone 6 Plus
Who should get not-an-iPhone?
Of course the iPhone still doesn't have a hardware keyboard, there isn't a wide variety of makes and models, custom interfaces, digitizers and pens, rugged models, or giant cameras. If you have a very specific need, you'll need a very specific device to fill it.
If that's you, then dive into Android Central, Windows Phone Central, and CrackBerry and the experts there will help you make a final, fantastic decision!
Still undecided?
Swipe to scroll horizontally
| Feature | Apple iPhone 6 (4.7-inch) | Apple iPhone 6 (5.5-inch) | Samsung Galaxy S5 | Samsung Galaxy Note 4 | LG G3 | HTC One M8 | Moto X (2014) | Nokia Lumia 930 | Nokia Lumia 1520 | BlackBerry Z30 | BlackBerry Passport |
| --- | --- | --- | --- | --- | --- | --- | --- | --- | --- | --- | --- |
| Row 0 - Cell 0 | Row 0 - Cell 1 | Row 0 - Cell 2 | Row 0 - Cell 3 | Row 0 - Cell 4 | Row 0 - Cell 5 | Row 0 - Cell 6 | Row 0 - Cell 7 | Row 0 - Cell 8 | Row 0 - Cell 9 | Row 0 - Cell 10 | Row 0 - Cell 11 |
| OS | iOS 8 | iOS 8 | Android 4.4.2 | Android 4.4.4 | Android 4.4.2 | Android 4.4.3 | Android 4.4.4 | Windows Phone 8.1 | Windows Phone 8.1 | BlackBerry 10.2 | BlackBerry 10.3 |
| Screen Size | 4.7 inches | 5.5 inches | 5.1 inches | 5.7 inches | 5.3 inches | 5.0 inches | 5.2 inches | 5.0 inches | 6.0 inches | 5.0 inches | 4.5 inches |
| Screen Resolution | 1334x750 (326ppi) | 1920x1080 (401ppi) | 1920x1080 (432 ppi) | 2560 x 1440 (515 ppi) | 2560 x 1440 (538 ppi) | 1920x1080 (441 ppi) | 1920x1080 (423 ppi) | 1920x1080 (441ppi) | 1920x1080 (368ppi) | 1280x720 (295ppi) | 1440x1440 (453ppi) |
| Screen Type | IPS LED | IPS LED | Super AMOLED | Super AMOLED | IPS LCD | IPS LCD | AMOLED | OLED | IPS LCD | Super AMOLED | LCD |
| Processor | 64-bit Apple A8 | 64-bit Apple A8 | 2.5GHz quad-core Qualcomm Snapdragon 801 | 2.7GHz quad-core Qualcomm Snapdragon 805 | 2.46 GHz quad-core Qualcomm Snapdragon 801 | 2.3GHz quad-core Qualcomm Snapdragon 801 | 2.5GHz quad-core Qualcomm Snapdragon 801 | 2.2GHz quad-core Qualcomm Snapdragon 800 | 2.2GHz quad-core Qualcomm Snapdragon 800 | 1.7 GHz dual-core Qualcomm Snapdragon S4 Pro | 2.2Ghz quad-core Qualcomm Snapdragon 800 |
| RAM | — | — | 2GB | 3GB | 2GB or 3GB | 2GB | 2GB | 2GB | 2GB | 2GB | 3GB |
| Storage | 16GB/64GB/128GB | 16GB/64GB/128GB | 16GB/32GB | 32GB | 16GB/32GB | 16GB/32GB | 16GB/32GB | 32GB | 16GB/32GB | 16GB | 32GB |
| microSD Card | No | No | Up to 128GB | Up to 64GB | Up to 128GB | Up to 128GB | No | No | Yes, up to 64GB | XXXXX | Yes, up to 64GB |
| Cellular | LTE-A Cat 4 | LTE-A Cat 4 | LTE-A Cat 4 | LTE-A Cat 6 | LTE | LTE | LTE | LTE | LTE | LTE | LTE |
| Rear Camera | 8MP, BSI, digital image stabilization, ƒ/2.2, phase detection focusing, 1080p | 8MP, BSI, OIS, ƒ/2.2, phase detection focusing, 1080p | 16MP with Phase Detection Autofocus and selective focus | 16MP, BSI, OIS, 4K | 13MP with OIS and laser autofocus | 4MP UltraPixel, BSI, ƒ/2.0 + depth sensor | 13MP, ƒ/2.5, 4K | 20MP, BSI, OIS, ƒ/2.4, 1080p | 20MP, BSI, OIS, ƒ/2.4 lens, 1080p | 8MP, BSI, ƒ/2.2, 1080p | 13MP, BSI, OIS, ƒ/2.0, 1080p |
| Front Camera | 1.2MP, BSI, ƒ/2.2, 720p, burst mode | 1.2MP, BSI, ƒ/2.2, 720p, burst mode | 2MP, 1080p | 3.7MP, ƒ/1.9 | 2.1MP | 5MP, ƒ/2.0 | 2MP, 1080p | 1.2MP, ƒ/2.4, 720p | 2MP, 720p | 2MP, 720p | 2MP, 720p |
| Bluetooth | Bluetooth 4.0 LE | Bluetooth 4.0 LE | Bluetooth 4.0 LE | Bluetooth 4.0 LE | Bluetooth 4.0 LE | Bluetooth 4.0 LE | Bluetooth 4.0 LE | Bluetooth 4.0 LE | Bluetooth 4.0 LE | Bluetooth 4.0 LE | Bluetooth 4.0 LE |
| Wi-Fi | 802.11ac 2.4GHz / 5GHz | 802.11ac 2.4GHz / 5GHz | 802.11 ac | 802.11 ac | 802.11 ac | 802.11 ac | 802.11 ac | 802.11 ac | 802.11 n | 802.11 n | 802.11 n |
| GPS | aGPS, GLONASS | aGPS, GLONASS | aGPS, GLONASS | aGPS, GLONASS | aGPS, GLONASS | aGPS, GLONASS | aGPS, GLONASS | aGPS, GLONASS | aGPS, GLONASS | aGPS, GLONASS | aGPS, GLONASS |
| NFC | Yes | Yes | Yes | Yes | Yes | Yes | Yes | Yes | Yes | Yes | Yes |
| Sensors | Accelerometer, Ambient light, Barometer, Compass, Gyroscope, Infrared, Proximity | Accelerometer, Ambient light, Barometer, Compass, Gyroscope, Infrared, Proximity | Accelerometer, Ambient light RGB, Barometer, Compass, Gesture, Gyroscope, Hall, Heart rate, Proximity | Accelerometer, Ambient light RGB, Barometer, Compass, Gesture, Gyroscope, Hall, Heart rate, Proximity, SpO2, UV | Accelerometer, Ambient light, Compass, Gyroscope, Proximity | Accelerometer, Ambient light, Compass, Gyroscope, Proximity | Accelerometer, Ambient light, Compass, Gyroscope, Infrared, Proximity | Accelerometer, Ambient light, Compass, Gyroscope, Proximity | Accelerometer, Ambient light, Compass, Gyroscope, Proximity | Accelerometer, Ambient light, Compass, Gyroscope, Proximity | Accelerometer, Ambient light, Compass, Gyroscope, Proximity, Time of flight |
| Fingerprint | Touch ID | Touch ID | Fingerprint Scanner | Fingerpring scanner | No | No | No | No | No | No | No |
| TV out | AirPlay, HDMI | AirPlay, HDMI | MHL | MHL | MHL | MHL | MHL | MHL | microHDMI | microHDMI | SlimPort |
| Size | 138.1 x 67.0 x 6.9mm | 158.1 x 77.8 x 7.1mm | 142.0 x 72.5 x 8.1mm | 153.5 x 78.6 x 8.5mm | 146.3 x 74.6 x 8.9mm | 146.4 x 70.6 x 9.4mm | 140.8 x 72.4 x 9.9mm | 137.0 x 71.0 x 9.8mm | 162.8 x 85.4 x 8.7mm | 140.7 x 72 x 9.4mm | 128.0 x 90.3 x 9.3mm |
| Weight | 129g | 172g | 145g | 176g | 149g | 160g | 144g | Row 20 - Cell 8 | 206g | 170g | 194g |
| Battery | — | — | 2800mAh | 3220mAh | 3000mAh | 2600mAh | 2300mAh | 2420mAh | 3400mAh | 2880mAh | 3450mAh |
| Wireless charging | No | No | Available Qi back | Available Qi back | Available Qi back/Powermat | No | No | Qi | No | No | No |
| Waterproof | No | No | IP67 rated | IP67 rated | No | No | No | No | No | No | No |
| Contract Price | $199/$299/$399 | $299/$399/$499 | $199 | — | $199 | $199 | $99 | $99 | $99 | $99 | — |
| Off-contract Price | $649/$749/$849 | $749/$849/$949 | $649 | — | $599 | $669 | $499 | $499 | $544 | $499 | — |
| Applications | App Store | App Store | Google Play | Google Play | Google Play | Google Play | Google Play | Windows Phone Store | Windows Phone Store | BlackBerry World / Android apps | BlackBerry World / Android apps |
| Availability | September 2014 | September 2014 | Now | October 2014 | Now | Now | September 2014 | Now | Now | Now | September 2014 |
If you're still not sure about the iPhone 6 or iPhone 6 Plus, jump into our iPhone discussion forums and the best community in mobile will happily help you out. If you're not sure in general, head on over to your local big box or carrier show and ask to try them out. Don't settle for dummy phones, ask to use demo units, and ask a lot of questions.
Get the best of iMore in your inbox, every day!
Rene Ritchie is one of the most respected Apple analysts in the business, reaching a combined audience of over 40 million readers a month. His YouTube channel, Vector, has over 90 thousand subscribers and 14 million views and his podcasts, including Debug, have been downloaded over 20 million times. He also regularly co-hosts MacBreak Weekly for the TWiT network and co-hosted CES Live! and Talk Mobile. Based in Montreal, Rene is a former director of product marketing, web developer, and graphic designer. He's authored several books and appeared on numerous television and radio segments to discuss Apple and the technology industry. When not working, he likes to cook, grapple, and spend time with his friends and family.
Note: I own a Nexus 5, Lumia 1020, and BlackBerry Z10. That's ZED 10. Canadian phone. They're all great at what they do. I still wouldn't recommend them to anyone who's not a smartphone geek or camera greek in some way.

Let's not forget the new Android update is coming shortly. That could / should be something to think about when you select your next phone. Could be a world of difference. We'll have to see. I'd say if you can wait for the dust to settle do that. Most you'll have to wait is about a month to really make a educated decision.

You should really try the Galaxy Note series. In my opinion it's the best 'Android' phone to compare others with Posted via the iMore App for Android

Rene at the end of the Apple event when everybody were leaving you were right there infront of the camera, just in case anyone hasn't told you!!

The video just basically froze with Rene on it before the feeds were shut. At least that's how I remembered it.

Hi Rene, love watching the imore show, will the iPhone have to be connected to the apple watch in order for the it to track distance and route when exercising, because if so i cant imagine it being easy to run whilst having a iPhone 6 plus? Thanks

I'm switching back to iOS from the Nexus 5. Living in a black spot for LTE and barely a 3G I use a Cel-Fi and while it should give consistent 3G service and full bars the Nexus 5 will fight, even when set to 3G, to connect to that LTE service and totally ignore the 3G service from the Cel-Fi. Glad to hear you say ZED, I spend all my time having to think ZED and then say ZEE. I also say to them it is not Zeeeeebra it's Zebra. When I do slip and fall back into by terrible anglicized un-american pronounciation they look at me like I am stupid. I took my 11 month vacation in Android land and now I am switching back, it's just too tiring listening to people suggest that to stop something crashing I should do a factory reset then before it starts restoring purchased app's I should go in and do this that and another thing, dance on one leg while patting my head and rubbing my tummy. LOL Maybe I just got set in my ways when my hair turned grey and became a grouchy old man and now I only want iOS. Before then it was always Blackberry and I fought the switch and clung to my old Blackberry Storm, still miss that piece of junk! I do agree with you that it is not always what everyone suggests that is right for you, you always have to make a personal decision on what you feel or know is right for your needs.

You used to be able to say: If you want the most recent cutting edge phone in a small 4 in. form factor, Apple is the only one that has you covered. I am sad that is no longer the case.

Why? It's about time we get a 5.5 inch iPhone!! Sent from the iMore App

Because some people just do not want a phone bigger than 4 in. my wife being one of them. The only reason she left Android was because no good offerings of smaller phones. It now appears she is SOL. I have no issue with the 5.5 in. iphone, other than personally it is just too big with those bezels. But they should have continued the 4 in. model in some way. But maybe the "c" series will be the answer.

don't worry apple will continue to offer the iPhone 5s.. so if you don't have that one you can still update to it, and have an amazing phone... Blackberry Q10 user and Blackberry fan but lover of every other platform :)

Because some consumers want an iPhone but don't want a large screen phone.

The only bummer of the iPhone 6 to me is battery life (but that's always been the case). Don't know how long I'll be back in the Apple camp, but I'm for sure more excited about the upcoming iPhone. Passport and LG G3 are still on my radar, but I think its time I take a leap back to iOS.

I find that when people ask what phone I should get I often say what do your friends and family use. More and more these days, my family included, they live in one ecosystem. At the moment it is Apple, using iMessage, PhotoStream, FaceTime. I know families that are Windows Phone families as there is a fantastic rooms and groups feature. One thing I need help deciding is I need to have one email for everything that is my apple ID and my email account. I have 2 currently and it is driving me nuts. Do I use my me.com account for everything or do I use my domain name account for everything that is tied to a Google Apps account. I love google products/services but they do not integrate as perfectly as apple accounts/email. Anyone advise me?

I have the same problem. Right now I'm been sticking to my @gmail.com account but I've been using Google services less and less in an attempt to transition to my @icloud.com email.

I use the me.com in iCloud since it syncs notes with my mac and use my other email as my purchase apple ID.
That way if wife ever moves from WP to iPhone she can use my iTunes ID and make her own cloud account for contacts.
No one should Ever share an iCloud account with anyone else.
it was called ME.com because its supposed to be all about YOU. not 2-3 people.
Even using Both emails you can go in and set your default email to send from.
You can also add multiple email address + phone number for iMessage and FaceTime. No one has to have your me.com to communicate with you.
I like me.com better than gmail but I get why people like gmail.

Siri is not exactly the best feature to stick right next to a slam on other platforms for throwing things out there to see if they'd stick. If ever there was feature pasta Apple chucked against the wall, unfinished, it is would be Siri. Coming up on a three year anniversary, and without on board voice processing the 6 plus will *still* be worse than my 3G/4 were at simple voice commands. Sent from the iMore App

For me i like all what the Apple have, since iPhone 4 was born i was enjoyed using it my whole family using iPhone Apple product because its very easy to operate, the truth i bought Samsung phone and i was so very confusing using it its a very long program before i reach what i was looking for, and when i retturn to home screen for me its so confusing one very different compare to iPhone, specially the arrangement of apps in scrren for me its a little difficult to arrange, iPhone instead specially the arrangement its so very very easy and in general i found that this devvice you cannot ask more,. With the arrival of iPhone 6's we and my whole family wiare ready for upgrading. Sent from the iMore App

Ditched Android for a new BlackBerry Z30 and haven't looked back. Best phone for my use that people don't know even is in existence. And with 10.3 around the corner - native Android app use is that much better. Posted via the iMore App for Android

iPhone 6 Sent from the iMore App

And as an immigrant to Italy iPhone is very convenient for me and my family, with an internet and wifi connection in seconds i have already connected to my family using Facetime and iMessage..wow i love it very much, iam not using other apps instead we were stick to Facetime which the video works very very well, i think by October my new iPhone 6 or iPhone 6 Plus will arrive in Italy.i will upgrade my life too.thanks to Apple products. Sent from the iMore App

I have a 5s now and was very disappointed to see only new large phones. When I am ready for am upgrade I will get the best sall smartphone I can fine. Not everyone wants a big phone. So so so disappointed.

Crybaby Sent from the iMore App

I'm on the fence right now between the G3 and the iPhone 6. I had the G3 about a month ago and returned it because I decided I shouldn't choose a phone until after Apple's announcement. I regret returning it. I just wish the iPhone were a little more customizable.

I'm using the G3 right now. It fits my needs and preferences quite well. It is the same sized screen as the iPhone 6 Plus, with a significantly smaller body, and at a fraction of the price.

While the iPhone is certainly a good choice for most, and the best choice for many, it is silly to suggest that other phones and OS's are just for geeks with specific needs. While Android and Window's phones are more complicated than an iPhone, none are difficult to use. The demographic that is tech literate enough to use an iPhone but would be dumbfounded by a Nexus is trivially small. What about people who like a larger portion of their phone taken up by screen? What about those who don't want to spend $100 for an extra 16 gb of memory? Is water resistance really a nitch desire? I would suggest a simple reframing of this article could make it worthy of being read. Rather than pretending to offer advice, why not frame this as why you love the iPhone?

I switched from iPhone 5 to Samsung GS5. There was no more learning curve than when I switched from Blackberry to iPhone 4s. Having a phone that has a removable SD card for inexpensive storage and a battery I can replace for $15-20 is far more important than what my phone looks like, since all my phones have always been housed in an Otterbox. I don't intend to test the IP 67 waterproof and dustproof feature of GS5 but it is nice to know it is there.

The headline & content of this article do not match.
Headline mentions three OSs, the article is basically a pro/con of the iPhone.

Your are right, nothing is said about other products

I always suggest iPhone first, (In this case, I'll suggest 6 first.) If the person wants a bigger screen, I usually say G3. Now I'll say 6 Plus or G3. if the person is committed to Android, I usually say One M8, or G3. And if the person doesn't want enormous or iOS, then I suggest One M8 or M7. Never do I suggest Samsung unless there isn't an alternative.

Coming from the wpcentral side of mobile nations, i found this a very good article. Personally I am looking forward to iPhone 6+, love my lumia 1520 but wp 8.1 has not been kind. So i can't wait till i can get my hands on something new and different. Not to mention be great for my parents as they can FaceTime the grandkids!

Haha, found a WPCentral traitor, I knew I'll catch y'all here... huh huh. (joke)
Seriously, How has the Lumia 1520 not been kind to you? I have same phone and it absolutely the best phablet I have ever used, my Dad (80 years old) has the 1320.

Easy, iPhone 6 Plus!!! Sent from the iMore App

I'm eyeing the Sony Xperia Z3 and its "Hi-Res audio." I hope that will be true once the reviews are out. If I got the (128GB) iPhone 6, I'd just be using it as a really, really glorified mp3 player. It will be too much for an investment for me.

I like the article but the sliding comparison chart is absolutely horrid! Who thought that was a good idea?

I have a Lumia 920, and I'm getting either the Silver or Grey iPhone 6. Doing AT&T Next at checkout though.

Damn! If you're gonna make propaganda then don't try to disguise it into a "buy guide" article.... you just said the iPhone is better on everything.... did not even bothered talking about the others at all.

That's why I just skimmed through after finding out what was exactly going on in the article. It's all about what most people already know about iPhones.

I thought I was the only one that saw that when I did not see any comment about that until I read yours. Now one must not forget this site is for IPhone folks and I will not be surprised to see WPCentral proclaim WP as best on that site same as androidcentral

I've been an apple fan for 5 years plus own a i, fone, pad & mac but am majorly disappointed with the new offerings with a purtruding camera band which is very in apple like considering the aesthetics of past models, they could have made it fatter by .5mm & packed in more battery & full fill a most important aspect.
incremental features sub par camera & screen/ resolution plus extortionate price tag for both phones which have different specs & both are still behind androids offerings despite the build quality which is inevitably going to change with the s6, each to their own I guess but I'll be changing to droid for the waterproof feature as it's hot in Australia & I sweat a lot & have damaged a phone before when putting to my wet ear & hair so that feature alone is a plus personally Sent from the iMore App

Why isn't anyone talking about battery life for the new iPhones? Do we have to buy them first to get disappointed? Sent from the iMore App

Listen, I know it's been hard. You know, it's no different for me. Apple's less than a zero-sum game now, and maybe we all know that's not how it's supposed to be. It seems like forever since they had a good day. The writing's on the wall.

you iPhone users should know too that there's a better OS, more settings, better UI, cooler features windows phone, give it a look at wpc :)

Please tell them once more pretty please, I have been telling them to check out Icon,930, read 830 review, HTC One M8 for window, 1520, 1320 WP 8.1 update 1 Os

Why I sold my iPhone. I am a happy apple user. Imac macbook and so. One thing I didn't like on my iPhone was iTunes. I don't have time to add music to iTunes and plug my phone in the mac. Not even ringtones? That's so bad. Only mp 4 to watch movies?
I am not a Samsung fan at all. I own a oneplus and that is what I love. Easy to use just drag and drop files, pictures and music. BTW the screen from the oneplus and the iphone 6 plus are the same

I found it odd that Rene listed the exclusivity of iTunes as a positive for the iPhone. Why would I want to invest in a system that limits by ability to access my media?

Is there a downloadable version of the chart?

That the iOS user experience is better than Androids is just an urban legend. I find my M8 quicker and easier to use than my iOS devices.

You label something an "urban legend" then debunk it using your personal opinion. Hilarious!

I have owned an older Blackberry, a Samsung Windows phone, and a Samsung Galaxy Nexus, plus 2 Nexus 7 tablets, and every model of the iPhone. If you don't getting OS updates then Android is for you. If you don't mind a *very* limited selection of quality apps, then Android and Windows Phone is for you. There's nothing like Omnifocus, iMessage, or Tweetbot quality apps for any OS except iOS, and I used to have an iPhone 4, which is 4 years old, that got updated to iOS 7.1.2. How many 4 year old Android devices are running Android 4.4.4?

I've switched from iphone to blackberry because the chargers break easily had to replace several of my colleagues in car and mains plugs due to being very fragile plus the phones are always breaking main problem is freezing up and if dropped which we all do even the most careful of us the screen smashes easily where as the blackberry is far more robust and never had any issues with the chargers and as a work phone so much better the iphone 6 looks good hope i haven't made a mistake but already reports of issues with them

Well, I know at least iPhone fares far better when it comes to processing sound. If you want to use your phone for anything related to music or sound tuning iPhones are the one to pick. Check out this vid related to iPhone sound processing: https://www.youtube.com/watch?v=mR5bfLL7RBU

Not really, ever heard of HTC BoomSound on the HTC One M8.