Should you upgrade to the 2020 iPhone SE?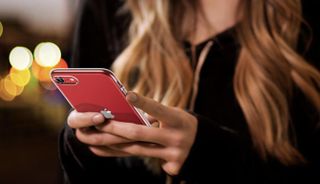 (Image credit: ESR)
Apple has finally announced its much-talked-about low-cost iPhone 8 replacement. In the end, it turns out the name of the game is iPhone SE, though this is definitely not a replacement for the original iPhone SE from March of 2016.
So here you are, holding your old iPhone in your hand, maybe you're even reading this on that old iPhone, and you're wondering whether you should upgrade. Well, you've come to the right place. We have more than a decade of experience using every single iPhone throughout history and understand the importance of value, longevity, and reliability.
Should I?
Apple's new low-cost iPhone.

Are you ready to upgrade? If you don't need any advice, just buy it right now!
iPhone SE (2020): the details
The 2020 iPhone SE looks, on the surface, a lot like the iPhone 8 (and 7 and 6s and 6), but where it differs greatly from those older devices is inside. The 2020 iPhone SE packs an A13 processor chip, a 12MP wide-angle camera lens with support for Portrait Mode, support for Wi-Fi 6, and has a 256GB storage capacity option.
If you're very happy with your iPhone's form factor (and your iPhone is from within the last five years), an upgrade to an iPhone SE is going to be an absolute delight. Let's break down some general concerns.
How important is color?
The other major difference between the 2020 iPhone SE and it's form-twin predecessors is color. Gone are the silvers, golds, space grays, and rose golds of yesteryear. Today's low-cost iPhone comes in black, white, and (PRODUCT)RED. Black is the kind of black you'd see on a Porche and white looks like creamy marshmallow sauce, while PRODUCT(RED) looks like the perfect color nail polish for a night out.
But if you were hoping for something a little more ... traditional, the iPhone 11 Pro lineup is closer to that tinted brushed aluminum look. If the traditional silver, gold, and space gray colors are most important to you, you may not want to upgrade to the iPhone SE (2020).
If you were hoping for more colorful options, you should be looking at the iPhone 11 or iPhone XR.
If price is more important than color, however, black, white, or red will do just fine.
Touch ID vs. Face ID: Which one do you want?
Some of our readers regularly express concerns over the usefulness of Face ID, and with everyone wearing face masks right now, I can see their point. If you still aren't ready to make the leap to facial recognition biometric security, you'll be in good company with the 2020 iPhone SE. It sticks with the familiar Touch ID and Home button that you may be more accustomed to.
If you have always wanted to experience Face ID, upgrading to the iPhone SE is not for you. Instead, consider the iPhone XR for the least expensive of the current iPhone lineup.
Is 5G your next phone?
The iPhone SE does not come with 5G, so if you're holding out on your next iPhone purchase until Apple makes one with 5G support, you should keep saving your pennies until this fall (or possibly later). It's rumored that the iPhone 12 will come with 5G support.
Remember, though, right now, the infrastructure for 5G isn't widely available. You'd pretty much have to live under a 5G tower in order to take advantage of its faster speeds. Is that important to you right now?
Is Portrait mode for pets important?
The 2020 iPhone SE gets a big camera boost over the iPhone 8. though it shares the same 12MP wide-angle lens camera, it supports Portrait mode, which is that awesome camera filter that computationally adds a bokeh background to photos. With Portrait lighting, you can turn your background into stark white, completely black, and a number of different sitting options.
What hasn't been made very clear yet, however, and something I noticed in the fine print about Portrait mode on the iPhone SE is that it doesn't work with anything but human faces. It uses the same computational structure as the iPhone XR, which also only works on human faces. Though, Portrait mode on the iPhone SE (2020) is actually better than on the iPhone XR because it's built with the most recent image signal processor.
What does that mean to you? If you were hoping to get cool looking Portrait mode shot of your pets, your shoes, or your food, you're going to be disappointed in Portrait mode on the 2020 iPhone SE. You may want to consider upgrading to the iPhone 11 instead.
Are you on the iPhone Upgrade Program?
If you're on the iPhone upgrade program from a couple of years ago, and your two-year stint is almost up, don't eye the iPhone SE as a possible upgrade replacement. The iPhone SE is not eligible for the iPhone Upgrade Program at this time.
You'll be better off waiting until this fall when Apple (hopefully) launches the iPhone 12 (or whatever it will be called).
What about Apple's other current iPhones like the iPhone XR, iPhone 11, or iPhone 11 Pro?
That's a very good question. If we're speaking solely specs, the iPhone 11 wins the day, hands down. But, there are a lot more unanswered questions when it comes to other important things, like Touch ID vs. Face ID, camera lens options, and form factor. We've gone into much detail about this subject already.
Should you upgrade from the original iPhone SE?
If you're still sporting an original iPhone SE, then like me (I still have my rose gold SE in perfect condition), you're probably holding on to it for the size more than anything else.
I get that.
But, we're halfway through 2020 at this point, and Apple is only going to continue iOS support for it for two more years, tops. I wouldn't be surprised if they preemptively ended support for the original SE after iOS 14, even though you'd normally get five iOS updates out of most iPhones. The original SE has such a small screen that the iOS interface has to be scaled down to fit. With every beta, I install it on my SE, just to see how it looks, and there is always a couple of screens that have overlapping text because downscaling didn't work for that view.
It's time to let that old dog rest and move on to a new iPhone. I actually switched full-time to a new form factor with the iPhone X and have been very pleased with the size. It's got a narrow build, so even though it has a bigger screen than the iPhone 8 (and now 2020 iPhone SE), it fits in my hand much better. It's still a bit heavy, but we're never getting back the four-inch form factor, so we have to make some compromises.
Should you upgrade from an iPhone 6s or 6s Plus?
You most definitely should be considering an upgrade from your iPhone 6s. The biggest reason is that it's at its five-year mark. That means it's highly likely that iOS 14 will be the last operating system you'll be able to install on it. There are other reasons, as well.
The iPhone 6s FaceTime camera is only 5MP compared to the iPhone SE (2020)'s 7MP camera. It only records video at 720p instead of 1080p. It doesn't have a water resistance rating at all, and if you drop it into the water, you'd better bet it's going to cause you problems. The processor chip, A9, is exponentially slower than the A13 in the iPhone SE (2020), which also attributes to better battery health.
The iPhone 6s doesn't have a Neural Engine, which means Siri isn't capable of getting better at learning. Apple's Neural Engine improves the iPhone's ability to process words, images, and more.
The iPhone 6s does still have 3D Touch, something Apple did away with in modern iPhones. Apple also, however, revamped what 3D Touch can do in iOS 13, which means it works more like current Haptic Touch features. So are you really losing much by giving up 3D Touch today?
Should you upgrade from an iPhone 7?
This is where we're starting to get closer, spec-by-spec, to the 2020 iPhone SE. It's also the last year that the rose gold iPhone was available. So if that pretty pink color is most important to you, you're stuck in 2016, at least until Apple brings back rose gold.
The iPhone 7 has the same estimated battery life as the iPhone SE (2020), the same water resistance (IP67), the same 12MP wide-angle lens, the same optical image stabilization for video, same FaceTime HD camera, same video recording speeds. The list goes on.
A better way to make the comparison is to note what the iPhone SE (2020) has that the iPhone 7 doesn't.
The iPhone 7 runs on the A10 Fusion chip, which is powerful, but four years old and much slower than the A13 in the iPhone SE (2020). The iPhone SE supports Portrait mode and Portrait Lighting. It also has extended dynamic range for video and stereo recording. The iPhone 7 offers none of these features.
Additionally, thought the iPhone 7 will likely be supported for a couple more years, it is already four years old, which means you've only got about two more major operating system upgrades before the iPhone 7 loses upgrade support (except for security-related upgrades).
Upgrading from an iPhone 7 to a 2020 iPhone SE is definitely a good idea, but not a must. Next year, however, your iPhone will be getting a little long in the tooth.
What about the iPhone 7 Plus? Well, there isn't currently an iPhone SE Plus, so if that large screen is important to you, I recommend holding out a little longer. There's a rumor that Apple is working on an iPhone SE Plus.
Should you upgrade from an iPhone 8?
Until the 2020 iPhone SE was launched, the iPhone 8 was still part of Apple's current lineup of phones. It's a fantastic phone with a solid processor; the A11 Bionic chip with Neural Engine. It's got a lot of the same features as the iPhone SE (2020) with a few notable differences.
We actually wrote an entire article about their differences an similarities and whether you should upgrade. The TL;DR is that, for the price, that faster processor and better camera make it a worthwhile upgrade.
iPhone SE vs iPhone 8: What's the difference (and should you upgrade)?
If you just bought an iPhone 8, though, don't feel like you've been left out. The iPhone 8 is still a fantastic iPhone.
Should you upgrade from an iPhone X or XS?
Similar to the iPhone XR, the iPhone X and iPhone XS have completely different form factors. They have Face ID instead of Touch ID and near bezel-less screens. The Display is actually larger than that of the 2020 iPhone SE, but they're also thinner (except for the iPhone XS Max, which has a behemoth 6.5-inch screen.
The biggest feature bonus that the iPhone SE has over the X lineup is that it sports the A13 processor chip.
If you bought an iPhone X or an iPhone XS, you probably bought it because you like the change in form factor, prefer Face ID to Touch ID, and want a bezel-less future. It's like comparing apples to oranges.
Any questions?
If I didn't answer all of your questions about whether you should upgrade, put them in the comments and I'll help you out.
Master your iPhone in minutes
iMore offers spot-on advice and guidance from our team of experts, with decades of Apple device experience to lean on. Learn more with iMore!
Lory is a renaissance woman, writing news, reviews, and how-to guides for iMore. She also fancies herself a bit of a rock star in her town and spends too much time reading comic books. If she's not typing away at her keyboard, you can probably find her at Disneyland or watching Star Wars (or both).