Take a look at The Sims FreePlay's Teen and Mysterious Island updates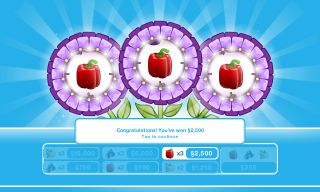 It's been a while since we wrote about The Sims FreePlay, Electronic Arts' mobile version of the hit life simulation series. Even still, the game is going strong. EA has released two major updates for FreePlay in the last two months: the Teen and Mysterious Island updates. Together, they add new quests, areas to visit, loads of items, and of course teenage Sims.
We've put ample time in with both updates. Read on for full details on how The Sims FreePlay has grown!
Money Grows on Trees (unlocks at level 13)
Before you can visit the Mysterious Island, you'll need to complete the 'Money Grows on Trees?' quest chain. It consists of the following goals:
Ponder in a Lounge Chair
Grow Potatoes
Make a Double Shot of Coffee
Grow Watermelon
Make a Hot Snack in the microwave
Catch some Zs on a Couch
Buy a Seed From the Supermarket
Have a Quick Dip in the Bath
Negotiate with a Sim-Eating Plant
Bake Donuts
Grow a Simoleon Sprout in the Garden
The Simoleon Sprout is a new plant for your Sims to grow. Planting one instantly launches a slot-machine minigame in which all of the payouts are in Simoleons. You can plant a Simoleon Sprout for free every four hours. Planting them sooner costs 5 Life Points. Probably not a great investment.
The Mysterious Island (unlocks at level 15)
After completing the Simoleon Sprout quest chain, you'll gain access to the Mysterious Island quest series. It contains the following goals:
Go for a drive
Wash hands
Be on Hold to Tech Support on the Phone
Build bridge on the Town Map
Visit the Mysterious Island
Tap the Monument icon
Read Encyclopedia
Call a Friend
Catch a Ghost
Grill 'em all on a BBQ
Bake Pancakes
Bake Cookies
Read the Big Book of Stuff
Browse Internet
Have a Deep Sleep
Rest Eyes on a Couch
Grow Onions
Rich Lather in the Shower
Find Another Resource
Upgrade 'The Riches of Terra' to Level 1
Garden, Bake, or Work until you get a Simoleon bonus
Upgrade 'The Riches of Terra' to Level 2
The Mysterious Island itself is a new map that you can travel to after building The Mysterious Island Bridge. It contains a series of monuments for players to build. Each monument provides a chance to earn Simoleon or Life Point bonuses from completing tasks.
Instead of Simoleons or Life Points, monuments cost resources – a new class of item. Players will randomly earn resources by completing tasks such as gardening, hobbies, etc. The resource earned is random as well, with certain ones being much rarer than others. After you've upgraded the first monument, you can choose to substitute Life Points for resources at a cost of 3 Life Points per missing unit of resource.
Coming of Age (level 23), Higher Education (level 24), and the Road to Fame (level 25)
Now we come to the Teen update, which stars a recurring NPC character: Osiris the alien. Once you've unlocked Osiris, you can go to him or call him just like other Sims - from the SimTracker.
The 'Coming of Age' consists of:
Be Nice To Osiris
Bake Donuts
Be Nice To Osiris
Read The Big Book Of Stuff
Watch A Movie Marathon
Bake Chocolate Pudding
Talk To Trees
Grow Potatoes
Be Inconspicuous On A Park Bench
Bake Birthday Cake
After completing 'Coming of Age,' you'll be able to advance Preteen Sims to full Teen status! The 'Higher Education' series then allows you to build the High School for teens to attend.
Teens need stuff to do besides just going to school. Thankfully they will be able to become Teen Idols by completing the 'Road to Fame' quest, which will become available in mid-November. Idols can play new instruments, sign autographs, and more. You'll also be able to build one more new building: the SimTown Sign. It gives a chance to get extra revenue when collecting Simoleons from the town map.
Ghost Hunting and Halloween Event (level 10)
Ghost hunting has long been a popular method of grinding for Simoleons and Life Points. EA knows this and so they made ghost hunting a little harder. Haunted items now lose their hauntedness for 20-30 minutes after use.
If you want to continuously hunt for ghosts, you'll need several haunted items in the same house (a good idea anyway). And if you want multiple Sims hunting for ghosts, you'll have to buy a boatload of extra haunted goods in order to ensure they always have a haunted object to investigate.
Downer, right? On the plus side, the ghost hunting hobby can now level up to 8 instead of six. There are six new ghosts to find, which also bumps up the reward for subsequent ghost collection completions to 5 Life Points instead of 3. More exciting, each tier of ghosts offers brand new haunted items to unlock as rewards. These are all part of the special Halloween event that EA runs every year.
Complete the expanded collection of ghosts by November 1st and you'll unlock the Petrifying Putting Green item! It will only be available until then and never again. You'll find it in the Outdoor Furniture section of the Home Store.
Mystery Boxes
The basic quest chain (comprised of random quests) provides a new item as a completion reward: the Mystery Box key. You can only earn one key per week, though the chain continues to produce quests even after completion.
To visit the Mystery Boxes Store, collect at least one key, select the weekly quest chain, and touch the Mystery Box icon. Mystery Boxes cost 1-10 keys, with the more expensive ones providing better rewards. Their contents are random, but at least you can judge the reward rarity by the cost of the Box.
Limited edition Progressive items
From time to time, EA adds sponsored items to the game. This update throws Progressive Insurance cars and TVs into the mix.
The TV is rated at 2-stars and gives players the option to watch that annoying Flo lady. Both the TV and car are free, so we can't complain too much about the commercialization aspect. You'll still need to build the Car Dealership before you can get the car though.
New In-App Purchases
Naturally a content update like this has to add some new ways for players to spend real money.
Adopt a Preteen
Use a phone and choose this option to instantly add a preteen to your roster. Saves the trouble of having a baby and baking birthday cakes.
Adopt a Teen
This option appears after you complete the 'Coming of Age' quests. "Why make a teen the old fashioned way when you can just buy them?" someone asks.
Life Point Lotus
Works like the Simoleon Sprout but with Life Points, and it always costs money to grow. I won 50 Life Points when I tried it. This seems like a good deal no matter how much you win.
Bigger, mostly better
The Sims FreePlay is one of the most enjoyable free to play games I've experienced. The vast assortment of quests to complete, jobs and hobbies to level up, and customizations for your Sims' homes will keep Sims fan busy for months at least. The Teen and Mysterious Island updates make the game that much better – except for making ghost hunting harder. Give it a try and see how fun Simulated life can be!
Master your iPhone in minutes
iMore offers spot-on advice and guidance from our team of experts, with decades of Apple device experience to lean on. Learn more with iMore!
Paul started writing about games in 2003 with his first strategy guide (Bomberman Land 2) for GameFAQs. He continued writing guides while earning his B.A. in Literature. When Windows Phone launched in late 2010, the Xbox integration lead our hero to jump on board the platform. He joined Windows Phone Central as Games Editor at the beginning of 2011, going on to review over 125 mobile Xbox titles over the years. He now leads Windows Central's Xbox One coverage, personally specializing in developer interviews, indie games, controllers and accessories, and Twitch broadcasts. Paul loves games on all platforms; he goes where the games are. Although very busy with console coverage, he sometimes contributes gaming articles to iMore and Android Central.