Skype has revamped its desktop client, and it's awesome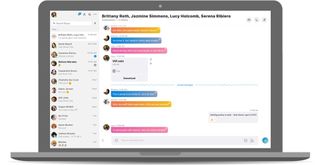 In a blog post (opens in new tab), Skype announced that its completely redesigned desktop client is finally out of preview and launching today. The company already revamped its iOS app earlier this year, and the new Skype for desktop is very aesthetically similar. It also shares the iOS app's focus on social networking and content sharing.
Skype for desktop has retained all of the features users enjoy, but according to the Skype press team the following improvements and features have also been added based on customer feedback:
Customizable themes: On the new Skype for desktop, you'll be able to choose a color and theme for your interface that reflects your mood, personality, or time of day.
Chat list: If you like to keep everything categorized and tidy like me, you're in luck: you can now organize your Skype contact list by time, unread, or status. You can also pin your favorite people or groups so they'll always be easily accessible when you need to stay in touch with them. To make things nicer for yourself visually, you can change your chat list view from standard to compact, or collapse it completely to focus more on your content.
Cloud-based: Skype is now cloud-based, which means that sharing files, photos, and videos is pretty painless. You can send up to 300 MB of content over Skype by simply dragging and dropping the file into your chat. Skype also uses less battery power now that it's in the cloud.
Cross-device functionality: Skype now works across multiple devices including your smartphone, your desktop computer, your Xbox, your smart speakers, and more. Because of this, your messages and content will be available anywhere you have Skype installed.
Notification panel: In the new Skype for desktop you can now click on the little bell icon in the top righthand corner of your chat list to access your notification panel. From this central place, you'll see reactions to your messages, @mentions in group conversations, or if someone has quoted you. After doing that, you can jump to any conversation you've been notified about by clicking on it in the panel.
Chat media gallery: Similar to how you can browse media that you've sent to a contact in iMessage, you can now access any photo or video you've sent or received in a chat. All you have to do is click Gallery to see media, links, and files—you can even sort them by type.
Reactions: Easily express how you're feeling by reacting to messages in conversations or during video calls. Simply click the reaction icon so everyone knows how you're feeling (think sending people smiley faces and hearts during live streaming videos on other social media sites).
@mentions: You can now tag people in group chats. Just type the @ symbol followed by their name, and you'll be able to send them a notification so that they can easily respond to the message.
Status updates: With the new Skype for desktop, you can let your contacts know when you are and aren't available to chat by changing your presence, or set a mood message to share what's going on (i.e. busy listening to my favorite podcast right now, sorry!).
Bots: Just like on Skype for iOS, bots like Scoop and Hipmunk will now be on Skype's desktop client to help you make plans and stay informed. You can do everything from finding pricing and seating options with the StubHub bot to planning a weekend getaway with the Expedia bot.
If you don't already have Skype for desktop, you can download it here (opens in new tab). If you prefer using your smartphone for all of your social needs, you can grab the Skype app for free on the App Store.
Thoughts? Questions?
How are you feeling about Skype's new look? Give us a shout in the comments!
Get the best of iMore in your inbox, every day!
Tory Foulk is a writer at Mobile Nations. She lives at the intersection of technology and sorcery and enjoys radio, bees, and houses in small towns. When she isn't working on articles, you'll likely find her listening to her favorite podcasts in a carefully curated blanket nest. You can follow her on Twitter at @tsfoulk.
Any word on if Skype for Business will receive a similar revamp, or if they're going to sunset SfB in favor of Microsoft Teams?

Companies don't usually want to have 2 of the same type of product, so Microsoft Teams will probably take over.