Sleep++ uses your Apple Watch to track your sleep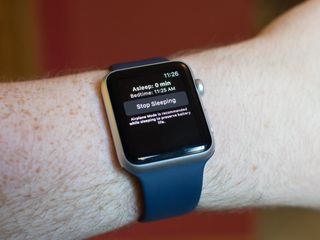 David Smith, the developer behind apps such as Feed Wrangler, Pod Wrangler, and Pedometer++, has released a new app that uses the Apple Watch to track your sleep. Sleep++ uses the motion tracking capabilities of the watch to measure both the duration and quality of your sleep.
To use the app, you'll need to wear you Apple Watch while you sleep. You open the watch app and tap the Start Sleeping button, then tap Stop Sleeping when you wake up. But for those of you who might wonder when to charge your watch if you wear it while you sleep, Smith has an answer:
While Sleep++ is focused on the Apple Watch, you can use the iPhone app to view your sleep data as well. Additionally, the app utilizes HealthKit, letting you save data to the iPhone's Health app if you wish. Sleep++ is free to download, and an in-app purchase of $1.99 will remove ads from the app.
Source: David Smith
Get the best of iMore in your inbox, every day!
Joseph Keller is the former Editor in Chief of iMore. An Apple user for almost 20 years, he spends his time learning the ins and outs of iOS and macOS, always finding ways of getting the most out of his iPhone, iPad, Apple Watch, and Mac.
Isn't it uncomfortable sleeping with a charging cable attached to your wrist?

Like it said in the article you wouldn't charge the watch at night. Sent from the iMore App

I know. I was being sarcastic, since you'll have to charge it sometime, and that either means you are tethered while you are sleeping, or tethered while you are at your desk during the day. It makes the app pretty much useless.

read the article all the way thru it explains it perfectly

Yeah, no. Charging this thing twice/day just so it can track my sleep is the definition of inefficient. My Fitbit does a great job tracking my sleep and I only have to charge it every week or so. As great as the Apple Watch is at some stuff (notifications, etc), the battery just isn't good enough to make it an all-in-one device.

To your point, Fitbit and Jawbone and others measure heartrate with devices that are not battery hogs. Once Apple learns this lesson and puts in a more efficient heart rate monitor, it can have a) a longer battery life, b) a larger battery, and c) shrink the overall size at the same time. At that point, I might get on board.

I'm content to wear both for now, but I pity the fool who tries to use their Apple Watch for everything. They'll be tethered to the charger 24/7. The last thing I want to worry about when I go to sleep is whether or not my Apple Watch has enough battery to get me to the next morning, then try to remember to charge it that morning before I leave. Way too much maintenance.

Apple deliberately chose not to go with a more energy-efficient HRM. Current optical HRMs are the sum of several technologies, resulting in advantages and trade-offs. Fitbit gets up to five days continuous HRM, but is quite poor with HRM in fitness. Mio (licensed to Garmin, TomTom, Adidas) makes the best fitness HRM among opticals, but so poor on battery that they don't offer all day tracking. Apple Watch performs both jobs reasonably well without being the champ of either. That said, there isn't much actionable data derived from tracking every heart beat 24/7, nor is there clinical research support for sleep tracking via wrist-worn devices. Volumes of actionable data within sports, however. Apple knows these points, so I wouldn't expect them to prioritise 24/7 every-beat HRM or sleep tracking over sports.

The battery was my main concern. I ended up just going for a newer Casio ABC watch because I never have to worry about power, setting, etc. Also, I'm afraid I'll break an Apple Watch. I coach lacrosse, and while I normally wear my gloves while coaching, I broke my hand last season the one time I didn't and got slashed there.

I'm going to buy the Reserve Strap. My only complaint about the watch is the battery. Hopefully the Reserve Strap lives up to its claims of 30 hours.

I sleep with my Apple Watch every night. I charge it when taking a shower or when just laying in bed watching Tv. Use the watch as an alarm as did with Fitbit now can track sleep as well. Defiantly been waiting for!

What did you do to get the app working on your phone?

Great idea!! We usually watch 1-2 hours of TV a night so that combined with my shower should be enough to get my percentage back up so I can use my watch as a sleep monitor! (I just got it yesterday)

I've been waiting for an app like this...however it doesn't work for me. Is anyone else having any issues/success with it? I'll set it to airplane mode, hit sleep, fall asleep...and it says I slept a perfect 6.5 hours (or however long I slept for) with no restlessness. I know I don't sleep that well. Plus it doesn't sync to Healthbook. It has all of the permissions it needs. Just not working. Sent from the iMore App

Yes I have had the same issue. If it does start working it will be nice because in airplane mode I only used 5% battery for 7 hours of sleep. so it only took about 10 to 15 minutes to charge when I woke up.

As someone who has worn a MS Band everyday since November, i can say that there is no other watch or band that could be any more uncomfortable to have on while you sleep. I use it for workout and sleep tracking and find it very accurate in tracking my sleep. Perhaps it might finally be time to take a look at the apple watch, but the second MS band is coming soon so I might wait.
I track my sleep as a part of my workout tracking because sleep/recovery is just as important as the workout.

Nope duncanator, this is NOT the time to look at the Apple Watch. The Apple Watch is clearly a gen one device with all of the "hope they get it later" elements of a generation one device. The Apple Watch is not comfortable, it heavy and bulky. Apple does not bless it's limited water resistance. To get the most out of it, you have to always "plan" your charging, and need an extra proprietary cable or two for work and/or travel. What the Apple watch has going for it. It's cool because it has Apple on it. It's fun to talk about features and style options. It has a few (very few) convenience features to keep your phone in your pocket. Go to the forums and count the number of the threads that say, "Thank god for the Apple Watch, I can finally........."

You should have prefaced your comment with "In my opinion" because I do not share your views and I know I'm not alone. To me, the Apple Watch is as comfortable to wear as any other watch I've owned and worn (that's many and for 30+ years) including the clunky MS Band. Yes it requires daily charging but many groaned about the same when smart phones were just becoming commonplace. I get it- the Apple Watch requires several compromises for you and that's fine, just doesn't necessarily do the same for everyone else. Sent from the iMore App

"The TL/DR is to charge your Apple Watch in the morning while you get ready for your day (take a shower, get dressed, etc) and then again in the evening while you get ready for bed (brush teeth, put on pajamas, etc). Then put your Apple Watch in Airplane Mode while you sleep."
I already do this and the battery do last all day.

I have a Microsoft band it was horrible to wear at night, it was not accurate for much and when asked if I would purchase another one I said I went back to Apple. I have never felt that my watch is bulky or heavy and nobody but nobody wanted to ever try the Microsoft Band but they all want to know about my watch. When I went to the release of Windows 10 the guy doing the demo of Win 10 said oh we need to get you to wear our band I said no way mine is home it won't sync unless I do it before midnight and my watch doesn't need to be baby sat. Can't wait to try this app

I'm going to give it a try, I have been waiting for app like this :) Sent from the iMore App

I have the 38mm Watch and I wear it to bed every night, I just charge it before I go to bed. Watch doesn't take long to charge at all and when I wake up the next morning it's lost maybe 20%. Stick it back on the charger while I'm in the shower and I'm good to go for the day. I wonder how many people being snarky about battery life actually own an Watch?

Not many and the other side is how many were actually watch wearers prior to the Apple Watch. Sent from the iMore App

My apple watch still has about 20-30% charge in the morning so I wear it at night anyway. Easier to turn off alarm in the morning using watch. I then get up, put it on charger and do all my morning things getting ready and when I leave for work, I have 100% charge. I do have an extra charger at work but I've never needed it except when I was downloading Watch OS2. This app would work good for me plus for others, couldn't you just start the sleep app before putting it on the charger? It should still work while charging and then turn it off in the AM.

I dont know why but I cant get out of the screen that tells me the 3 steps of what to do with the app. Also I cant install it in my watch, anybody would be able to tell me why?