Smart accessories for your grill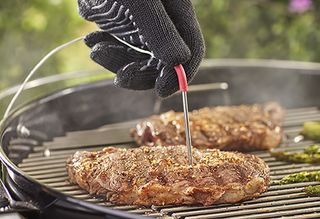 In a world otherwise overflowing with smart products and accessories, the grilling market is surprisingly largely undercooked. 😂 Forgive me, but it's a rare treat to get to write meat puns. Anywho, despite the overall lack of smart products for your grill (get on it, grill companies) there are a few interesting accessories and full-on smart grills out there. If you've somehow continued reading past the terrible puns, give the rest of this post a read for some smart grillin' ideas!
Weber iGrill 2 Thermometer
The Weber iGrill 2 Thermometer is a Bluetooth-connected smart thermometer that lets you keep an eye on your sizzlin' steaks and colorful kebabs.
This thermometer, which comes with two meat probes (and supports up to four) will help you track the doneness of your grilled food from the comfort of your smartphone. This is great for a couple reasons — firstly it means you can be up to 150 feet away from the grill and still check in on the temperature of your food, and secondly it means you needn't lift the lid on your grill (thereby changing the temperature) to know how your food's doing.
The app will alert you when your meat has reached the desired temperature and you can view a graph of your food's temperature progression at any time during the cooking process. The thermometer's magnetic base keeps it securely fastened and the AA batteries will keep your thermometer running for up to 200 hours of cooking. It's also got an illuminated display with temperature readouts so you don't have to check in on things with your smartphone if you don't wanna.
You can snag the Weber iGrill 2 Thermometer for $89.69 on Amazon. It comes with two probes and you can buy both ambient and meat probes for the device. Upgrade your grilling skills and impress your fans family and friends with perfectly cooked meats!
Grillbot
You know what's sort of the worst? Cleaning a grill. Between the meats, veggies, sauces, marinades, charcoal deposits, and other gunk, cleaning can get really involved really fast. And that's why — like many of the world's problems — you should totally offload your labor onto a robot!
The Grillbot is a rechargeable grill-cleaning robot. You set it on your grill, push a button, and it gets to work scrubbing the gunk off your grill. The bot features replaceable, dishwasher-safe brushes (you can get them in nylon, stainless steel, or brass) that twist and help move around the cleaner as it digs away at your grill-gunk. It also works on surfaces up to 392º F, so your grill needn't be completely cooled before the bot gets to work.
You can get a Grillbot of your very own (and a carrying case) for $113.99 at Best Buy.
Char-Broil SmartChef Gas Grill
The Char-Broil SmartChef Gas Grill is a Wi-Fi connected grill that lets you set and monitor temperatures and cooking times from your smartphone.
Once you've connected your smartphone to the SmartChef Grill and downloaded the app, you can get cooking and temperature notifications as well as updates on the grill's fuel levels and burner status. It'll even let you know when it's ready to be cleaned! You can also connect a temperature probe directly to your grill and keep an eye on things while you're away.
Other than its Wi-Fi connected smart features, it's also a pretty impressive grill in its own right. It's got a bunch of space for cooking your chicken and kebabs, infrared cooking that helps evenly heat food, cast iron grates, and a side burner for making your sauces and sides.
You can get a Char-Broil SmartChef Gas Grill for $704.20 on Amazon. If you're ready to upgrade to a grill that just about cooks the food for ya, this is your time to shine!
What smarts have you spotted?
Have you come across any smart grill accessories that didn't make our list? Thinking about snagging a GrillBot or a Char-Broil SmartChef grill? Firstly, can I borrow it? Secondly, let us know in the comments below — we wanna hear your thoughts! Happy grilling.
Master your iPhone in minutes
iMore offers spot-on advice and guidance from our team of experts, with decades of Apple device experience to lean on. Learn more with iMore!
Mikah Sargent is Senior Editor at Mobile Nations. When he's not bothering his chihuahuas, Mikah spends entirely too much time and money on HomeKit products. You can follow him on Twitter at @mikahsargent if you're so inclined.