The smart home premium: Kwikset Kevo smart lock review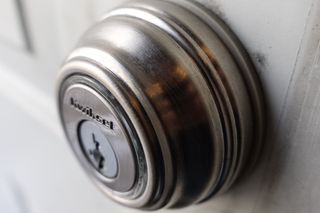 Kwikset, a long-time maker of traditional bolt locks, entered the smart home ecosystem in late 2013. Its Kevo smart lock (opens in new tab), a take on the standard front door deadbolt design, works with a metal key and a keyless fob, and with your phone, to initiate the locking and unlocking procedures.
If your home is anything like mine, it's littered with objects ripe for disruption. The front door lock, or any lock for that matter, is just asking to be improved. So, is Kevo that improvement?
Installation
Installing the Kevo is only slightly more involved than a standard deadbolt with a key entry. The electronics are located on the interior, under a small slide-up panel. While you're unlikely to need a professional to install the Kevo, it is absolutely essential to follow every instruction to the letter, since there are items, such as an initial calibration, that will render the lock unusable until performed.
Once installed in the door, which shouldn't take longer than half an hour if the previous lock was of a standard size and shape, you'll need to download the Kevo app onto your phone.
So what is Kevo?
Kevo is both a standard lock and an electronic lock. It allows you to install an eKey on your phone that acts as a digital gateway to your front door (I'm just going to continue to assume you installed the Kevo on your front door).
Since it comes with two regular keys and a fob, in addition to the app, keyless entry works one of two ways: physically, and app-ily. The former provides the best experience, but as we'll see below, that's contingent on it consistently working. The latter, based on the app, is slower but more visual.
How does Kevo work?
The idea is simple: once you've added yourself to the app as an owner, and paired it to the lock, simply walk up to the door, tap the Kevo's metal casing and — if your iPhone is nearby — the lock will unbolt. Tapping the lock from the outside when leaving the house will also lock the bolt.
It does this using Bluetooth. As we know from the Apple Watch and nearly every other Bluetooth-based accessory, that's not always reliable. When it works, it's magic. When it doesn't, it's maddening.
Kevo distinguishes between a phone in your pocket, on the outside of the door, and a phone inside the house, using a "patent-pending" calibration method that seems to work just fine. Say you're sitting in your living room, which is within Bluetooth distance to the door, and someone from the street walks up. They shouldn't be able to tap Kevo to unlock the door. Shouldn't. And while I've yet to reproduce this issue, likely because of updated firmware, there are many stories peppered around the internet about this very thing. That's likely the reason the product has a three-star Amazon rating.
Elsewhere, you can unlock Kevo from inside (or outside) using the app. The app is simple, but it does the job. It gives you a lock status and facilitates remote locking and unlocking when in range.
Another product, Kevo Plus, connects to both the lock and your router to offer remote access, so you can let someone in while on vacation, or just at the store. By default, though, Kevo only works while in Bluetooth range, which is generally 30 feet line-of-sight.
Is Kevo any good?
That's the big question. This smart home stuff continues to be in a weird purgatorial compromised state; it is at once immensely useful, but is held back by the flakiness of the wireless standards on which it relies.
Kevo is a great product. Using it with the iPhone 6s Plus, iPhone SE, (and Galaxy S7), all on the latest firmware, it works reliably almost every time. It bails occasionally, flashing a set of red LEDs when it isn't able to register a nearby smartphone, but it is reliable 95 times out of 100. Why would you trust a lock that works only 95% of the time? Because every other time you just need to tap again, which usually does the trick, or, in a worst-case scenario, utilize the 100% reliable physical key to open the door.
In the event that you lose your phone, or it runs out of batteries, and you don't have your physical key on you, it's even possible to log in to the Kevo app from another phone. That will grant you temporary access to that new device.
What about the eKey controversy?
I'm glad you asked. Kevo includes the ability to issue two permanent eKeys — digital versions of a physical key, protected using PKI encryption — per lock. You and your spouse or roommate, or whomever, gets unfettered access to lock and unlock Kevo using a smartphone.
After those two eKeys, however, Kwikset charges $1.99 per eKey. What?! you scream. How can a company charge actual money for a virtual key?!
Sure, it seems like a money grab, and have no doubt, it is. The company needs to make recurring revenue from the one-time Kevo purchase, and this is a reliable way to do so. That said, Kwikset offers unlimited 24-hour guest eKeys, which should suffice for most short-term visits or friends checking on the house while you're away on vacation. On the other hand, the lack of customization options is frustrating — what if I want to give access to guests for 48 hours while I'm offline, for example? Right now, there is no way to do that.
Say you're an Airbnb host. To give each guest access for his or her short stay will cost you, as the owner, $1.99 to issue a scheduled, time-limited (but longer than 24-hour) eKey. That's a fairly pathetic proposition.
Should I buy one?
There's no question that the Kevo, at least in its first incarnation, is a flawed product. Our own Russell Holly, who reviewed it for Android Central, said many less than kind words about it. And, to be fair, while Android device support has improved significantly since he took a look at it back in August of last year, Kevo is still best experienced on an iPhone.
That said, the same problems apply across platforms: your device's battery life will take a hit, since Kevo is constantly open in the background waiting to be activated. While I didn't notice a huge hit to my overall uptime on the iPhone 6s Plus, if you're using an older or smaller device, you may want to keep that in mind before investing in a Kevo.
Kwikset announced at CES this past January that it plans to release a second-generation Kevo sometime in 2016. While I'd advise waiting for the minor revision — like many second-generation smart home products, it looks to be largely iterative, reducing bulk while improving reliability — the question I'm venturing to answer is something a bit broader: is such a product worth the investment?
I was admittedly skeptical of Kevo's usefulness after installing it. I questioned how much more convenient it would be to tap a lock rather than insert a key. But as Touch ID dramatically improved the user experience of unlocking the iPhone, so has Kevo upgraded my real-life unlocking workflow. Coming home with bags of groceries in each arm, it's far easier to tap a lock and walk inside than fish out a set of keys after setting everything down. It's a small thing, but useful.
Moreover, I recently had friends staying with me and wasn't going to be able to get home before they arrived. Normally, I would have dropped a spare key in my mailbox and risked the insecurity. Instead, I asked one of them to download the Kevo app to their iPhone, issued a 24-hour eKey, and left the actual key on the kitchen table.
At $175.99, Kevo is neither cheap nor a must-have, but I've found it to be a genuinely useful addition to my home. And considering there is a base level of security associated with a regular Kwikset lock — anti-bumping; anti-picking; easy re-keying — installing a Kevo doesn't come with any inherent risks.
See on Amazon (opens in new tab)
Get the best of iMore in your inbox, every day!
Daniel Bader is a Senior Editor at iMore, offering his Canadian analysis on Apple and its awesome products. In addition to writing and producing, Daniel regularly appears on Canadian networks CBC and CTV as a technology analyst.
Copy editor didn't have a key?
"and a fob, in attention to the app" - in addition to the app?
"with the iPhone 6s Plus, iPhone SE, (and Galaxy S7, " rogue (

Ugh! We were all locked out, unfortunately. Thanks!

I've had a Kevo since they were first released, and the best I can say about it is its great when it works. Like you mentioned above. I'd say I get about a 25% fail rate on the first touch. A second touch usually clears it. Unfortunately, about 10% of the time, it just will not work unless I take out my iPhone 5s, double tap the home key, and bring the Kevo App to the active screen. I think it just stops running in the background. Unfortunately, while it is only 10% of the time, it seems to happen 100% of the time that my hands are full!

Does the app need to be running in the background? I mean let's be honest I have a iPhone 6 Plus I use a lot of apps and apps inevitably get ejected from RAM. Will the touching work for me and my family members if we setup the app once and never open or worry about it. It just works. Even if the app is ejected from RAM or god forbid my sister forcefully quitS the app. It just works right?

Definitely a challenge on the iPhone. If it's not open in the background the keno will not work which in this day and age is brutal. My galaxy 6 and now 7 do not have this issue and the Keno works near flawlessly but my girlfriends iPhone is beyond frustrating.

So it can't be ejected from RAM? iPhone 6 Plus can't hold three apps decently. Ughhh someone tell me

How about the August? Sent from the iMore App

I know a guy that can break into any of these electronic locks with a screwdriver, Don't buy these things, stick with the old fashioned key locks you can't go wrong with them, these new style electronic locks still need to work the bugs out, if you want security stick with the old ways.

And also Kwikset is junk if you want a better lock buy Schlage and if you want better Baldwin.

Of of these locks with the Smartkey option, this is easy to tell by looking for the small hole on the left side of where you would install a Key. This in general allows you to re-Key the lock easily without having to take it all apart like a normal lock. The problem is, it's all Plastic inside. Using a simple tool you can buy on the internet, though a screwdriver could work, just as as well/fast you can break in, in under 10 seconds flat. Quietly, fast, and no neighbor is the wiser. Daytime, you knock on the door, if someone is home and answer, you can make up any number of excuses, if no one does, be inside in no time flat and rob the place blind. Why they would even bother to have this (feature) on this type of lock?!?! You're not handing out real keys to people. This is what makes this lock pretty much worthless. All anyone has to look for is that small hole. It's clear as day, and know it's a easy target. https://www.youtube.com/watch?v=sR-h64WwfW8

I have glass on all my doors... Until one of these companies realizes that people still need Double Sided Deadbolts, I can not buy one of these at all.

How is my Ford Focus is able to this right (as long as the pass key is on me I can access the car) but no one seems to be able to get a deadbolt to work right?

I got a smart door thingy, but its not an app on iOS,,, its a FOB.