Earzz iPhone-ready sound recognition smart home sensor will do all the listening for those that can't
No more second guessing that sound.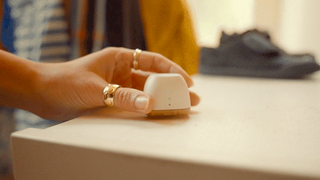 (Image credit: Earzz)
Funded in Kickstarter back in 2022, the Earzz Smart Home Monitor had some pretty lofty goals. Leveraging a speaker and some smart AI tech, it promised the ability to listen to noises around the house, identify them correctly, and alert you to what they are.
Now, just a year later, it is hitting the market without any compromises. If you are hearing impaired or just get lost in the music you listen to, this is an excellent way to know if your doorbell really did go off.
A more helpful smart home
The Earzz home companion can be placed anywhere around the home and is designed to pick up on very specific sounds. As of launch, it can pick up on 15 unique sounds like the whistling of a kettle, beep of an appliance, buzzer of a door and the sounds of a baby crying. That full list so far is:
Alarm Beep
Alarm Bell
Appliance Beep
Baby Cry
Buzzer
Cat Meow
Child Sound
Cough
Dog Bark
Door Bell
Kettle Whistle
Knock
Siren
Snoring
Water Running
If you find yourself living in a neighborhood with a particularly loud dog, you can turn off notifications for certain sounds giving you a freedom to only pick up on the sounds you want. With an iOS app, you can get notifications sent straight to your iPhone or even your Apple Watch. It could particularly well alongside some of the best HomeKit devices.
Where this works particularly well is for those who are hearing impaired. If you find yourself constantly missing sounds and anxious that the Amazon package has already arrived, this should relieve some of that stress. We don't have a confirmation of range on the site but Earzz recommends placing them close to the noise so other sounds don't obstruct the device.
Coming with a launch offer, you need a monthly subscription of £7.99 (around $10) to get the Earzz Home Monitor but get your first monitor as part of this subscription. You can then add extra monitors for £79.99 (around $100) each. This comes with a guaranteed price lock for the future and the promise of more sounds over time. As it is powered through AI, Earzz is sure to only get better the more you use them. Prioritizing the privacy of users, the Earzz Home Monitor recognizes only sounds and not speech. It only listens in two second bursts and immediately discards all recordings that don't have relevant noises.
You can pick up your own Earzz Home Monitor right now.
Master your iPhone in minutes
iMore offers spot-on advice and guidance from our team of experts, with decades of Apple device experience to lean on. Learn more with iMore!
James is a staff writer and general Jack of all trades at iMore. With news, features, reviews, and guides under his belt, he has always liked Apple for its unique branding and distinctive style. Originally buying a Macbook for music and video production, he has since gone on to join the Apple ecosystem with as many devices as he can fit on his person.
With a degree in Law and Media and being a little too young to move onto the next step of his law career, James started writing from his bedroom about games, movies, tech, and anything else he could think of. Within months, this turned into a fully-fledged career as a freelance journalist. Before joining iMore, he was a staff writer at Gfinity and saw himself published at sites like TechRadar, NME, and Eurogamer.
As his extensive portfolio implies, James was predominantly a games journalist before joining iMore and brings with him a unique perspective on Apple itself. When not working, he is trying to catch up with the movies and albums of the year, as well as finally finishing the Yakuza series. If you like Midwest emo music or pretentious indie games that will make you cry, he'll talk your ear off.