Smartr Contacts for iPhone now available - Manage your contacts more efficiently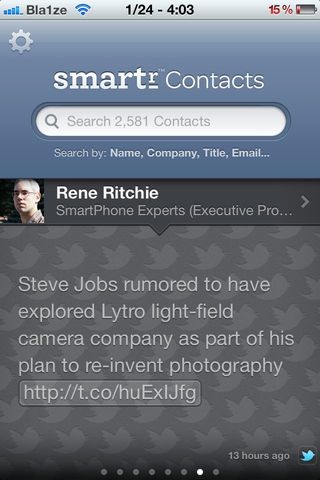 Smartr Contacts for iPhone is now available on iTunes after having had great success on both the BlackBerry (opens in new tab) and Android (opens in new tab) platforms. The company behind Smart Contacts, Xobni -- has not only managed to re-imagine their app for iOS devices but they've done so in a way that makes the native iOS address book look like a disaster.
If you're a GMail or Outlook user, Smartr Contacts could be just the contact management solution you are looking for. Rather than just creating a directory of contacts for you, which you then have to meticulously edit - Smartr Contacts builds profiles for those you are in contact with and orders however you wish, although the ideal situation is to have them ordered by importance. A quick rundown of the features:
Automatic Address Book - Imagine having an address book that automatically identifies and maintains the names and contact information for everyone you communicate with.
Smart Contact Discovery - Enabled by the Smartr Cloud, contacts are automatically discovered from email data (currently GMail or Outlook), as well as data from social networks.
Rich Profiles - A complete profile is created for each contact, including a photo, job title, phone numbers, company details, email history, common contacts and info from Facebook, LinkedIn and Twitter.
Robust Search - Search by name, initials, company, title, email, phone and more to make finding anyone fast and easy.
Ranked by Importance - All contacts are ranked by importance, not alphabetically, so the most important people are at the top.
Having been a Xobni / Smartr Contacts user across the various platforms they offer, including their desktop solutions - I have no problem in suggesting this app to anyone wishing to get a better handle on their contact management.
The iOS version is available now in the iTunes app store for free. You can view some screenshots past the break or check out the source link for the full release announcement.
[gallery link="file" columns="2"]
Get the best of iMore in in your inbox, every day!
Editor-at-Large at Mobile Nations, gadget junkie, energy drinker, ranter.
I tried this for about 20 minutes, and promptly deleted it....it looks like a great app and service, but it's 100% incompatible with Inbox Zero's way of life...if your inbox is empty, it has no clue about your contacts, even if you feed it linkedin and Facebook....so...great try, but no cigar...if it could hit mailboxes beyond inbox, it'd be much better.

Vox, if you set it up with your Gmail account, Smartr should be indexing more than the inbox. If it's not finding your emails, then there is a bug somewhere. If you're willing to give it a chance, please contact support.xobni.com and we'll figure out what's going on.
Thanks!

I agree with Vox. I tried it for 20 minutes and deleted as well. Thought it was going to be this groundbreaking ios changing app.... but it wasn't for me. Maybe if I emailed everyone instead of texting it might have populated a little bit better. Also it left a bad taste in my mouth once I installed on my phone and in my outlook only to be told if I wanted full capability's it would cost me $50 a year. No thanks ill stick to the good old iPhone address book.

Hi Aaron,
Thanks for giving it a shot. It's true that because iOS does not allow apps access to text message history, we do better for folks that are email-centric. The Outlook app can be used in free mode quite effectively and will still provide good email data to help keep your contacts automatically up-to-date. But, of course, sometimes certain apps are not for everyone.

This should be incorperated with ME.com address book.That be cook cause I am going away from GOOGLE and all it has to offer and moving all to ME.com.

My previous phone, the palm pre, did a lot of this for me, and synced it all up to my gmail contacts, which is now on my iPhone. The iPhone needs to get better at account management in general, and they need to build it into the phone, instead of just relying on 3rd party apps.

Looks like a great app but it does't support the iOS address book! What kind of iOS app is that? It only supports contacts stored in Outlook or Google. Needless to say, the app was promptly deleted from my iPhone. All my contacts are stored in the iOS address book and are sync'd with MobileMe/iCloud.
If I wanted to use Google to store my contacts I would have bought an Android device! :-/

Hi Jimmers,
Sometimes it takes a few minutes for the contacts from your iPhone to be added to the Smartr Contacts, but they will be incorporated automatically. Please log in again and you should see that any contact you had in the iPhone contacts is already appearing in Smartr Contacts. If not, please contact us at support.xobni.com. Thanks for giving it a try!

This is a useless app, you have to have some sort of Google account or Outlook account.

Hi RagedUSMC, it's true that right now Outlook or Gmail is required to make this a valuable address book for you. What type of mail account do you use? We're working on the next ones and taking orders... :)

Is it safe to give Xobni my gmail password? I have some doubts...

Hi Michal,
(I work at Xobni)
That's a great question, and you should always be hesitant to give out your data. Here's the deal with Xobni: first, we don't ever see your Gmail password. We use Gmail's "OAuth" which allows you to tell Google to give Xobni access to your email data without ever letting Xobni see your password. This access can be revoked by you any time. Second, your email data is only available to you. We don't use it for marketing or spamming. Xobni has been around since 2006, with over 8 million downloads across different platforms. Our customers include NASA and the US Army. We take your data seriously. Third, we don't actually store your Gmail email "bodies." Once we have scanned them to find email signatures to help you get phone numbers, we discard them and leave them on Gmail's servers safe and sound. And we never edit or delete your email messages or contacts.
I hope that helps! For a comprehensive descriptoin please see http://www.xobni.com/legal/privacy -- we've worked hard to word it as plainly as we can.

It has potential. I like it, but like most people, I'm leaving gmail and going with me.com full time. It would great if yous can add it in the rotation.

Hi Mike,
Thanks for giving it a try. This has been a top request from the iPhone community and we're investigating it now.

keeps crashing wont even get past home screen great idea but needs work and a mac email sync

Hi Cory,
Thanks for giving the app a try and reporting this. We've seen a few users run into this issue. We'll be updating the app with a fix, but in the meantime there is a fix you can do: https://support.xobni.com/entries/20869683-when-i-first-launch-the-appli...
Thanks again.

i installed this app on my iphone.. but it is not able to download the contacts from my gmail inbox.. after displaying downloading contacts.. the app gets closed and home is displayed.... tried many times also intalled the app again... but it didn't work.. Pls help!!!!

Still waiting for a reply...

Sam,
Try contacting their regular Support site: https://support.xobni.com/home
It's worth the effort to get your problem resolved by Support, because this is a really useful product and you can't beat the price! First though, I'd check to make sure it accepted your Gmail account info. If that doesn't work, uninstall and re-install.
I don't work for Xobni but I've used their free Outlook product off and on for a while and am a fan. Since they released this iPhone app, I've installed it on my phone, my Gmail and Outlook (after a hiatus). The synergy between the three platforms is terrific.
I'm going to give it a couple months before I sign up for the Premium service, just to be sure it lasts as my favorite app. :-)
Thank you for signing up to iMore. You will receive a verification email shortly.
There was a problem. Please refresh the page and try again.