Snapchat updated with text chat and video calling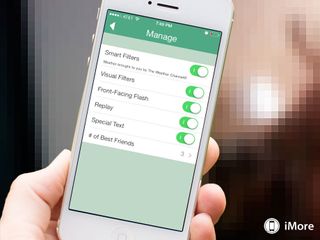 Self-destructing photo-sharer Snapchat has been updated today with a couple of major new features. Previously you'd have to take a photo if you wanted to send any kind of message through the service — now text chat is accessible by swiping right from the main camera view, then swiping again on the person you want to chat with. As you might expect, message history is wiped when you swipe away from the conversation, though you can choose to save individual messages for later if they're important. But text chat is only part of the new Snapchat.
When both you and the person you're chatting with have the conversation open, you'll see a blue notification button which you can use to launch instantly into a video call using either the front or rear camera. Naturally, videos are just as ephemeral as everything else Snapchat does, and video streams can be either one-way or two-way. Both features represent a significant expansion of the apps' feature set, while maintaining the ephemeral nature of the Snapchat messages.
You'll find a quick demo of the new features in Snapchat's (non-self-destructing) teaser video, above. Updates to the new version are rolling out from today on iOS and Android.
Source: Snapchat
Get the best of iMore in your inbox, every day!
There's nothing more infuriating than app developers spreading the word before it's available!

What kind of phone do you have? Is the update just for iphone?

I have an iPhone - but I think this update is also available for android (and already on the Play store).

Wait so can the iPhone update snapchat ?

my iphone 5s is not showing the update

How did you get yours to update

It's on your snapchat open it you have message

Iphone 4 doesn't get video chat on snapchat :(

I'm not pretty sure! I mean I tried to video chat with a friend of mine but it wouldn't work

me too :( i only can use s4 to video chat my friend!

Snapchat videochat feature uses a technology called WebRTC, which the iPhone 4 CPU can't handle... WebRTC is very resource-intensive for mobile devices... that's why they didn't enable it

no update on the US store yet !?!???

I'm not 100% sure, but I think it's an update within the app, without an update to the AppStore binaries. At least in my snapchat it said to "double tap to update", but I didn't do it yet since I'm not really sure I like those new features... :/

well I wanted the new features so I double tapped! :p All it does is open up iTunes Store (not the app store) and it shows the old version!

OK yeah, you're right. In that case, no update available yet... Well planned, Snapchat!

Okay. So it's not just mine....it takes me to the App Store and just says open. No update or anything.

Mine did the same thing. I hope they release the update for us soon!!!

I think if you changed the App Store to the New Zealand store the update might be on there because all the new things like BBM came on to the New Zealand first. Also does anyone know wether the update is available for iPod 4th gen?

this is exactly whats going on with my iphone 5c .
it says double tap to update and nothing even happens just goes to the app store.
someone help me i want the update !(:

I have the 5c and mine is the same way.

y'all are stupid...there isn't an update available yet...

I did that and got the update, but it won't allow me to live chat.

I have seen this within apps to allow Verizon FiOS log-in or in Temple Run 2 where the coins returned to their normal design.

No it's not in the app I deleted it and re-download it and it still didn't work

No it's not in app the app cuz I deleted it and re-download it and it still didn't work

That happened to me too and my fire d told me to update my phone like I have an iphone si I updated the Ios 7 and when the update ended amd I opened snapchat it was already updated. But my video chat doesn't work though, my button never turns blue :(

sorry for the wrong spelling my phone is a little bit crazy ;)

How do I get the update for iphone 5c?

Currently, no iPhone/iOS users can get it yet. So I'd say just wait until your App Store informs you that you've got a Snapchat update waiting. Mine automatically updates so I'll be set as soon its available. have a great day :)

Do you have to have ios 7 for this new update?

I have the samsung s3 with the newest update and I have it. My friends with iPhone can't Download it yet though

Well, no update on AppStore.. I don't have the new features Sent from the iMore App

I've got an iPhone .. The update isn't on the App Store ;( Maybe it's will come out tow morrow. Greetings from Sweden

Any one in uk got the update. I haven't got it. IOS 7 Sent from the iMore App

No, its not available for any iOS users yet unfortunately. :(

I'm in Australia and I have an iPad 2 and an iPod 4th generation and can't get the update???? Anyone else with those devises have it? Please comment!

I'm also in Oz and I got the update for my iPhone 5 2 days ago through the App Store.
One flaw with the update is that you can not clear the history like the old program did
Cheers

The update is not available for iOS users yet. It's currently Android only which sucks but Snapchat has always been more favorable towards Android so its really no surprise. Can't wait until we can get it though. :)

I Double tapped the update button and it brought me to the App Store that says open Sent from the iMore App

I have the Galaxy s4 and I haven't got the update yet when it tells me to double tap it doesn't show the updated button

Okay so we can't use the new snapchat on an iPhone ? Someone comment please.

I use an iPhone and I haven't seen the update so so far, I can't use it.

We can but they screwed up things releasing it before it was available fully. So I guess we just gottah wait.

The demo shows iPhones in use with that update... Sent from the iMore App

but its not working and i have a iphone 4

I thought it was just me, I double tap an then it sends me to the App Store. No update haha. Maybe it'll change by tomorrow but it's still annoying, somebody's getting fired.....lol

i double tap and it take me to google play and says open but then it wont open

Don't see that update! Sent from the iMore App

it's here I got it... I'm on iphone :)

Can you delete messages and snaps like how you could clear you feed on the old version

Did you ever locate this option or find out any more info?

They have taken away this feature I read on another forum

iPhone people, the download JUST showed up on my app store. I also wasn't being able to get it but it's working now.

US Apple store just got the update!! finally !!

Is anyone else having a problem with their yellow camera button not changing blue to do the live chat with a friend?

Yeah I'm having the same problem, the yellow button isn't turning blue

Anyone know what the song they used in the update vid they sent is?

I have the new snapchat update, but it's not showing the blue botton, when I'm trying to video chat. I have an iPhone 4. Can someone help me out here?

i feel like only the people with a regular iphone 4 can't do the live video chat. I have no idea why though. My friends that have androids and iphone 4s and up can do it.

Ok, Is anyone have the update and is able to message, but not live video chat cuz that is my problem.

I am having the same problem, when my friends are on the chat the button will not turn blue, please help me live video chat, i have an iphone 4

How can I delete the feed. It's gone from the options. Help. I don't want people to know who I've been chatting with. Sent from the iMore App

How can I delete the feed. It's gone from the options. Help. I don't want people to know who I've been chatting with. Sent from the iMore App

you can go to the settings and delete your feed and start fresh like you were able to in the original snap chat.

How? Can't see this option Sent from the iMore App

I guess you can't anymore I just tried

It used to be under account actions. Is not there any more Sent from the iMore App

It used to be under account actions. Is not there any more Sent from the iMore App

I don't get a blue notfication when someone is in the chat window with me, does this new update not support video chatting for IPods?

How do you clear your feed with the new update ?

you can't clear feeds with the update

I am starting to think not either because I have the 4th generation and I am having trouble getting the video chat to work too I'll keep trying and let you know.

The "update" is being tested by Beta users only. Snapchat failed to let everyone know, causing a whirlwind of confusion. If you join the Beta team you will receive the update, if not you have to wait.

I got te update? So did a few of my friends, the only problem with the update is the yellow button doesn't turn blue like it should /: so no video chat. Probably a bug and will be fixed soon, hopefully. The update is in the App Store. And I live in the US

How do you clear your feed?

Beta users only atm... been testing it out since yesturday around 12pm ish.... so far impressed with it all

So can the whole history still be erased like the old snapshot .

Oh and I'm an android user. All the new functions work great.

How can i delete my snapchat log? The function on settings are gone. Why dis you remove that function??

Currently there is no feature to Clear Snap History in this new update, for whatever reason. I like pic and videos, but I dont really feel like the chat fits in well, I could just text them. Its no loner a silly fun social app - its turning into (or trying to) every other social app with this and that and this and that built in.
Just let us clear our history (UPDATE PLEASE) I hate being all bogged up with snaps I cant even view just a list of names with blank squares (Looks messy and POINTLESS) Just give us our option back - why the hell remove it in the first place??

How do you clear your feed in the new update?

How do you video chat w/ someone who has and android and you have an iPhone?

When I swipe out of a chat my messages don't delete! It's really annoying and frustrating please help :/

The yellow button will not turn blue for me when in the chat screen with another friend. I've had others telling me it's working for them though. Everything else seems to be working. I really would like to use the live video feature. Please fix

My button will never turn blue even when we're both on, why is this and how can I fix it ( I have an iPod 8gb and I believe it's a 3 or something)

before the update i could get into my snapchat but now i update i cant even open it and if i do get into it 5 seconds later it kick me out hekp please

How do you video chat on iPhone 4? It says the button is blue when the other person is In chat and you press that to video chat!! But it won't turn blue it's stays yellow!! How do you video chat please?!?!? Someone tell me! Please!! Thanks!

Anyone wanna tell me how to clear my snapchat log with the new update. Its so confusing. I dont like it

Anyone figure out how to delete snapchats that have been already opened and viewed?! It's no longer in settings...

I'm tryin to figure that out as well

Hi... Do anyone know what's wrong here? After updating snapchat I've had a very strange problem. When you're in the camera and you're ready to take a snap, you got 4 symbols, right? Well, I don't... My camera switch button has disappeared and now I can't use my frontcamera when I'm snapping. It's an iPhone 4, and I really don't know how to fix it :-(

Are you using the yellow button in chat to take the picture? If you do that it will take the picture almost as soon as you let go of it. To rotate your camera, press and -hold- the yellow button in chat. On the bottom with be a smiley face(meaning the camera is pointed towards you) and on the top are trees(which makes te camera then point away from you).
Also, I have an iPod gen 4. and I don't have the blue button either. I think it isn't available yet and it will be in the new Snapchat update.

My problem isn't texts remaining after i swipe away - it's the opposite: as soon as I swipe right to open a new text it disappears from the screen after one second. Anyone else have this problem?

Yesss I can't figure it outtt it's so annoying

Hi , i have the same problem , did you figure it out ?

I cant figure out how to clear my feed :(

So the video chat thing won't work on the iPhone 4? Man that was the only reason I downloaded!!!

How do I clear my news feed? The new version is stupid, half of my snapchats arnt sending and they just sit in my feed and say I have one. So how can I clear it???????

If you find out please let me know. This is sooo annoying..

I accidently saved a few chats so how to I delete them?? or cant I and ya I would like to know also how to delete the news feed.