Snapchat's new algorithm: Everything you need to know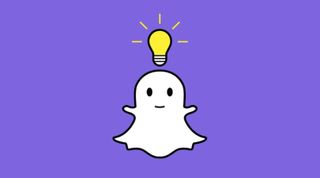 Typically when people hear that a favourite app of theirs is implementing an algorithm or doing a bit of a redesign as to which content gets noticed first, the reaction is not exactly positive.
To this day, people are still upset with Instagram's all-over-the-place nonsense of an algorithm, and even apps like Facebook have taken a bit of a verbal beating in regards to how and when you see certain content, posts, and pictures on your timeline.
But now Snapchat is throwing its hat (or ghost costume?) into the algorithm ring, and it might actually be a good thing.
Recently Snapchat has announced that the app is getting a redesign, meaning that it will now put all Stories and messages from friends to the left of the camera — the people you interact with most will be at the top — and if you swipe right, you'll see all of the Snapchat celebs, social media gurus, brands, etc. that you've subscribed to.
Will there still be Snapchat ads between Stories and Discover content? Absolutely, but with the new algorithm, you can bring your Snap back to the good ol' days when it was just you and your friends effortlessly sending each other dozens of ugly photos of yourselves and not Kylie Jenner swatching her bajillion lip-kits and lip-syncing to rap music in her Bentley.
What do you think?
What do you think about Snapchat's new algorithm? Are you a big fan of this new 'seperate social from media' thing, or do you like it the way it is already?
Let us know what your thoughts are in the comments below!
Cella writes for iMore on social and photography. She's a true crime enthusiast, bestselling horror author, lipstick collector, buzzkill, and Sicilian. Follow her on Twitter and Instagram: @hellorousseau
So, how can I get SnapChat to show none of the clickbait and only things from the people I follow/friend, in chronological order? Or is this their way of saying "If we don't agree with a point of view, you won't see it"?

I don't use Snapchat that often, but I've got a bad feeling it is just that. Only thing you can do is check in the Snapchat settings. Really all these services should allow for custom clients to be created, like you can do with Twitter. The Twitter app is filled with ads and clickbait ****, that's why I use Tweetbot
Get the best of iMore in in your inbox, every day!
Thank you for signing up to iMore. You will receive a verification email shortly.
There was a problem. Please refresh the page and try again.